Printable Activity Sheets and Coloring
Sheets for Sunday School
Puzzles, Dot-to-Dot, Find the Word, Mazes, Search
Find, Coloring Sheets, and Bible Games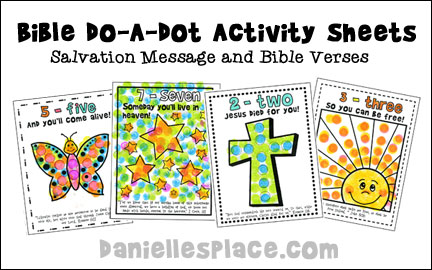 Bible Do-A-Dot Activity Sheets with Salvation Message
See the Bible Themes - Salvation Page
A B C D E F G H I J K L M N O P Q R S T U V W X Y Z
Abraham
Adam and Eve - Amos - Ants
Balaam -
Bible Verse and Bible Lesson Review Games for Sunday School
Go to the Bible Verse Review Games page to find fun ways to review Bible verses and Bible lessons.
Memory Cross Folding Paper Game - Learn the Ten Commandments Game
Memory Cross cards are a great way for children to memorize Bible verses. They will love folding the panels in a never ending loop. The Ten Commandment Cards in the video below come in a set of ten cards plus two of Jesus' Commandments. Children can memorize the commandments by reading the first panel, guessing what comes on the next panel, and then folding it over to see if they are correct. They can continue in this manner until the commandment is memorized.
Once all the Commmandments are memorized you can use them as a game. Break up your students into teams and give each team a set of cards. Mix up the cards and have the teams read them and place them in order. The team that gets them all in order first wins. Order the Ten Commandment cards from Memory Cross Inc.
Learn Bible Facts with this
UNO-type Card Game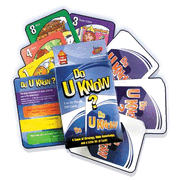 Do U Know? Game
Apples to Apples Bible Edition
Bible Food Fun:
A Step-by-Step Cookbook
Bible Trivia Game