Philip and Nathanael Bible Crafts
Bible Crafts about Philip, Nathanael and Jesus
Nathanael Meets Jesus Crown Craft and Learning Activity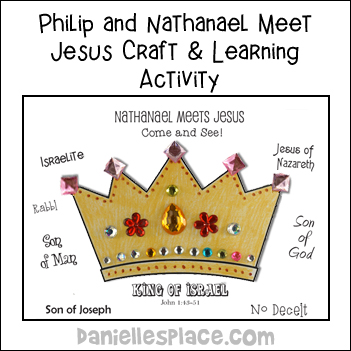 Children use sequines, gems and other decorative items to decorate crown shapes to remind them of who Jesus is.
What you will need:
Paper, Colored Pencils or Crayons, Scissors, White Glue and Gems and Other Decorative Items
What to do:
1. Read John 1: 43 - 50. Ask your children to write down all the words in the passages that decribe who Jesus is.
2. Read verse 51 again, "You will see greater things than that." Ask your students to think of some of the amazing things that the disciples saw Jesus do during their walk with him.
3. Hand out the activity sheets and have your children color the crown shapes and then decorate them with gems and other decorative items. (Patterns for this craft are available to members on The Resource Room.)
4. Ask older children to write more words on the sheet that describe Jesus such as: Saviour, Healers, etc.
3D Crown Craft and Learning Activity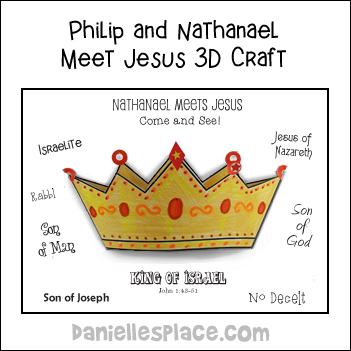 The crown on this sheet stands out from the paper for a 3D effect. Children color the crown shapes and then glue the top crown to the bottom of the crown. (Patterns for this craft are available to members on The Resource Room.)