Bible Crafts and Activities For
Sunday School A - C
How to Make Crafts and Activities Relating to Bible Themes Including: Amos, Ants, Balaam and His Talking Donkey , Beatitudes, The Bible, Bible Reading Books of the Bible, Bread of Life , Bulletin Board Displays, and Cain and Abel
Amos
See Amos Bible Crafts and Games Page
"Consider the Ants" Bible Lesson
See the Ant Bible Crafts Page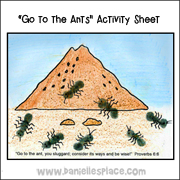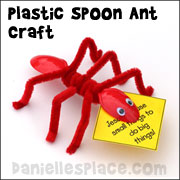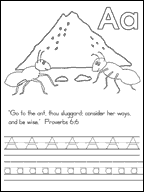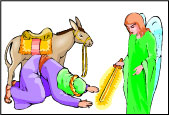 Balaam and His Talking Donkey
See the Balaam Bible Themes Page
Beatitudes Sunday School Lesson for Children
Beatitude Bible Lessons - Taste and See

Beatitude Bible Lessons - Bee and Flower-themed Lessons

Bread of Life
Sandwich Party
Begin class with a sandwich party. Let your children choose what they would like on their bread. While your kids are enjoying this yummy treat, discuss how often we eat bread. Ask them what kind of things they like to put on their bread. Show them different kinds of bread: Brown bread, flat bread, long bread, etc. Tell your children that their is another kind of bread, but we don't eat it. Let them guess what it could be. When everyone gives up guessing announce that Jesus is bread too. Explain how the Bible is food for our souls and we need it daily. Just as we need to have bread to fill our tummy's, we have to have Jesus so our hearts don't get hungry. After clean up have your children color a picture of a Bible and a picture of bread. The memory verse should appear on their picture of the Bible "I am that bread of life." John 6:48
Allow kids to reenact what they just learned with their colored pictures. Holding up the Bible picture say, "This bread is for my belly." holding up the picture of the colored bread say, "This bread is for my heart." Sent in by Kelly Hamilton
Bread of Life Lessons and Crafts on The Resource Room.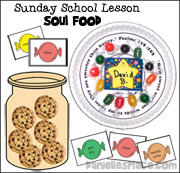 Preschool children learn that feeding their souls with God's words is much more important than feeding their bodies and that they need a daily filling of God's words to grow strong in their faith. They visit the "Soul Food Market" and shop for Bible verses to feed their souls.
Go On a Spiritual Picnic
Tell the children to raise their hands if they like picnics. Picnics are a lot of fun. People get together and share their favorite foods and enjoy each other's company. Tell the children that today they are going on a picnic -- a spiritual picnic. We are going to get together and share God's words. Each child is going to bring their favorite "soul food" to the picnic. You will read it to the class and share why it is your favorite or one of your favorite verses.
Make a "Bowl of Soul Food"

Wrap candy with Bible verses written on long sheets of paper. Then wrap with pretty colors of Handi-wrap. This craft is available to Members Only on The Resource Room.
©2000, Digital by Design, Inc. -*See Copyright Information
Bulletin Board Displays
"Thanks Mom" - Mother's Day Bulletin Board
Jesus Saves, That's Something to Crow About!
Lay Up Your Treasures in Heaven
"We're Hooked on Jesus" - Door Decoration
Friends Bulletin Board Display
"Look Who Popped In" - Bulletin Board Display
"We Are Learning How to Follow God's Word" - Bulletin Board Display
Assorted Sweeties - Bulletin Board Display
Jesus Warms the Heart - Bulletin Board Display
Keys to a Happy Heart - Bulletin Board Display
Spring Friendship Bulletin Board Display
"You are Kind and Forgiving" Bulletin Board Display
"Fully Rely on God" - Bulletin Board Display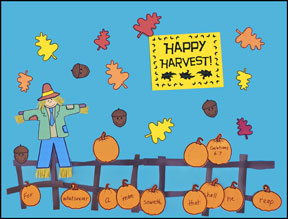 "God is Our Shepherd" - Bulletin Board Display
Bee Theme - Bulletin Board Display
"Following in His Steps" - Bulletin Board Display
"Jesus is the Way! - Bulletin Board Display
"I Am the Vine" - Bulletin Board Display
The Fruit of the Spirit - Bulletin Board Display
"Soar to New Heights" - Bulletin Board Display
"What Kind of Friend are You? - Bulletin Board Display
"God is Always with Us" - Bulletin Board Display
Easter and Palm Sunday Bulletin Board Display
Happy Harvest Fall Bulletin Board Display
See the Cain and Abel Bible Craft Page
See the Cain and Abel Bible Crafts Page