Crafts for Kids Index Page 4
Crafts that Start with:
N - Crafts

How to Make Nature Crafts Including
Sea Shell paper weights, leaf print bandannas.
Crafts and Learning Activities Relating to the State of Nevada
Desert Bighorn Sheep Craft and a Desert Tortoise Craft
New Years Crafts for Kids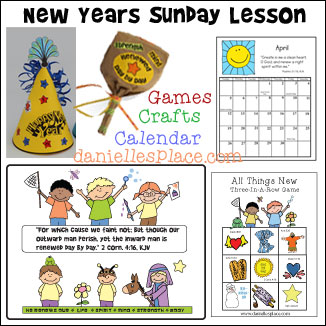 Turning Over a New Leaf New Year's Resolution Printable Activity Sheet
"I'm Turning Over a New Leaf" Printable New Years Booklet
Free Happy New Year's Pop Out Card Craft for Kids
All Things New - New Year's Crafts
New Year's 2015 Calendar of Wise Quotes
New Year's 2015 Calendar of Scriptures
New Year's 2014 Folded Frog Desk Calendar Craft
New Years Noise Maker Craft for Kids
Lion and Lamb New Year's Poster
New Year Piñata Craft For a New Year's Party
Nursery Rhymes and Fable Crafts for Kids
Mary Had a Little Lamb Craft Stick Puppets
Mary Had a Little Lamb Printable Book with Craft Stick Puppets
O - Crafts
See Labor Day Crafts
How to Make Crafts Relating to Under the Sea Including:
Crafts relating to the sea, ocean, rivers, water and beach including: Sock Sea Creature, Sock Fish, Sock Octopus, Paper Bag Octopus, Math Fun with X-ray Fish, "Searching for Treasure" Math Game, Sea Animal Plaster Picture Frame, Puffer Fish, No Sew Stuffed Woven Fish Toy, Stuffed Paper Sea Turtle, Sea Creature Wind Mobile, Fish in Water Sponge Painting, Fish in a Fish Bowl, and Changeable Fish in Water Picture.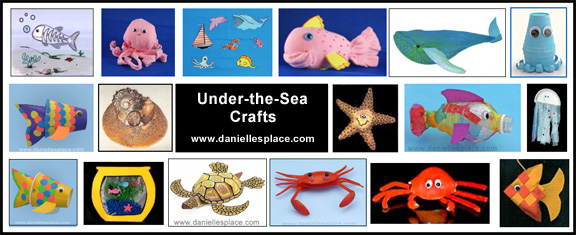 Opossum or Possum Paper Craft for Kids
Opossum - Possum Sock Animal Craft for Kids
How to Make Otter Crafts Including:
A Sea Otter Mother and Baby Paper Toy, Facts About Sea Otters Mini Book, and Otter Paper Craft, Felted Otters, Paper Plate Sea Otter Craft, and Good Books About Sea Otters.
How to Make a Paper Space Shutter, Space Shuttle out of a 2-liter Pop Bottle, Paper Bowl Alien and UFO Craft, Paper Plate Alien and UFO Craft, Pompom Aliens, and Good Books About Space and Space Aliens

How to Make Owl Crafts Including:
An Owl Milk Jug Recycle Craft for Kids, Cloth Owl Purse or Decoration, Pinecone Owl Craft, Great Horned Owl, and Paper Bag Owl Craft.

P - Crafts
How to make Panda Bear Crafts Including: A Panda Bear Paper Sitting Craft, Milk Jug Panda Bear Collection Container, Panda Bear from Marshmallows, and a Panda Bear from Recycled Paper.

Rolling Pangolin Paper Craft for Kids and Children's Books About Pangolins
How to Make Paper Dolls Including:
God Made Me Paper Dolls, Snowman Paper Dolls, Cassie the Dog Paper Doll, Scruffy the Dog Paper Doll, Weather Bear, Troll Paper Doll, and Alien Paper Doll.
How to Make Paper from Recycled Paper, Paper making directions, equipment and projects.
How to Make Crafts from Paper Plates Including:
Bear Paper Plate Valentine's Holder, Puffin, Love Bug, Quail, Joey, Bunny Candy Dish, Turkey, Frog, Whale, Snowman, Bird Feeder, Flowers, Windsock, Cat, Cow, Donkey, Butterfly, Walrus, Sea Otter, Duck, Lion, Sheep, Raven, Polar Bear Candy Dish, Tired Elephant, Resting Pig, Lighthouse, Alien Space Ship, Fish in Water Paper Plate Craft, Sun, Moon, and Stars Mobile, Noah's Ark and Star Fish.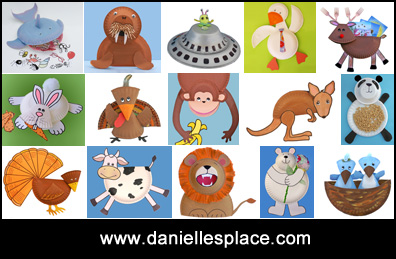 How to Make Patriotic Crafts Including:
Fourth of July Crafts - Fourth of July Windsock, 4th of July Fan Craft, Patriotic Bunny, Patriotic Bunny Pencil Holder, Patriotic Bird Feeder, Patriotic Hearts, "God Bless America" Lion and Lamb Coloring Sheet, "I Love the USA" Coloring Sheet, United States Flag Craft.
How to Make Penguin Crafts Including:
A Printable Penguin Book, Playful Penguins Printable Book, Felt Board Penguins, Penguin Milk Jug Recycle Craft for Kids.

How to Make Craft for Picnics and Summer Including:
A Map Holder Craft, Picnic Pals, Pinwheels, Tablecloth Art, Summer Fun Word Play, and Ice Cream in a Bag.
How to Make Pig Crafts Including:
Pig Money Bank, Pig Paper Plate Craft, Pig Cup Craft, Muddy Pig Activity Sheet, Pig Valentine Paper Plate Craft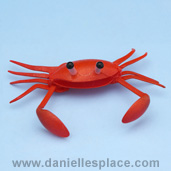 How to Make Craft Made from Plastic Spoons, Forks and Knives Including:
Cheerleader and Dancer Spoon figures, crab made from spoons and forks, butterflies made from plastic spoons, bees made from plastic spoon used as mold, and dragonfly made from a spoon and knives.
See Clay Crafts
Praying Mantis 3D Paper Model, Praying Mantis "Label the Parts" Printable Activity Sheet, Praying Mantis Paper Plate and Straw Craft, and Praying Mantis Children's Books

How to Make Puppets Including:
Easy Sock Puppets, Caterpillar Puppet,Camel Sock Puppet, Design-Your-Own Puppet, Ferret Puppet, Lizard puppet, Moose Puppet, Black Bird Paper Bag Puppets, Bear, Spider, and Frog paper Puppets, Turtle Sock Puppet, Cow Paper Bag Puppet, Shepherd Puppet, No-sew Benjamin Franklin Puppet, No-sew Betsy Ross Stick Puppet, and Love Bug Puppet.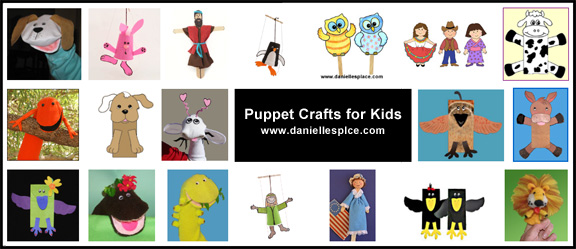 Crafts Made with Jigsaw Puzzle Pieces Including:
Frankenstein Magnet Craft, Giraffe Puzzle Piece Pin, Cow Puzzle Piece Magnet or Pin, Butterfly Puzzle Piece Pin, Monster Magnets Made From Puzzle Pieces
"Dad, I Love you to Pieces" Father's Day Card, and a Lion Made with Jigsaw Puzzle Pieces, Whale Puzzle Piece Craft, Turtle Puzzle Piece Craft, Penguin Puzzle Piece Craft,
Baby Puzzle Piece Craft, Lion Puzzle Piece Craft, and Panda Bear Puzzle Piece Craft

R - Crafts
Reading, Writing, and Spelling Crafts and Learning Activities
Crafts and Activities to Help with Reading, Writing, and Spelling
Word Wall Printables, Spelling Crafts and Games, Learn to Spell Helps, and Learn to Read Games
Recycle Crafts
Milk Jug Totem Pole Craft, Milk Jug Duck, Milk Jug Monster, Milk Jug Pumpkin, Spider, Toad, Frog, Milk Jug Monster Trash Can, Milk Jug Bat, Whale, Pteranodon, and Milk Jug Dinosaur Skull.
Trash to Treasure Recycle Crafts Page 1
CD Case Picture Frame Craft, TP Binoculars, Milk Jug Mask or Bank, Cardboard House, Cardboard Mailbox, Fish Puppet Craft, Box Boat Craft, Pop Bottle Goldfish.



Trash to Treasure Recycle Crafts Page 2
Wrapping Paper Beads, Carved Golf Balls, Can Caddies, Tie Snake Craft, Plastic Milk Jug Whale, L'oreal Goldfish, Spinning Space Ship, "Jesus in My Heart" Flip Toy Craft, and Greeting Card Puzzles.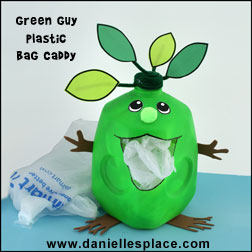 How to make recycle crafts and projects for Earth Day including:
Grocery bag outfits for an Earth Day celebration, "Stop! Did you turn off the lights?" sign to help children conserve energy, crafts made from trash or recycled items such as, grocery bags, socks,milk jugs, cardboard boxes, TP rolls, bottles, golf balls, tin cans, and CD cases, Reduce, Reuse, and Recycle Crafts, Upcycle Activity and Earth Day project, Green Guy Plastic Bag Caddy, How to make a reusable canvas grocery bag, and taking care of the animals Earth Day crafts and projects.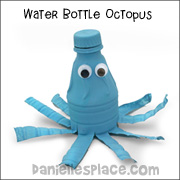 Recycled Cards Crafts
How to make crafts from recycled greeting cards including: A coupon organizer, Mother's Day Fan Craft, bookmarks.
How to make crafts using recycled water bottles including: Flower patio lights, water bottle octopus, and crushed water bottle panda bears.

Bubble Wrap Snake Craft, Bubble Wrap Lizard Craft, and Bubble Wrap Sea Turtle Craft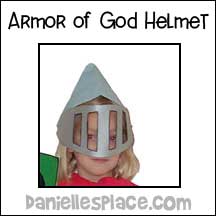 Helmet, Breastplate, Belt, Sword, and Shield.
For More Crafts Go To:
| | |
| --- | --- |
| Crafts Index Page 1 | |
| Crafts Index Page 2 - | |
| Crafts Index Page 3 - | IJ K LM |
| Crafts Index Page 5 - | S T U V W |