Grasshopper Crafts and Learning Activities for Home School
How to Make Crafts and Learning Activities
3D Paper Grasshopper - Locust Crafts for Kids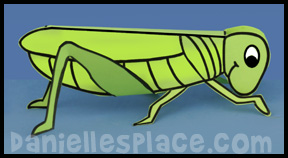 Print out the pattern, color and cut out to make this cute 3-D grasshopper.

This craft was designed to go along with the Bible lesson "Grasshoppers and Giants' about the spies going into Canaan.

(Available to members only.)
"Label the Parts" Printable Grasshopper Photograph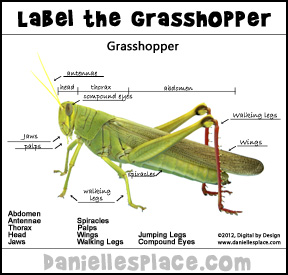 Label a real life, up-close photograph of a grasshopper.

Here a great activity for home schools.

After labeling the grasshopper and doing research about them hide the picture of the grasshopper and ask your child to draw the grasshopper from memory.

Then have your child compare his drawing to the picture of the real grasshopper. Ask him if he forgot any parts, or if he could have improved on his drawing once he compared it to the picture of the grasshopper. This activity will help your child remember the grasshopper's part and help him to be more observant of other insects.

This printable sheet is available to members only.
Grasshopper Clothespin Craft for Kids
What you will need:

Two 2 1/2 Inch Flat Slotted Clothespins

Two 2 1/2" Mini Craft Sticks

Low Temp Mini Glue Gun or Tacky Glue

Tiny Wiggle Eyes

How to Make the Clothespin Grasshopper Craft:

1. Paint all the pieces green and let the paint dry.

2. Using the picture above as a guide place the clothespins on the mini jumbo craft stick. The flat clothespin is the top of the back leg.

3. Glue the mini craft sticks to the top of the flat clothespin, one on each side.

4. Fold a green Chenille stem in half, glue it to the end of the craft stick at the fold, and wind it around the head area leaving about two inches at each end for the antennae.

5. To finish glue tiny wiggle eyes to the head.

Once your child has finished his clothespin grasshopper, ask him how the clothespin grasshopper compares to real grasshopper. What is different? Are parts missing? etc.

How to Print or Copy these instructions

©2013, Digital by Design, Inc. -*See Copyright Information
Grasshopper Clothespin Craft 2 for Kids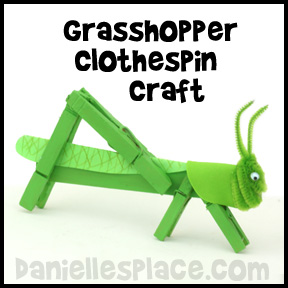 What you will need:

Jumbo Craft Sticks

Clothespins with Spring

Green Chenille Stems

Green Foam Sheet

Low Temp Mini Glue Gunor Tacky Glue

Tiny Wiggle Eyes

Green Paper

How to Make the Clothespin Grasshopper Craft:

1. Paint all the pieces green and let the paint dry.

2. Using the picture above as a guide place the two mini clothespins on the jumbo craft stick to make the front legs.

3. Remove the metal spring from one of the big clothespins and glue the ends of the clothespin halves to the inside end of another clothespin to make the grasshopper's back legs as shown in the picture.

4. Fold a green Chenille stem in half, glue it to the end of the craft stick at the fold, and wind it around the head area leaving about two inches at each end for the antennae.

5. Cut the grasshoppers wings from green paper and the pronotum from green craft foam and glue them to the jumbo craft stick. (A pattern for the wings and pronotum is available to members.)

5. To finish clip the back legs over the wing and glue tiny wiggle eyes to the head.

Once your child has finished his clothespin grasshopper, ask him how the clothespin grasshopper compares to real grasshopper. What is different? Are parts missing? etc.

How to Print or Copy these instructions

©2013, Digital by Design, Inc. -*See Copyright Information
Grasshopper Pompom Craft for Kids
What you will need:

Two Neon Green Pom Poms - One slightly smaller than the other

Low Temp Mini Glue Gun or Tacky Glue

Tiny Wiggle Eyes

How to Make the Pom Pom Grasshoppers:

1. Glue the two pompoms together.

2. Cut the pipe cleaner in to 6, one-inch lengths and bend them to form the legs. Glue them to the large pompom as shown in the picture.

3. Cut another piece of pipe cleaner two inches long, fold it in half, and glue it to the head for the antennae.

4. To finish glue two tiny eyes to the head.

This craft was designed to go along with the Bible lesson "Grasshoppers and Giants' about the spies going into Canaan. Children throw the grasshoppers onto a game board and answer Bible lesson review questions.

How to Print or Copy these instructions

©2008, Digital by Design, Inc. -*See Copyright Information