Assembling Itty Bitty Books
1. Print out all the pages. Some printers print the larger files better and some print the smaller files better. Pick the size that prints best on your printer. The pages should be 3" x 3".
2. Cut around the book pages and between the set of pages. Do not cut apart the center line separating the pages. (Cover and back page of the book, pages 1 and 2, 3 and 4, 5 and 6, etc.)
3. Fold the cover page and all the other pages in half so that the print is showing. Stick pages 1 and 2 inside the cover page so that the folded edge of the pages is facing out. Do this for all of the pages, putting them in order as you go. The folded edge of the cover should be on the left and the folded edges of the other pages should be on the right when assembled.
4. Staple the pages together along the folded edge of the cover.
---
Español
Como Formar el Libro Pequeñito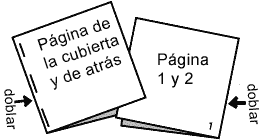 1. Imprima los patrones.
2. Recorte el libro por la parte de afuera por las líneas negras que son una línea seguida, No recorte aparte la página de la cubierta y de atrás, no recorte las líneas intercaladas, ni las páginas 1, 2, 3, 4, 5, 6 etc.
3. Doble la página de la cubierta y las otras páginas por la mitad para que se puedan ver los dibujos. Coloque las páginas 1 y 2 dentro de la cubierta para que la parte de la página con doblez esté hacia fuera. Haga esto con todas las otras páginas, colóquelas en orden, los bordes con dobles en las páginas de la cubierta y de atrás deben de estar en la parte de afuera, en la izquierda, y los bordes con doblez en las otras páginas deben de estar hacia la derecha.
4. Grape las páginas todas juntas en el margen de la izquierda.