Outreach and Get-Together Ideas
Page 2
Birthday Party for Jesus - Parents Day Out!)
It's a Great Big Birthday Party! Come Join us on Sat. Dec. ? For children ages 4 through 6th grade 10:00-1:00 p.m. RSVP to___________ by _____ so we can order your child a craft. We'll hear the Story of Jesus' birth, and celebrate the real reason for this season. There will be games, crafts, caroling and snacks. Kids this is your opportunity to bring friends so they can experience his story..." A Gift from God"
Invite: Neighborhood children, children at church, have them invite their friends and classmates and the public.
Story Time
Read the Christmas Story
The birth of Jesus. Give each child a set of "build your own nativity stickers" and ½ sheet of blue construction paper and as you tell the story have them add the figures as you come to them.
Games
Musical Chairs
Set up enough chairs so you have one for each player. Mark one chair as the special chair. (Put a special blanket on it or something) Play this game like musical chairs except that the child that sits on the special chair gets to pick a gift. The child that picked a gift is out of the game. Remove one chair and continue playing until all the children get a gift. (To make this game less competitive tell the children that everyone will get a gift)
Pass the Present
Wrap a present in 10 or more layers of paper fastening each layer with masking tape. Sit children in a circle and as you play Christmas music, have the children pass the gift along to the person on their left. When the music stops, the child holding the gift unwraps one layer. The child who unwraps the final layer of paper hands out a treat to each child from the box.
Play "Pin Jesus in the Manger" Game or "Pin the Tale on Mary's Donkey"
You can print a manger and baby Jesus from Danielle's Place or buy a regular "Pin the Tale on the Donkey" game.
Falling Stars
Paint five wooden stars with gold paint and glitter. Place a jar on the floor. Give the first player the five stars and let him see how many stars he can drop into the jar by holding a star under his chin and dropping to the floor over the jar. Whoever gets the most stars in wins.
Activities
Make Christmas Ornaments
1. Make ornaments and wrap them to give to parents or friends.
Coloring Pages and Games sheets
2. Color pages and game sheets to go along with Jesus' birth.
Candy Cane Tree Activity
3. Have a tree with candy canes on it - Have each child pick a Shepherd's staff (candy cane) from the tree. Explain to them that the Shepherds were the first to come visit the baby Jesus. Candy Canes were originally meant to be Shepherd's staffs. The colors of the candy cane have a biblical meaning. White stands for the holiness and purity of the baby, red symbolizes the blood Jesus shed for us in his death and green pictures the new life we have in Christ.
Snacks
Make a Birthday Cake and other Refreshments
1. Make a "Happy Birthday Jesus" cake. Sing Happy birthday to Jesus.
2. Ice Cream
3. Punch
Wet N Wild Kid's Picnic Activities
Slip N Slide Kickball
I bought 10' by 25' plastic sheeting at a hardware store and cut it width wise into thirds. Lay the cut pieces on the ground and secure to the ground with golf tees. Make runways between home and first base and second base and third base. I left the runway grass on the way home because I didn't want the children crashing into all the children waiting to kick. Use baby swimming pools for the bases, the plastic blow up kind so no one will get hurt when they fall into them. I didn't use a base for home for the same reason as above. The one rule I enforced was that the child had to use the slippery runways, no cheating or else they had to go back and rerun! The children had a blast! It was by far the favorite activity. After an hour I took the bases away and moved them on to the next activity or else who knows how long they would have played!! Be prepared to keep filling up the pools though as the water gets splashed out. It is a lot of fun watching the kids slip and slide.
Big Ball Volleyball
We played volleyball with one of the biggest play balls they sell at Wal-Mart. It makes it a lot easier for the kids to hit than a real volleyball. We also made it easier by letting the kids hit it after one bounce.
Water War
I set out buckets of water and kept them filled with a hose. I supplied squirt guns and water bombs. Kids ran around and had a great time getting everyone wet. Plant misters set on spray work even better than the guns!
Water Balloon Toss
We ended with a simple water balloon toss.
Sent in by Stephanie Judy
Halloween Alternative - Chair to Chair Trick or Treating
Instead of the traditional door to door "trick or treating", we had our kids go from chair to chair on a Bible quiz. They received prizes or candy at each station. Stations were manned by church members that enjoy the children.

When the children arrived, they were sent to decorate a shoe box that was pre-painted with black chalkboard spray paint. They each had a baggie of glow-in-the-dark stickers and plastic planets to decorate their box with. We attached glow in the dark string to one end of the box so it could be pulled from station to station, like a moving luminary.

We served a light dinner after they completed their boxes, then sent them out in groups of three or so to fill their boxes. They wore flashlight necklaces to help them get around in the dark. They had a great time trying to answer the Bible questions.

When they were done, they came back into the social hall to examine their goodies. We then went on a hay ride and sang Bible songs.

The boxes which could be used as chalkboards at home helped them remember the event.

We are planning the same thing this year with some new Bible questions. Church members that work the stations can bring their own prizes, candy, tracts, etc.

Thanks for a great website, I use it very often and am thankful to have access to it.

In His Service,
Beth Turner
White Oak Church
Church Scavenger Hunt
Use the following verses to set up a scavenger hunt in your church. To start give each team a piece of paper with one of the scripture references written on it. Vary the order of the clues for each team so that they won't be following each other. The last clue for each team should lead to the same location where a treasure can be found.
1. Door - Matthew 7:8 "For everyone who asks receives; he who seeks finds; and to him who knocks, the door will be opened." The children would know to go to a door and look for the next clue. If you have a lot of doors you can add another clue by the reference such as the color of the door, the location such as N, S, E, W, or the Room number.
2. Window - Genesis 8:6, "After forty days Noah opened the window he had made in the ark."
3. Baptistery - Matthew 3:11
4. Cross - John 19:19
5. Stairway -(Genesis 28:12)
6. Water fountain - John 7:37, "If anyone is thirsty, let him come to me and drink."
7. Table - John 12:2, You can add a hint as to what room the table will be found in.
8. Tree - Luke 6:44, Use this one if you have an artificial tree in your church.
If you have Bible pictures up such as pictures of sheep you can hide clue behind the pictures and use a verse that mentions sheep. You can add a hint such as the room number where the picture can be found. We would love to hear your ideas for this scavenger hunt. E-mail me with your ideas and I will publish them here.
Kite Day!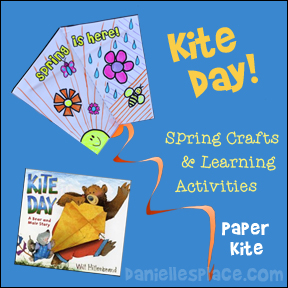 Plan a get together at your local park to fly kites and have a picnic. You can give out prizes to the highest flying kite, the most unusual, the prettiest, etc.
Younger children who can't handle full size kites can make these simple paper kites. Made from a sheet of legal size paper and a plastic straw, they are easy to assemble and very inexpensive.
And best of all they really fly! "Soar to New Heights with Jesus" is imprinted on the front.
You can print your church address and other information on the back and hand them out to any other children that are at the park. For directions and a pattern to make this kite click here.
Member's

Raising Money or Food Supplies
Seeds of Faith Lesson
This Lesson is a great way for children to be creative, learn about seeds, and reach out to their community at the same time.
This is a great outreach for children. They can help you decide what type of seeds to plant in order to produce seeds to give out to their neighbors. They can help you design and color the seed packets and give them out. You can also use this outreach project to teach your children about "Planting seeds" or spreading the Good News.
What to do:
Help the children decide what type of seeds they want to sell or save up some seeds from your garden such as sunflowers seeds, marigolds, or other flower and vegetable seeds. Or ask the children to bring in seeds from their gardens.
When you have enough seeds, print out the seed packet pattern and make copies.
Instant Download - $2.00

Help the children decide what they want to write on the seed packets. Include the church's name and address. You might want to add a paper with more information about the church inside the seed packet with the seeds.
On the back or inside of the seed packets don't forget to include a "seed of faith" (a Bible verse). Also give a short description of the flowers or vegetables and how and when to plant them.
Have the children draw and color a picture of the flowers or plants on the front of the seed packet.
Help them give them out to their neighbors or use them a a fund raiser.
The Birds are Coming
A house is chosen and one night the flamingos arrive. The next morning the family has to call the bird catcher (an assigned person whose name is left with the flamingos). A family can buy insurance to assure that they do not see the flock again. And the catcher will have a list of those insured. We have not decided if they should be able to buy insurance before hand or not. Waking up and finding a number of flamingos in your front yard could get the neighbors talking. We also decided that the birds will only be sent to our church members houses. We do not want to upset anyone. Sent by Allison
Calf-eined!
Another great idea for a fund raiser is for each person in the group to make their own personal cow, (out of cardboard or something that will not get ruined in the rain) and put a stick on each side for the feet. Put the cows in someone's yard with a big sign that says, "You have calf-eine! But you can be 'decalfeinated' for a small fee." We raised a lot of money using this method; and it is fun because each person takes a part in decorating.
Pantry Scavenger Hunt
Last time it was my husband's and my turn to host the teens we decided to do something that they would enjoy but would also benefit others so we decided to have a scavenger hunt. Since we wanted to do something that would help someone, we had a scavenger hunt to help fill our church pantry. We divided the kids up into teams of two and sent them out with an adult driver (we didn't want the responsibility if a teen had an accident).
We gave the kids boxes and the driver took them anywhere they wanted to go as long as it was the house of a church member, a friend, or a member of their family (no strangers, in other words). We allowed an hour for the hunt, but depending on where you live you could have one that doesn't last as long. In our case, we had five teams and some of them went to the same houses which ended up with some teams not getting anything from the homes that had run out of items. (We did not tell anyone what we were doing ahead of time so that no one could prepare). The drivers left a box of food on their car port or garage and the teams could come choose three items from it (No team could take more than 3 items from any house). After the hunt, while the kids ate, (We had barbecue pork sandwiches, coleslaw, chips, and dip), the adults added up each team's points according to the chart below:
POINTS AWARDED FOR SCAVENGER
HUNT FOR FOOD PANTRY
CANNED MEAT: POINTS:
Tuna fish 10
Chicken 20
Salmon 30
Canned ham 40
Spam 30
Vienna Sausages 10
Potted meat 5
Other canned meat 50
CANNED VEGETABLES: POINTS:
Whole kernel corn 10
Cream style corn 20
Green beans (any) 5
Other canned beans 50
Peas 20
Carrots 50
Sweet potatoes 30
Other vegetables 40
CANNED FRUIT: POINTS:
Pears: 40
Peaches: 30
Applesauce: 5
Other canned fruits: 50
MISCELLANEOUS: POINTS:
Macaroni and cheese 10
Dried pasta (spaghetti, etc.) 20
Spaghetti sauce 30
Peanut butter 40
Jelly 10
Oatmeal 10
Ravioli, Spaghettios, etc. 20
Beanie Weenies 5
Soup/Chili 50
BEVERAGES:
Kool Aid mix: 10
Fruit Juice: 50
Tea: 40
ANY NON PERISHABLE ITEM
NOT LISTED: 100
I just wrote things down and randomly assigned points. Even so I left out a lot of things and the kids got lots of "100's" with items such as napkins, paper towels, cereal, crackers, etc. Because of this, the team that won was not the team with the most items. We awarded prizes only for the most points, but should we do it again, I think I will award prizes for both.
Sent in by Rebecca