State of Nevada Crafts and Activities
How to Make Crafts and Activities Relating to Nevada
Crafts
Desert Bighorn Sheep

Children may need help cutting this pattern out, but they will love coloring it to look like a real bighorn sheep.
What you will need: Cardstock (Heavy paper), colored pencils, tape, and scissors.
How to make:
1. Print out the patterns and color them. The head pattern comes with an extra set of heads so if you want to use the extra set, you will have to print out two body patterns for each head pattern. This Pattern is available to members only.
2. Cut the patterns out. Fold the body pattern in half and tape a head on both side of the body matching up the heads.
©2004, Digital by Design, Inc. - See Copyright Information
Desert Tortoise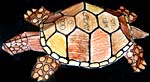 The desert tortoise is listed as a threatened species in the Mojave Desert due to encroachment housing and business developments.
Tortoises that have been injured or displaced due to development may be adopted by local residents who meet certain criteria.
Desert Tortoises can live from 70 to 100 years and can grow to 15 inches in length so adopting a tortoise is something that should be considered with great care. Go to The Resource Room for directions and a pattern for this craft.
©2000, Digital by Design, Inc. - See Copyright Information
Nevada Themed Books for Children