God Our Father
Bible Verse: Philippians 4:13
Scripture References: Amos 1:1, Amos 7:14
Teaching Concept: Too many children grow up without fathers, or have father's that aren't there for them. When we tell them that God is our father, they might get the wrong idea if they compare God to their earthly fathers. This lesson teaches children what their heavenly father is like, and encourages them to show their earthly fathers honor and appreciation.
---
Early Arrivals Activity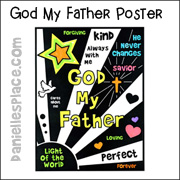 What you will need: Color pencils, highlighter markers, water color paint, and printer paper.

What to do:

1. Print out the patterns before class and make copies. There are two different patterns, one with the black areas and one without. The one without has more coloring areas.

Pattern One - Black Areas (PDF Pattern) (Printing Problems?)

Pattern Two - No Black Areas (PDF Pattern) (Printing Problems?)
2. Honor Your Father Ribbon Craft
While God our heavenly father should always have first place in our lives, our earthly fathers deserve honor. They deserve honor because they are our fathers; and God commands us to honor them. While they cannot compare to God, they still deserve distinction.

While your children color the Honorable Ribbons talk to them about ways they can honor their parents. Tell them to give the ribbon to their father or special caregiver.

Ribbon Pattern (PDF Pattern) (Printing Problems?)
---
The Lesson
Have your children open their Bibles to Matthew 6:7 and read the verse. "Our Father which art in heaven, Hallowed be thy name." Jesus told his disciples to pray to their father in heaven. His instructions are also for us. When we are sad, lonely, confused, happy, or thankful we can pray to our father in heaven.
God gives us fathers and mothers, and people who care about us to take care of us, to teach us, and encourage us. Some of us have great fathers here on earth, others not so great, or none at all. Some children don't even know their fathers, but all children have a heavenly father. Today we are going to talk about our heavenly father, what he is like, and compare him to our earthly fathers.
God knows exactly what you need and he gives it to you:
Read Matthew 6:8 - "God knows what you need before you even ask him." and Matthew 7: 9-11 - "For what man is there of you, whom if his son ask bread, will he give him a stone? Or if he ask a fish, will he give him a serpent? If ye then, being evil, know how to give good gifts unto your children, how much more shall your Father which is in heaven give good things to them that ask him?"

God knows everything about you. He even knew you before you were born. Your earthly father knows a lot about you, but he can't know everything. He can see if you are sad, or angry, or upset, but he can't read your mind, and he doesn't always know what to do to help you. He can't always help you with your problems, only God can do that.

Jesus had a great father here on earth, but his father didn't always understand him. One time Jesus' parents realized that they had left him behind in Jerusalem after walking a whole day. They had to walk all the way back and searched for him for three days in the big city before they found him. When Jesus saw how upset they were he was surprised that they didn't know where he had been. When he saw them he said, "You should have known I would be in my father's house." (Luke 2:40-52)

Can you think of a time you thought your Dad should have understood how you felt, or understood the reason you did something you did? Only God our Father can know our hearts fully.
God is forgiving and kind:
Read Psalm 86:5 - "For thou, Lord, art good, and ready to forgive; and plenteous in mercy unto all them that call upon thee."

Jesus told a story about a young man who left home, lived foolishly, and then returned when he had nowhere else to go. This young man had nothing left, all his so-called friends had left him, and he had nothing to eat. He went home hoping to be hired as a servant by his father because he knew he didn't deserve any better. When he finally made it home, he was surprised to see that his father had forgiven him and welcomed him back with open arms even after all the bad things he did. Not all earthly fathers are so readily forgiving. (Luke 15:11-32)
You can trust God, his love is everlasting, and it never changes:
Read Nahum 1:7 says, "the Lord is good, a refuge in times of trouble. He cares for those who trust in him."

Jeremiah 31:3 - "The Lord hath appeared of old unto me, saying, Yea, I have loved thee with an everlasting love: therefore with lovingkindness have I drawn thee."

Hebrews 13:8 - "Jesus Christ the same yesterday, and today, and forever."

Even Abraham, the father of all nations, wasn't a perfect father. God told him that he would have a child with his wife even though they were both very old. Instead of waiting on God they were impatient and took matters into their own hands. Abraham had a son named Ismael with his wife's maid. This caused a lot of jealousy and strife, so much so that Abraham had to send them away. (Gen. 21:1-20)

Poor Ismael, how do you think he felt when his father sent him and his mother away? This wasn't the perfect family, but God used both of Abraham's sons to accomplish his purpose. God protected Ismael and his mother even when they were out on their own.
God's Love is Perfect:
Read Job 34:19 - "who shows no partiality to princes, nor regards the rich more than the poor, for they are all the work of his hands?


Proverbs 8:17 - "I love those who love me, and those who seek me diligently find me."


Our earthly fathers don't always love perfectly. Jacob caused a lot of jealousy in his family because he loved one of his sons, Joseph, more than the others. He even bought him a beautiful coat to show everyone how much he loved him. His other sons were jealous of him and sold him into slavery. Jacob didn't see his son, Joseph, again until he was very old.

Are you ever jealous of your brothers or sister when your parents do something for them, or treat them differently than you? Does it ever seem like they love them more?
Even the best father here on earth cannot compare to our father in heaven. Our fathers make mistakes, get tired and cranky, forget things, get overwhelmed by life, sometimes say things they shouldn't, can't always read our minds, and can't understand us completely, etc., but God tells us to honor our fathers and mothers, and that is exactly what we should do knowing that they are only human like us.

You should be very thankful for the father God has given you, and if you don't have a father, you can thank God for the people who take care for you. Thank him for being the all-loving, all-caring, all-knowing father that he is.
---
Prayer
Father, we thank you for giving us fathers and people who take care of us. Help us to always honor them even when they aren't perfect. Help us to see the best in them, to be respectful, to be forgiving, obey them, and speak only well about them. Thank you for being our father and showing your great love for us by sending your son. Amen
---
Activity
Honorable Mention" Award Craft
Before doing this craft ask your children if they have ever won an award, and where they placed; first, second, third. Ask them if they have ever received an honorable mention, and how they felt about receiving it. Explain that an honorable mention award is given to someone who deserves recognition for their work even though it may not be the best in a contest.

While God our heavenly father should always have first place in our lives, our earthly fathers deserve honor. They deserve to receive honor because they are our fathers, and God commands us to honor them. While they cannot compare to God, they still deserve distinction.

One of the Ten Commandments says to honor your father and mother. This means that we should be respectful in the way we talk to them and the way we treat them even when we may not agree with them. We should realize that even though they are not perfect, they should be prized and valued for what they do and who they are. We should obey them, unless they tell you to do something that is illegal or immoral. We should not talk bad about them or complain about them. We shouldn't be angry if they can't provide us with everything we think we should have. We should thank God for them daily. We should realize and appreciate what they do for us, even if it doesn't seem like enough. We should concentrate on the good things about them. We should listen to them without arguing or interrupting, and try to do our best for them.

This craft is designed to help children think about how they can honor their parents. They color the award and/or add a foil tape medallion that they engrave with a pen. They also write why their father or caregiver deserves to be honored. A printable pattern for this craft is available to members.

1. Before class print out the Award Patterns (PDF Pattern) . You can use colorful paper or white paper. Print out the Medallion Pattern (PDF Pattern) if you are using the foil tape. (Printing Problems?)

2. In class have your children color the picture and then write "Dad" or "Father, or the name of a care giver (if they don't have a father) they would like to honor. Under the name have them write why they deserve honor.

3. You can also use aluminum foil tape to make the medallion shape. Print out the medallion pattern and cut out the circle. Use the shape to cut circle shapes from the foil tape.

4. Give your children each a medallion pattern and a piece of fun foam. Have them place the foil tape circle on top of a piece of craft foam (Don't remove the tape backing) and then place the paper pattern on top of the foil tape circle. Use a pen to trace over the pattern. The pen will make indents in the foil tape below if they press hard enough. When they are finished with their design, remove the backing and stick the medallion onto the award paper. You can place the tape onto the craft foam and then use the pattern to cut out the circle shape. When the children are done glue the craft foam with the foil tape on top to the award.
---
Copyright © 2013, Digital by Design, Inc.
Danielle's Place of Crafts and Activities
http://www.daniellesplace.com

All rights reserved. No part of this publication may be reproduced or transmitted in any form or by any means, electronic or mechanical, including photocopying and recording, or by any information or storage retrieval system, except for local church or school use only. This copyright notice must be included on all copies. Requests for permission to copy this material for any other uses should be addressed to Carolyn Warvel, 588 Duran Street, Henderson, NV 89015 or e-mail me at care@daniellesplace.com
---
Comments
We would love to hear your comments about this lesson. If you taught this lesson, we would love to hear how it went, if you changed anything, added anything, what age you taught and was it appropriate. Any comments that would help others teach this lesson are welcome.
---