Under His Wings
(This lesson is also available for Older Children.)
Bible Verse: "He shall cover thee with his feathers, and under his wings shalt thou trust:" Psalm 91:4a
Printable Bible Verse Card: (Younger children) Print out onto card stock, write the Bible verse on the cards and make copies: KJV Pattern, NIV Pattern, BlankPattern. (Printing Problems?)
Scripture References: "He shall cover thee with his feathers, and under his wings shalt thou trust: his truth shall be thy shield and buckler. Thou shalt not be afraid for the terror by night; nor for the arrow that flieth by day;" Psalm 91:4-5
Teaching Concepts: God protects us like a mother bird protects her chicks. We don't have to be afraid because we can trust in him.
---
Opening Activities
1. Work On a Hen and Chick Color Sheet
1. Print out the Pattern (PDF Pattern) and make copies.

2. In class have your children color the picture. You can also bring in small feathers for them to glue to the hen.

3. Write the Bible verse on the left-hand side of the picture.
2. Work On "He Covers Us with His Feathers" Color and Craft Sheet
Before class print out the Hen Pattern (PDF Pattern) and the Wing Pattern (PDF Pattern) onto card stock. Cut out the wings. In class have the children color the hen and the wing. Punch a whole in the wing and the hen where indicated by the dot. Attach the wing with a paper fastener so that that wing can be moved up and down to cover the hen's chicks. The Bible verse can be written at the top of the page. (Printing Problems?)
3. Work On "Covered with Feathers" Color and Craft Sheet
Print out the pattern onto heavy paper and make copies. In class have your children color the picture and then glue feathers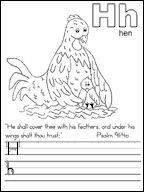 4. Make a Standup Hen
Go to First School Web Site for directions and patterns.
5. Make a Hen and Chick Using Simple Shapes
God to First School Web Site for directions and patterns.
6. Practice Printing and Writing
This lesson was designed to go along with ABC Worksheets using the Bible verse. Children practice writing the letter A in print or cursive or write the complete verse in cursive or print.

As children work on their projects talk about feathers. Tell them to feel them and describe how they feel. Ask them if they have any down comforters or pillows at home. Ask them how it feel to wrap themselves up in a warm blanket on a cold night.
7. Hen and Chick Craft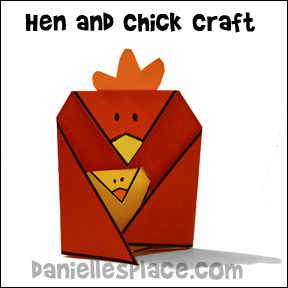 What you will need: Colored Paper, Scissors, Crayons or Markers, and Glue
How to Make the Red Hen Craft:
1. Before class print out the red hen pattern onto brown or red paper. Or you can use white paper and let your children color the pattern if you would like.
Hen Pattern and Chick Patterns
2. In class have your children color the pattern and cut it out, and then fold down the top point to make the hen's head and beak, and fold in the two side points to make the wings.
3. Have children draw in the eyes and beak, and glue on a waddle cut from construction paper.
4. Write the Bible verse inside the folded wings.
---
The Lesson
Preparation: Bring in warm comforters and spread them out on the floor for the children to lay on. Wrap a comforter around yourself.
(Preschool) Before the lesson play follow the leader. Place a sheet or blanket over your shoulders and around your arms to look like wings (a cape). Tell the children that you are going to pretend to be a mother hen. Spread out your arms and show them your wings. They are going to pretend to be your chicks. They are to follow you around the room and do what you do. When you say, "Cluck, cluck, cluck." They should all come and hide under your wings. Walk around the room acting like a chicken: scratch on the floor with your feet like you are looking for grain, flap your wings up and down while you walk around chairs, pretend like you are trying to fly, etc. then say, "cluck, cluck, cluck" and open your arms for all the children to come to you and give them a great big chicken hug. Have the children sit down.
Have you ever watched a hen with her chicks or seen them on TV? They are really interesting to watch. The little chicks follow their mother everywhere she goes. She leads them all over the barnyard showing them where to find food and watching over them. The little chicks know not to wonder far from her. Whenever the mother hen thinks there is danger she lifts up her wings and the little chicks all come running for cover. She protects them from the wind, and rain, and heat of the sun by covering them with her wings. She keeps them warm with the heat from her body. She keeps them warm like a great big blanket. She keeps them dry like an umbrella. And she protects them from danger.
The Bible tells us that God is a lot like a bird or hen who protects and watches over her chicks. He watches over us and protects us so we don't have to be afraid. Open your Bible and read Psalm 91:4-5. (Help the children find the verse in their Bibles. Give them each a big feather to mark the place. Have someone read the verse or read it to them. "He will shield you with his wings. He will shelter you with his feathers. His faithful promises are your armor and protection. Do not be afraid of the terrors of the night . . ." Psalm 91:4-5
Have you ever been afraid at night when you are in your room and it's really dark? I think we all have. This verse tells us we don't have to be afraid because God is watching over us. Just like a mother bird watches over her chicks. She covers them with her wings and protects them from the cold and from danger. When you are lying in bed and feel afraid you can remember this verse. "He shall cover thee with his feathers, and under his wings shalt thou trust:" Don't you feel a little better when you have a big soft blanket to hide under? (Bring the comforter up around your face and peek out like you are afraid.) God is like that big blanket. You can ask him to comfort you and help you not to be afraid. (Did you know that some comforters are made with feathers called down?) When you hide under your blanket at night remember that God is also there with you surrounding you with his love.
Do you remember David of David and Goliath? Remember how he as a young man killed the Giant with a little rock. He was very brave, but David wasn't always without fear. There were many times when he was tired and afraid, when he felt like God was far away. (Psalm 4, 6, 10, and 13).
After David killed Goliath he went to live with King Saul. At first King Saul was glad to have David there. He put him in charge of a great army. David was so good that people started talking about him. They thought he was even better than King Saul. (1 Sam.18:5) King Saul became very jealous of David. He tried to kill him several times. David had to run away and hide. King Saul sent many people after David to find him and kill him. David had to hide out in the desert and in the hills. He had to keep moving to keep Saul and his men from finding him. At times he thought for sure that Saul would kill him (1 Samuel 27:1), but he knew God was on his side and that God would protect him. When he was scared or lonely he wrote and sang songs to God.
Here is part of one of the Psalms David wrote: "How much longer will you forget me, Lord? Forever? How much longer will you hide yourself from me? How long must I endure trouble? How long will sorrow fill my heart day and night? . . . Look at me, O Lord my God, and answer me. Restore my strength; don't let me die. I rely on your constant love; I will be glad, because you will rescue me. I will sing to you, O Lord, because you have been good to me." (Psalm 13 Good News Translation)
Many of David's songs are in the book of Psalms. These songs comforted him and made him feel better. Do you ever sings song when you are afraid? If you are afraid, try singing "Jesus Loves Me" or another song you know. This will help you to trust God to take care of you, just like David did.
We are going to learn a verse from the book of Psalms. We don't know who wrote this psalms but it could have been David. "He shall cover thee with his feathers, and under his wings shalt thou trust:" Psalm 91:4a (He will cover you with his wings; you will be safe in his care; his faithfulness will protect and defend you. GNT)
---
Prayer
Father, we thank you for your loving kindness, for taking care of us and protecting us. Help us to never stray to far from you. Help us to become more dependent on you and more trusting of you every day. Amen
---
Craft
1. Make a Mother Hen with Her Chick
What you will need: Card stock, markers or crayons, tape or glue, scissors

What to do:

1. Before class print out the Pattern (PDF Pattern) and make copies onto card stock.
2. If you have children 2nd grade or younger you may want to cut the patterns out ahead of time because these patterns are hard to cut out and will take quite a bit of time.
3. In class have the children color the hen and chick. Fold the hen's wings on the dotted lines and tape to the back of the hen. Fold up the hen's tail back and the feet forward.
4. Place the little chick behind the hen's wings and tape the wings closed. (Printing Problems?)
---
Activities
1. Memory Verse Search - Before class print out and cut out the Memory Verse Chicks (PDF Pattern). Make more than one copy of the pattern. Write one word of the memory verse on the belly of each chick. Hide the chicks around the room. You can tape them to the bottom and the back of chairs and on the walls, etc. After the lesson place the mother hen (use the pattern from the craft) in the center of the table (or tell them you are the mother hen). Tell the children that the mother hen is calling for her little chicks. Ask them to help the mother hen find her chicks and when they find one, bring them to you or the hen picture. When all the chicks are found have the children take turns trying to figure out the order the chicks need to be in to spell out the memory verse. If you have children who can't read or who are learning to read, ask them questions about the verse. For example, you can say, "Who has the word "he"? It starts with the letter "H". You can also write the words on the board and have the children match up their chick to the words on the board.
2. Feather Relay - Divide your children up into teams. Give each child a feather. Mark a starting point and an ending point. On the word go the first player in each team places his feather on the floor and uses a piece of cardboard to blow the feather across the room to the end mark and then back again. When the first player returns, the second player goes, and so on until the whole team has had a turn. The first team to have all their players cross the finish line wins. Preschool children will just enjoy trying to get their feathers across the line without touching them.
---
Other Scriptures
Matthew 23:37, Ruth 2:12, Psalm 17:8, and Psalm 36:7
---
Copyright 2000, Digital by Design, Inc.
Danielle's Place of Crafts and Activities
http://www.daniellesplace.com
All rights reserved. No part of this publication may be reproduced or transmitted in any form or by any means, electronic or mechanical, including photocopying and recording, or by any information or storage retrieval system, except for local church or school use only. This copyright notice must be included on all copies. Requests for permission to copy this material for any other uses should be addressed to Carolyn Warvel, 588 Duran Street, Henderson, NV 89015 or e-mail me at care@daniellesplace.com
---
Comments
We would love to hear your comments about this lesson. If you taught this lesson, we would love to hear how it went, if you changed anything, added anything, what age you taught and was it appropriate. Any comments that would help others teach this lesson are welcome.
---
Email Comments
I just wanted to tell you we recently used the lesson about God keeping us safe under his wings at home. We hatched baby chicks two weeks ago and that lesson went perfect. Anyone who is going to hatch eggs this year at school should really consider the lesson. It's a great way for kids to see how much the baby chicks rely on others to feed and water them like we rely on God to care for us. Jennie Galloway