Falling For Jesus Bulletin Board Display and Interactive Activity
Interactive Fall Bulletin Board Display and Learning Activity for Children's Ministry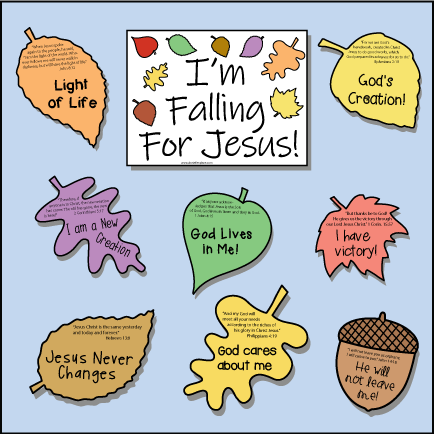 Children illustrate Bible verses on fall leaves and acorns shapes with words or pictures about what Jesus has done for them.
This bulliten board display includes the title page "I'm Falling For Jesus!" in both color and black and white, and fourteen different Bible verses on different shaped leaves and acorns that can be printed on colored paper or black and white paper for the children to color.
What to do:
1. Before class, print out the leaf and acorn shapes onto colored paper and cut them apart.
Members

Instant Digital Download

2. In class, have your children read the Bible verse on their leaf or acorn shape and then decide what the Bible verse is saying about Jesus and why we would fall for him. Have them write or draw pictures on the shapes to illustrate the verse.
3. When your students are done, have them share the Bible verse on their leaf shape and what they wrote about the verse with the class. Then have them cut out the shapes and tape them to your bulletin board to make a fall display.
©2022, Digital by Design, Inc. -*See Copyright Information