Ant Bible Crafts
Bible Crafts and Bible Games About Ants for Children's Ministry
"Consider the Ants" Children's Sermon
Scripture Reference - Proverbs 6:6-8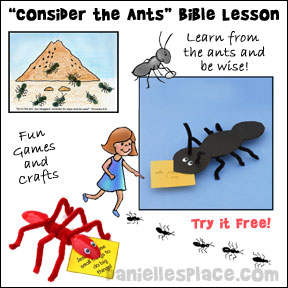 In this Bible lesson, children learn that we can learn from the ants and become wise. The ants do their work even when they don't have someone telling them what to do or checking up on them.
Following are some ideas from the lesson. This lesson is available to members only on The Resource Room.
Member's

Free Home School Curriculum - This is a free sample lesson. It is great for Christian preschools, Sunday School, Children's Ministry, and homeschools. Consider the Ants Free Sample Lesson.
Free Sample

This lesson is part of a series of lessons designed especially for Christian schools and home schools. They come with ABC learn-to-print worksheets and cursive writing worksheets. Each worksheet concentrates on one letter of the alphabet with a Bible verse and lesson to go along with the letter. They also contain other ideas in creative writing, mathematics, and other areas.
Make an Ant Picture Bible Activity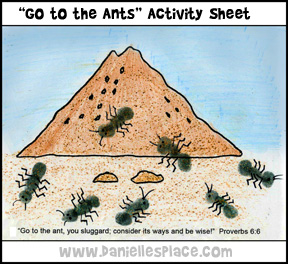 Have the children draw an ant hill on a piece of paper.
Show them how to press their fingers on an ink pad to make ants. Add legs and antennae using a pencil or marker.
Talk about the body parts of an ant, head, abdomen, and thorax.
Spoon Ant Holding a Bible Verse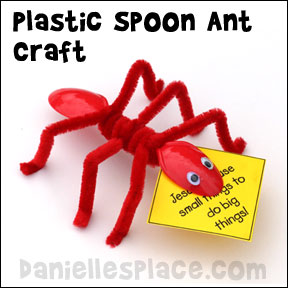 Children of all ages will enjoy making this simple ant craft. It is not only fun, but is a great children's ministry tool to encourage children to memorize their Bible verse.
Cut an ant shape from black poster board, punch hole along the sides where the legs and antenna go. Lace black pipe cleans through the holes for the legs and fold them so that the ant stands up. Glue googly eyes to the head.
Cut another head shape and glue it to the bottom head on the ant body so that the mouth will open.
Write the Bible verse on a sticky note and place it in the ants mouth.
Members

Free Ant

Study Ants
Set up an ant farm. Watch the ants work. Go for a walk and look for ants. What are they doing? Follow them back to their homes. At the beginning of class set out a plate of different foods near an anthill. At the end of class go out and check up on the plate to see if any ants have come for a meal. What did they like best?
Letter A Printing and Writing Sheet for Homeschool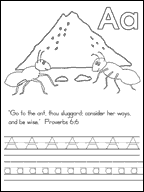 This ant lesson is included in a set of twenty-six lessons. Each lesson studies a different animal and Bible truth.
Each lesson includes printable worksheets including the dotted letters children can trace, letters with arrows showing how to print the letter, letters in cursive, and a complete Bible verse sheet which the children can practice writing.
See the ABC, I Believe Lessons for home school.
Make a List of Things to Remember
Have the children make a list of things that they will try to remember to do without having to be reminded.
This activity comes with a decorative sheet with ants all the way around the edge.
Member's

"Wise Ants" Printable Itty Bitty Book for Beginning Readers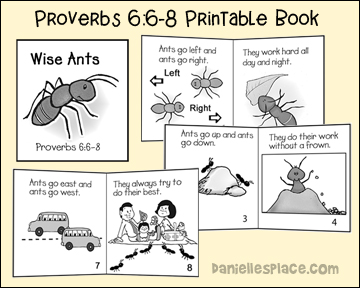 This story is based on Proverbs 6:6-8, "Go to the ant, thou sluggard; consider her ways, and be wise: Which having no guide, overseer, or ruler, Provideth her meat in the summer, and gathereth her food in the harvest." It goes with the Bible lesson "Consider the Ants" on The Resource Room and in the ABC, I Believe Lessons for home school.
Ants go left and ants go right.
They work hard all day and night.
Ants go up and ants go down.
They do their work without a frown.
Ants go to and and go fro,
Working together all in a row.
Ants go east and ants go west.
They always try to do their best.
Ants work hard for their size.
Learn from the ants and you'll be wise!
Member's

©2007, Digital by Design, Inc. - See Copyright Information
Counting Ants Printable Book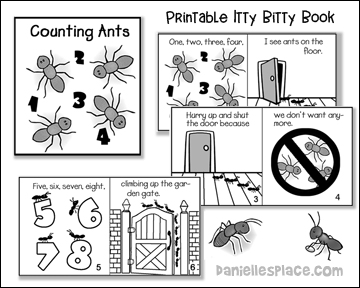 One, two, three, four, I see ants on the floor.
Hurry up and shut the door because we don't want anymore.
Five, six, seven, eight, Climbing up the garden gate.
There will be more if we wait.
Nine, ten, and eleven,
Oh no, four fell off and now there are seven.
I wonder if ants go to heaven?
Member's

©2007, Digital by Design, Inc. - See Copyright Information.
Pretend to be Ants
Divide your children up into groups of three to four ants: the head, the thorax, and the abdomen. The children who are the thorax and abdomen should place their hands on the shoulders of the child in front of them. Let them practice walking together saying left and right, left and right, as they go. Tell them to try to keep their feet all moving at the same time. Next, have them try marching to the Ant Chant.
Ant Chant
Left and right, left and right.
We work hard all day and night.
Left and right, left and right.
Working hard is our delight.
Left and right, left and right.
We don't whine, we do it right.
Left and right, left and right.
Jesus is our guiding light.
©2003, Digital by Design, Inc.-*See Copyright Information
Letter "A" Anthill
Show the children how to draw a large letter A on their papers. The A is the anthill. Show the children a picture of what an anthill look like inside. Have them draw in their own tunnels. They can also make ants using their fingerprints or glue raisins on the paper for ants.
Counting Ants
Draw anthills on ten paper plates and number them one - ten. Give your children raisins and have them place the correct number of ants on each plate. Then eat them all up!
Eat Ants and Sand!
Give each child a Ziploc bag of Graham cracker crumbs with raisins in it and let them pour it on a plate to explore and eat the anthill and ants.
Paper 3-D Pop-up Ant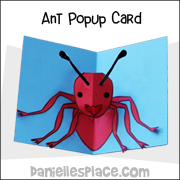 I teach a group of children ages 18 months to 3 years so basically it is a toddler class. I taught your lesson on Jesus Feeds 5000 with the ant and the fish crackers and soda crackers. I made the little baskets and put scripture in them just like your instructions. It was absolutely wonderful. The children loved Arnie the Ant and they listened and I feel they really got something out of this lesson. They all took their little baskets home with their little treats. It was a big hit and I loved preparing it for them as well as watching their excitement about the lesson. It was a little different and it added a lot to my already prepared lesson that is provided for us to teach. It was much more interesting and just made it FUN! Thank you so much. Vicki in Indiana, 3/01/10