Easter Bible Crafts for Sunday School Page 2
How to Make Easter Crafts for Sunday School and Bible School
"He Lives! Pool Noodle Easter Craft for Kids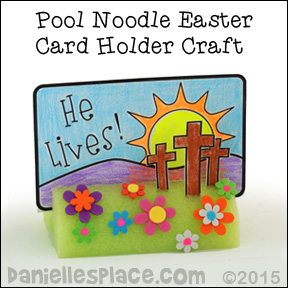 What you will need:
Pool Noodles
Serrated Knife (Bread Knife)
Card Stock
Colored Pencils
Glue
Faith Foam Stickers
and Flower Foam Stickers
What to do:
1. Before class use a ruler to mark off four-inch sections on the pool noodle.
2. Cut the pool noodle at each mark with a serrated knife making cylindar shapes. Then cut the cylindar shapes in half, lenghtwise to make the holders.
3. Cut a slit at the rounded top of the holder lengthwise across the center of the cylindar about 1/2" deep. Use this slit to hold Bible verse card.
4. Print out the Bible verse cards onto card stock. (Available to members on The Resource Room or as an instant download.)
Members

Instant Download $2.00 - Two Patterns: One for Dad and one for Mom.
5. In class have your children decorate the holders with liquid chalk markers and foam shapes, and place the Bible verse card in to holder.
He is Risen Paper Plate Bible Craft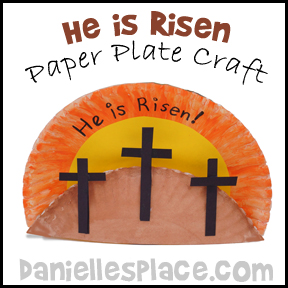 What you will need:
Paper Plates
Water Color Paint and Paint Brushes or Crayons
Black Card Stock or Construction Paper (You can also use 4 1/2" Craft Sticks
and 2 1/2" Mini Craft Sticks
.)
Yellow Paper (Optional)
Scissors
Low Temperature Glue Gun with Glue Sticks
Glue
Magic Marker or Sharpie Marker
How to Make the Easter Paper Plate Craft:
1. Cut the bottom three inches off of a paper plate. Measure three inches up from the very bottom of the plate and draw a line straight across the plate from side to side.
2. Glue the two sections of paper plate together top to top so that the cut edges are at the bottom.
3. Cut a six-inch circle from yellow paper and glue it to the center of the plate. Fold back the bottom part of the circle so that it comes out the back of the plate. This will help the piece stand up. Instead of using yellow paper, you can just paint the inside circle.
4. Paint the paper plates and write "He is Risen!" at the top with a magic Marker.
5. Cut cross shapes from black cardstock or construction paper and glue them to the front paper plate.
©2013, Digital by Design - See Copyright Information
I just wanted to thank you for all the incredible activities that you offer and all the ideas for the children's ministry. It has been really helpful to prepare my lesson for each week! You're a blessing for God's kingdom. You're blessing a lot of teachers like me that have to deal with many things at the time and find incredible solutions and ideas for the children's ministry every week! Thank you for your work! God Bless you abundantly! Thanks! Venessa, 4/20/2010
Decorate an Empty Easter Egg
This craft goes along with the free Bible less "A Very Speical Egg".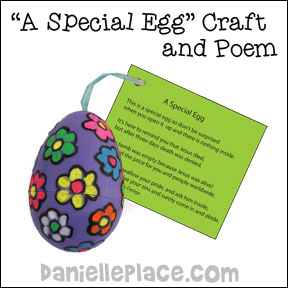 What you will need:
Liquid Chalk Markers
or Stickers
Large Plastic Eggs with holes at the top
Very Thin Ribbon
Colorful Paper or card stock
Hole Punch
What to do:
1. Before class print out the poems onto colorful paper and cut them apart. Use a hole punch to punch holes in the corners. (Instead of using the poem, you could print out the Bible verse on a card.)
Member's

Instant Download Pattern $2.00 -


2. Cut ribbon about 6" long so that there are points at each end. Poke the ribbon through the tiny holes from the inside to the outside. Pull the ribbon through the holes and tie the poem card to the ribbon.
3. In class have your children decorate the eggs with liquid chalk markers. If you have very young children, you stickers instead.
15+ Easter Bible Games For Children's Ministry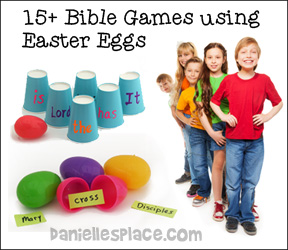 All the games are easy to prepare, and use only plastic Easter eggs and other easy-to-find supplies such as markers and paper.
The games can be adapted to any Bible lesson, and are used to review the Bible lesson and help memorize the Bible verse.
Children of all ages will love these games! Go to the Easter Game Page to view them.
Easter Books, Crafts, and Activities
You can find even more Easter Crafts on Easter Crafts Page 1
Been teaching SS for years and our literature is so boring and repetitive. The activities are not practical , especially in 45 minutes. I did 'Watchdog' last week and they loved the activities and really got into a discussion. I'm going to do 'ants' next week. Elaine, Columbia SC, 4/20/2010
Thank you for all the work you do for all of us. My Children's neighborhood outreach ministry is doing so well and much of it is because of the things I've been able to get from your website. PRAISE the Lord and YOU. Donna, 3/29/2010
Your web site is fabulous and I am soooo glad that I subscribed to it. It enhances my already planned out Sunday School lesson and gives me more options and my class is having a wonderful time. I have a lot of young children as I have e-mailed you in my letters before. It is very difficult sometimes to keep their attention long enough to tell a story but with the extra things I get from your site, it is working better. Vicki 3/29/2010 Thank you for all the work you do for all of us. My Children's neighborhood outreach ministry is doing so well and much of it is because of the things I've been able to get from your website. PRAISE the Lord and YOU, Donna - 3/18/2010
I've taught Bible classes for almost 30 years. Even though I always added my own ideas, I had gotten really tired of the purchased curriculum our church used. I found your material online several years ago and finally asked our education director last year for permission to use it instead. You've rejuvenated me as a teacher and my students love the lessons. The crafts are more work than the punch-outs in the purchased curriculum but so much better! Our church has a good support group for us teachers that make it much easier for us. We have wonderful volunteers who work each week in our Teachers' Workroom. I make copies of your craft/game/visual pages and give to them at least two weeks before I plan to teach the lesson. They have the material ready for my students tell me they really enjoy getting your crafts ready for the students.
Beginning this summer, our kindergarten class will use your site, too. Those teachers have seen your material that I'm using and are very excited. Thanks again for all you hard work and great ideas. Your ideas for presenting the Bible lessons are as good as your crafts and games! God bless you and keep your ideas flowing! Cheryl Blansett -03/15/2010