The Benefits of Arts and Crafts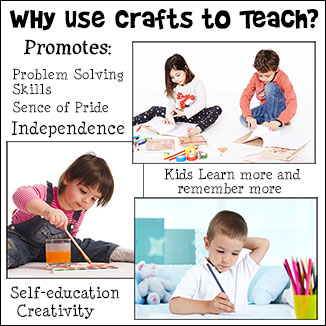 Homeschoolers consider using more arts and crafts in your home school curriculum.
Arts and Crafts are not only fun and entertaining, but are a great way to help your child succeed in every aspect of his or her life. Read more about how you can help your child grow through arts and crafts.
Danielle's Place of Crafts and Activities has thousands of educational crafts, learning activities that will suppliment your home school curriculum. Check us out today! With a yearly membership of only $23.95 you will have access to thousands printable patterns that you can use with your home school curriculum.
Fun Summer Crafts for Kids!
Summer is a great time to explore your backyard and local parks. Most children are fascinated by the natural object they find. Danielle's Place has hundreds of education crafts and learning activities to help explore these wonders and even use found objects to my their own creations. Check out these craft pages:
Nature Crafts, Bug Crafts, Bee Crafts, Acorn and Tree Crafts, Animal Crafts and Learning Activities,Animal Track Crafts
Bringing you great crafts and learning Activities since 1999!