Teaching Kids Through Crafts
Creative, Educational and Fun - All in One!

Welcome to Danielle's Place where you will find thousands of educational crafts, games and learning ideas designed to make teaching and learning fun. Many of our crafts are Bible-based and great resources for Sunday school teachers, children's ministry, preschool teachers, library programs, home school teachers, and special occasions. Watch our new "View it and Do it! videos to learn how to make these craft to teach your children.
New, Cheap and Easy Crafts for Your Children and Students!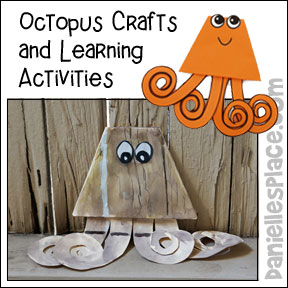 Octopus Art and Science Learning Activity
Use origami paper cup octopuses to teach art and science.
Child learn about camouflage, scientific names of animals, and using line, shape, and color to make designs.
Go to the Octopus Crafts Page for directions.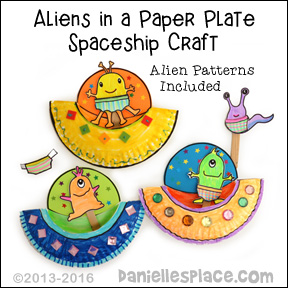 Alien Puppets in Wacky Paper Plate Spaceships
Children will love creating their own wacky spaceship and making underpants and other clothes for their alien puppets. Use this craft and activity to go along with popular children's book about aliens.
Go to the Alien Crafts and Learning Activities Page for directions.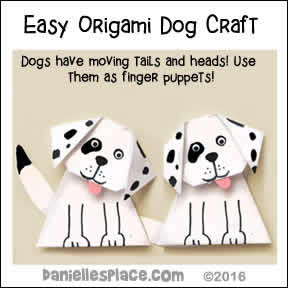 Origami Puppies Paper Craft for Children
Using the origami cup and other origami techniques children can make these adorable puppies that move their heads from side to side.
All you need is paper, tape, brass fasteners, and markers!
Go to the Dog Crafts and Learning Activities Page for directions.
New Bible Crafts for Your Children's Ministry and Sunday School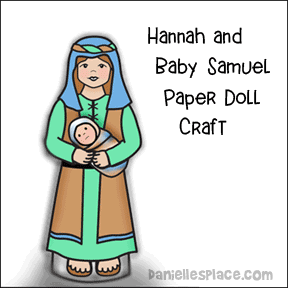 Hannah Holding Baby Samuel Paper Doll Craft
Young children will love playing with their Hannah and Bably Samuel paper dolls. The baby can be placed in Hannah's arms and then removed.
Go to the Hannah Bible Crafts and Bible Games Page for patterns and directions.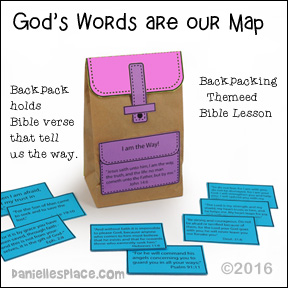 God's Words are Our Map Bible Activity
This is a great children's ministry activity for all ages. Children make these adorable paper bag backpacks to store Bible verse cards that will help them when they feel lost or lonely.
Go to the Jesus is the Way Bible Crafts Page for directions.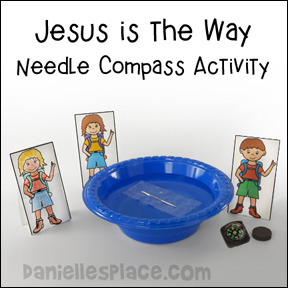 Discover Which way is North Bible Activity
Children place their backpacking paper dolls in the direction they think is north. Using a needle compass they discover which way really is north.
Go to the Jesus is the Way Bible Crafts Page for directions.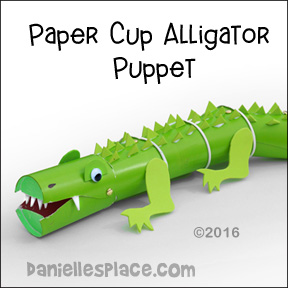 Alligator Craft and Learning Activity
Make this amazing alligator from paper cups, and your children will spend hours playing with it. Use it with recommended books about alligators to encourage your children to read and learn this summer.
Go to the Alligator Crafts Page for directions.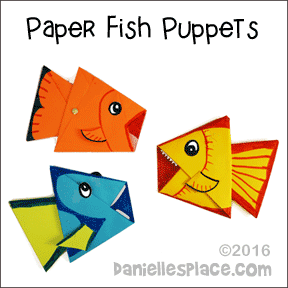 Swimming Fish Puppet Folded Paper Craft
Use origami paper cups to make these adorable swimming fish!
The tails move up and down to make the fish look like they are swimming. Objects can be placed in the open mouths as a learning activity or for pretend play.
Go to the Under the Sea Crafts Page for directions.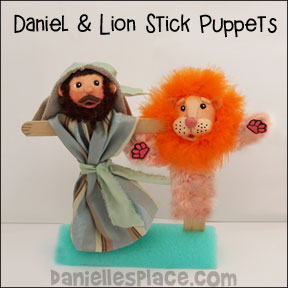 Daniel and Lion Stick Puppet Craft for Your Children's Ministry
Learn how to make stick puppets for your children's ministry or home school using craft sticks and Crayola Model Magic clay.
Go to the Stick Puppet Craft Page for directions.