Learning Fun Page
Educational Games and Crafts

Tired of boring worksheets and repetitive memorization? Does your child have a hard time sitting still long enough to finish his homework? On this page you will activities that are fun and educational at the same time. Your child won't even know he is learning. These activities are especially helpful for special needs children. If your child has a hard time concentrating, feels intimidated by traditional worksheets, can't sit still very long, or needs help in specific academic areas, this is the page for you.
Math Games and Activities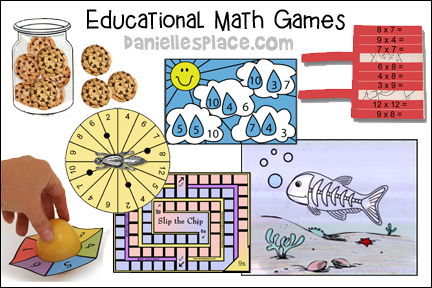 Seasonal math review games for all levels (Preschool through Fifth Grade), counting and sorting games, measuring, battleship, and math games that go with popular children's stories.
Folding Craft Stick Math Review Game and Craft
"Slip the Chip" Printable Math Review Game - Multiples of 9 and 6
"Don't Get Skunked" Spinner Math Game
"Searching for Treasure" Math Game
30 Days Has September Poem Coloring Sheet
Language Arts: Reading, Writing, and Spelling Games and Activities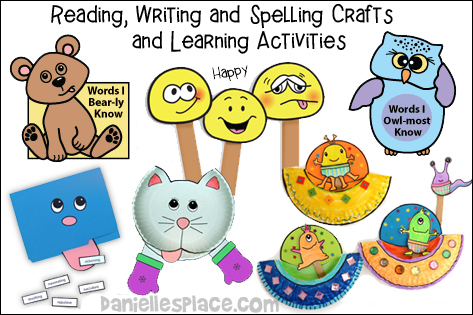 Emoji Creative Writing Activities and Emotions Learning Activities
Yummy and Yucky File Folder Reading Games
Learn to Read Bookworm Pointers Craft
Spelling and Vocabulary Word Games
Reading is Out of this World Paper Plate Craft and Bulletin Board Display -
Preposition Review Easter Egg Hunt and Writing Activity Bulletin Board Display
30 Days Has September, Number of Days in a Month Printable Activity Sheet
Word Games for All Ages
Word Review Games for All Ages (Preschool through Fifth Grade)
Spelling games, vocabulary word review games, reading and writing games, etc.
Letter and Words Review Games You Can Make
Review sight words, compound words, and spelling words.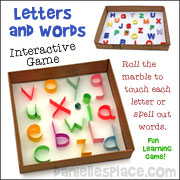 Review letters, spelling words, and vocabulary words with the fun interactive marble game.
Fish Cracker Reading Activity Sheet
Children place fish crackers on an activity sheet matching the pictures and words.
Cheez-it Word and Letter Review Game for Home School
Children play word and letter games to win Cheez-it crackers.
Books - Activities and Crafts for Popular Children's Books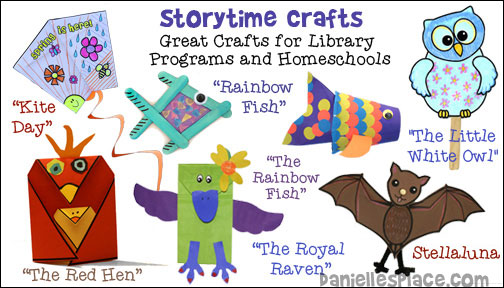 Storytime Crafts - Crafts and activities that go along with popular children's books such as "Froggy Goes to School" and "If You Give a Moose a Muffin".
Books with a Purpose
Suggested Children's Books that teach children about getting along with others, sharing, responsibility, kindness, overcoming fear, friendship, manners, and much more. There are also suggested activities to go along with many of the books.
Christian Home School Art Lessons
Children Learn About the Elements of Design and
the Great Designer
Lessons on The Elements of Design from a Biblical Perspective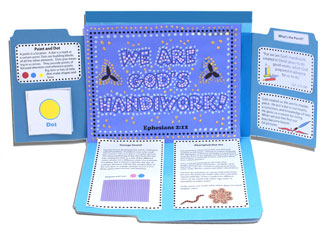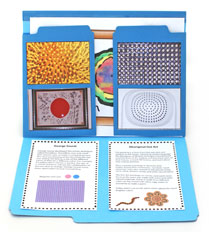 Bug Buddies Studies
Including Lapbooking Activities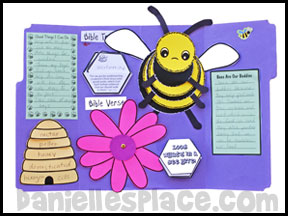 This Christian-based Set of Studies introduces children to variety of amazing insects. Each lesson emphasizes a Biblical concept relating it to a specific insect, and encourages children to dig deeper and learn more about insects.
Start your Homeschool Day Right with this fun and engaging Bible Study Curriculum for Preschool through Third Grade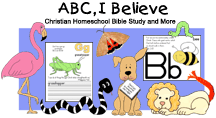 1. Each lesson in this curriculum is a thematic unit based on a letter of the alphabet, an animal starting with that letter, and a basic Bible truth.
2. Each thematic unit in this curriculum is used for one week reinforcing the main Bible truth and integrating it into every study area through games and activities. Areas include: math, reading, writing, science, physical fitness, and more.
3. The Bible lessons and activities in this curriculum are great for children who have special needs, such as children with ADD, ADHD, or other learning disabilities because all areas of study are reinforced using active learning and lots of sensory stimulation. Children learn while having fun!
4. The lessons and activities in this curriculum were designed for children preschool through third grade. You can use the same lesson for all these levels. The games and activities are made so you can adapt them to your child's needs and academic level.
Go to the Home School Page for more information.