My Rock Bible Crafts
Bible Crafts and Activities about the Rock
The following craft comes from crafts and activities come from "God's Love is Solid Like a Rock" Bible Lesson on The Resource Room
Member's

"God Loves is Solid Like a Rock" Paper Weight Bible Craft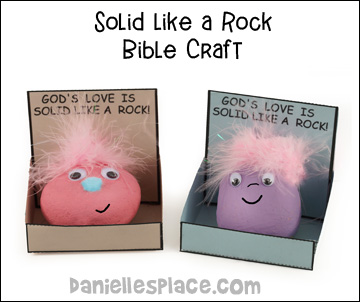 What you will need:
Smooth Round Rocks - 1-1/2" - 2-1/2" Inches (If you don't have these in your area, you can get some at your local landscaping supply place),
Colored Card Stock
Acrylic Paints
Paint Brushes
Glue
Yarn or Feathers for Hair (Optional)
Wiggle Eyes
What to do:
1. Before class print out the Box Pattern on to different colors of card stock. (Printable patterns available to members on The Resource Room.)
Member's

2. Prepare the boxes by cutting them out. Cut all the solid lines. To assemble the box fold the top square #1 that has the saying on it to the back away from you at the dotted line.
3. Fold all the dotted lines on the side flaps down or away from you. Fold the two side flaps down away from you. Fold square #2 back away from you.
4. Fold the last 2 dotted lines back away from you.
5. Turn the box over so that you can read the words on square #1.
6. Glue the top tabs of the side flaps to square #2 and then glue square #1 down to square #2 to cover the tabs.
7. Glue the bottom tabs of the side flaps to square #4. Fold square #5 up over square #4 and glue it down to cover the tabs.
8. Cut one-inch pieces of yarn or use feathers for the hair.
9. In class have the children paint their rocks with acrylic paint and glue on the eyes and hair.
He is the Rock Bible Verse Coloring Sheets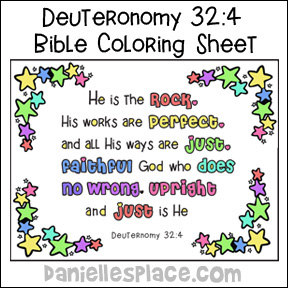 He is the Rock Coloring Sheet (Pattern available to Members on The Resource Room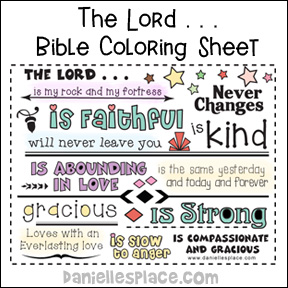 "The Lord . . . " Coloring Sheet (Pattern available to Members on The Resource Room)