Bible Crafts and Activities For Sunday School
Bible Themes: Rooted and Grounded in God's Love, Trees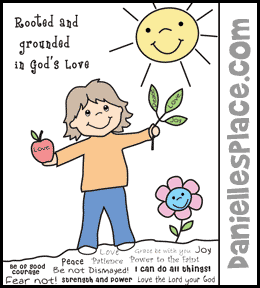 Reference Verse:
"That Christ may dwell in your hearts by faith; that ye, being rooted and grounded in love, may be able to comprehend with all saints what is the breadth, and length, and depth, and height; " Ephesians 3:17-18, KJV
Teaching Concept:
When you are rooted and grounded in God's love you can grow to be like a strong tree with long roots that provides shelter, food, and protection to others.
Crafts and Activity Ideas
"Rooted and Grounded in God's Love" Color Sheet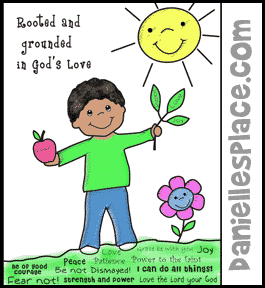 Print out the patterns and make copies.
Have your children color the picture. As they work talk about how trees with deep roots can stand up to storms and drought much better than trees that have very little roots.
Talk about how we can be like a strong tree when we plant our "roots" in God's words. When storms come or bad things happen, we can stand strong because God will help us through.
Member's

Rooted Fruit of the Spirit Tree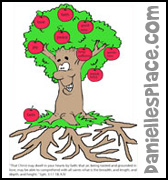 Before class print out the activity sheet and fruit sheet.
Member's

Cut out the apples and separate them into groups of the nine fruit of the spirit.
In class give each child a tree picture and a set of apples. Have them color the tree and draw in roots and then glue the apples to the tree.
Discuss how getting to know Jesus and his words help us to produce the fruit of the spirit.
Make a Tree Picture

What you will need: Brown Water-Based Paint, Water, Paint Brushes, Green Dotters or Green Paint, Markers, Heavy Card Stock and Coffee Stirs
Member's

What to do:
1. Before class print out the Bible verse onto card stock or just print it by hand onto the card stock.
2. In class show the children how to paint a tree trunk in the middle of their paper. Then place a blob of watered down brown paint at one end of the tree trunk. (The paint must be watery so that it will run easily.) Blow on the blob of paint, directing the airflow with the coffee stir in the direction you want the roots to go. Place the end of the coffee stir very close to the blob of paint (almost touching it while you blow). Turn the paper over and do the same thing for the tree limbs.
3. You can have the children draw the top of the tree with markers or paint or sponges or the paint dotters. Have them draw in fruit or anything else they would like to add.
"If I Were a Tree" Activity for Older Children
Ask the children: "If you had to be a tree, what kind of tree would you be? Where would you live?" Tell them to share what kind of tree they would be. For example, you could say, "If I were a tree, I would be a huge apple tree with lots of leaves and strong branches. In the spring the birds would make their nests and hatch their young on my branches. My leaves and branches would shelter them during the storms. I would have beautiful white flowers all over my branches. In the summer children would climb up my branches and swing to the ground. And they would lie on blankets and I would shade them from the hot sun. And in the fall the animals and people would come to enjoy the delicious fruit I produced.
When everyone has shared their ideas, talk about how Christians should be a lot like the tree you described. People should trust us enough to come to us for comfort. We should produce good fruit and help others to grow in their faith by sharing ours. People should enjoy being around us and look up to us. They should see Jesus in us.
© 2011, Digital by Design, Inc. - See Copyright Information
Rooted in Love Sunday School Lesson
This is a sample lesson. The patterns for this Lesson are available to members on The Resource Room.
Preparation: Before class print out the Bible Verse Root Patterns and tape them together. Collect stuffed animals (animals that might live in a tree or under the roots of a tree) and plastic fruit. If you don't have stuffed animals or fruit, cut fruit shapes from paper and use pictures of animals.
Read "The Busy Tree" by Jennifer Ward - This book is about a tree that has long, winding roots that anchor it, feed it, and help it grown strong. Each page of the book gives examples of how the tree supports, shelters, and produces fruit that feeds the animals.
The Lesson:
You are probably wondering why I read this book to you. What does this story have to do with the Bible anyway? Did you know that the Bible talks a lot about trees?
Listen to this Verse from Jeremiah:
(Open and read the verse from your Bible.)
NIV - "But blessed is the one who trusts in the LORD, whose confidence is in him. They will be like a tree planted by the water that sends out its roots by the stream. It does not fear when heat comes; its leaves are always green. It has no worries in a year of drought
and never fails to bear fruit." " Jeremiah 17:7-8
KJV - "Blessed is the man that trusteth in the LORD, and whose hope the LORD is. For he shall be as a tree planted by the waters, and that spreadeth out her roots by the river, and shall not see when heat cometh, but her leaf shall be green; and shall not be careful in the year of drought, neither shall cease from yielding fruit. "
Deep Roots:
In this Bible verse Jeremiah is comparing people to a tree, but not just any old tree. He says that if we trust in the Lord we are like trees that have deep roots. The tree in our story today had deep, winding roots. Open to the first page and the second page and read the page again, "These are my roots, winding and long; they anchor and feed me and help me grow strong.
If your "roots" are anchored in God's words and his love, you will be like a tree with roots that go deep into the soil. You won't get knocked over or lose your faith when a storm comes up, or something bad happens in your life. If your roots are deep and holding onto God, you will keep on trusting God no matter what happens in your life.
Demonstrate What it Means to Have Roots:
Pick a child to come up in front of the class and have him stand on a blank sheet of paper with feet together so that his feet do not go off the paper. Have him put his arms out and pretend to be a tree. (Balance stuffed animals and plastic fruit on the child's shoulders and arms). Tell your children that this child represents a person who does not know God's words and doesn't stand on his promises.
Pick another child to come up and stand on the three root pattern sheets of paper that you have taped together. Tell your children that this child represents a tree that has strong roots, or a person who knows and trusts in the word of God. Have the child spread his feet apart as far as he can without placing his feet off the papers. Have him also spread out his arms to look like tree branches. Place things on his "branches".
Now let's see what happens to the person who does not have strong "roots" or put his trust in God when bad things happen to him. Place your hands on the first standing child and push against his shoulders to push him off balance until some of the things fall off his arms and gets off balance. Do the same thing to the other child. Show your children the paper with all the Bible verses written on them. Read some of the Bible verses. Explain that the child that was standing on these pages was rooted in God's words. When bad things began to happen he was not easily uprooted. (This idea comes from a member - see below.)
Produce Good Fruit:
The more you learn and study God's words the deeper your roots become. You can tell what kind of tree a tree is by looking at the fruit it produces. If a tree doesn't have a good root system it won't get the water and nutrients it needs to produce good fruit.
Read Matthew 12:33 & 35.
"A tree is identified by its fruit. Make a tree good, and its fruit will be good. Make a tree bad, and its fruit will be bad. . . . A good person produces good words from a good heart, and an evil person produces evil words from an evil heart. If we are well rooted in God's love we will produce good fruit.
Just like a tree, people who have their roots in God produce good fruit. The Bible tells us what some of those fruits are: love, joy, peace, patience, kindness, goodness, faithfulness, gentleness, and self-control." When we produce these fruit we can help and support others. Our lives will be full, reaching out and helping others and drawing others to Jesus. The first tree in our demonstration couldn't support the animals and fruit on its branches because it wasn't getting the nourishment it needed. But the tree that had deep roots was able to produce fruit and draw wild life to its branches.
Do you remember what animal in the story was eating the acorns? - chipmunks.
What other animals eat acorns? - squirrels, birds, bugs, etc.
The busy tree was a home to many animals. Do you remember some of the animals that lived in the tree? an owl, birds, moth, spider, mole. It also provided food for the squirrels, woodpecker, ladybug and ants.
When you produce fruit such as love, joy, peace, patience, you will also be like this busy tree. People will come to you for help, comfort, and to play because you will be the kind of person that everyone enjoys being around just like the busy tree.
This lesson is also available in an Older Children's version on The Resource Room
© 2011, Digital by Design, Inc. -See Copyright Information
When I was asked how many books I needed for the fall session, I just said "if it is O.K. NONE, I"m continuing on with daniellesplace" I have been with you since the beginning of summer. The kids and I love your lessons, crafts and games. The kids that got promoted in September to the next class keep telling me that they wished they were back in mine. It does take more time to get the lessons and things copied off but I must say it is well worth it. Thanks for all you've done. Keep it up. God bless, Wadeanne
Songs
"May Your Roots Grow Deep into God's Love"
Sing to the tune of "My Bonnie Lies Over the Ocean".
May your roots grow deep into God's Love
Don't let anyone lead you astray
May your roots grow deep down into God's Love
Oh, be anchored to God I pray
Anchored, Anchored,
Anchored in his love today, today
Anchored, Anchored,
Anchored in his love today
"I'm a little Tree Sprout"
Sing to the tune of "I'm a Little Teapot"
I'm a little tree sprout, short and stout,
Plant me near the water, watch me grow.
When my roots grow deep down, reaching out
I won't be worried about a little drought!
Anchored in God's love, yes it's true
Here's an example of what I can do
I can grow my branches all about
So you can climb on me without falling out.
© 2011, Digital by Design, Inc. - See Copyright Information