Language Arts: Reading, Writing, and
Spelling Games and Activities

Active learning activities including: word review games for all ages, spelling games, vocabulary word review games, reading and writing games, etc.
Math Games and Activities
Active math games for all levels including: printable board games, printable card games, and spinner games.
Books - Activities and Crafts for Popular Children's Books
Crafts and learning activities that go along with popular
children's books such as Froggy Goes to School and If You
Give a Moose a Muffin.

Preschool Learning Activities
Printable interactive games and activities to help get your
preschooler ready for school.
Lapbooks Lessons for Home School
Just $23.95 (US funds) per year for individual memberships
and $47.95 (US funds) for churches who would like to give
any of their paid or volunteer staff members access to the
site (See below).
Bible Lessons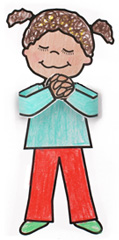 You will find over 300 Bible lessons for kindergarten through fifth grade. Most of the lessons were designed for multiple grade levels.
Outreach Ideas
Some of the lessons include cards and brochures relating to the upcoming lesson that can be sent out at the beginning of the week announcing what they can look forward to doing. They can include: puzzles, incentives, memory verses, and much more.
Early Arrivals Activity

Activities that can be done by children who arrive early to introduce them to the lesson while you take attendance and collect the offering and wait for all the children to show up. They include things like search and find sheets, games, and puzzles relating to the lesson.