Valentine's Day Crafts for Kids
Page 2

Valentine's Day Crafts Kids Can Make
Owl Valentine's Day Box
What you will need:

Brown Card Stock

PrismaColor Colored Pencils

Glue

Scissors

Clear Tape

Oatmeal Box

Knife

How to Make the Owl Valentine's Day Box:

1. Cover the sides of the oatmeal box with the brown card stock. Tape it to the box with clear tape.

2. Draw the head and wing shapes from the same colored card stock. Outline the drawn lines with a black sharpie marker. Color in the eyes, nose, and feet with colored pencils. (A printable pattern is available to members.)

3. Cut heart shapes from white or colored paper and glue them to the body of the owl.

4. Cut a slit in the plastic lid with a knife so the cards can be inserted into the box without opening it.

©2014 - Digital by Design, Inc. - See Copyright Information
You Hold the Keys to my Heart Paper Keys and Heart Craft for Kids
Children of all ages will love this Valentine's Day Craft!


They can write things they admire about a loved one on each key.

The patterns for this craft are available to members. The back of the heart says, "You Hold the Keys to My Heart!

What you will need:

Colorful Cardstock (Heavy Paper)

Pipe Cleaners - Chenille Stems (Any Color) or Zip ties

Pens or markers

Scissors

Hole Punch

How to Make the Key Craft:

1. Cut key shapes and heart shapes from different colors of card stock.

2. Have your children write things they like about a friend or parent on the keys and then draw a happy face on one side of the heart shape and the words "You Hold the Keys to My Heart! on the other.

3. Punch holes in the keys and the heart and string them together with a pipe cleaner.

©2014 - Digital by Design, Inc. - See Copyright Information
Minion Valentine's Box Card Holder Craft for Kids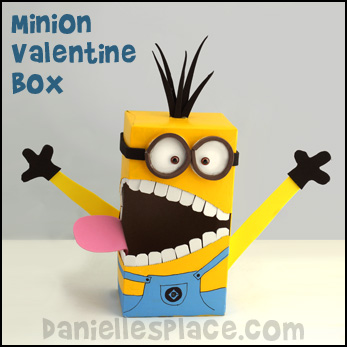 How to Make the Minon Valentine's Day Card Holder:

1. Paint the entire box yellow and let it dry. You may need three coats of paint to cover the design on the box completely. Let the paint dry between each coat.

2. Cut the tongue, arms, hands, hair, glasses and teeth from craft foam and glue them to the box using a low tempertature glue gun.

3. Cut 1 1/2" circles from white craft foam for the eyes and glue them to the box. To make the googles cut a thin strip of brown or tan craft foam and glue it around the edge of the eyes. Cut strips of black craft foam for the google straps.
4. Glue the teeth and tongue to the inside of the box.

5. To finish draw the outfit with a pencil and then paint the outfit blue. When the paint is dry outline the outfit with a black marker.

©2014 - Digital by Design, Inc. - See Copyright Information

We would love to see your minions. If you make a minion, send us a picture and we will put it up here.
Memory Cross Valentines Day Cards
Blushing Peguin Valentine's Day Card Holder Craft for Kids
What you will need:

Empty Oatmeal Box

Pink, Orange, and Purple Acrylic Paint

White Paper and Cardstock

Black Sharpie Marker

Paper or Styrofoam Bowl

Large Pompom

Low Temperature Glue Gun

Clear Tape
What to do:

1. Cover the entire oatmeal box with white paper using clear tape of glue.

2. Paint the penguin pink leaving the stomach and face white.

3. Draw wings, beak, eyes, and feet onto card stock, paint them, cut them out, and glue them to the oatmeal box.

4. Paint the paper bowl, glue a pompom to the top, and then glue it to the lid of the oatmeal box.

Children remove the hat to insert their Valentine's Day cards.

Created by Danielle Warvel

©2014 - Digital by Design, Inc. - See Copyright Information
"I'd Like to Give You a Great Big Bug Hug." Valentine'sDay Card Craft
What you will need: Card Stock, crayons or markers, pipe cleaners, scissors, tape or glue, pink paper.

What to do:

1. Print out the Pattern (Available to members) and make copies.

2. Have the children color the bugs body, hands, and boots and cut them out.

3. Cut out heart shapes for the wings and feelers.

4. Cut pipe cleaners for the legs and tape to the back of the bug.

5. Glue the back of the bug's body onto the front to cover up the pipe cleaners.

6. Tape pink hearts on the back of the bug for wings and tiny hearts at the end of the bug's feelers.

7.Glue or tape the boots and hands to the ends of the pipe cleaners.

Just wanted to let youknow that our Sunday School children made your Big Bug Hug cards for the kids away at college and we mailed them to them. I just spoke to a mother of one of the recipients and she said that her daughter thought the bugs were really neat and that she enjoyed receiving it. We also made the "Can you keep a secret" mice heart cards for the shut-ins and put them in a bag with some cookies. They all were very happy to receive them also.
Thank you for your great ideas for crafts and lessons. Our children really enjoy them. Sincerely, Beth Bennington

Copyright 2000, Digital by Design, Inc. - See Copyright Information
"I Hold You in My Heart!" Valentine Card Craft
What you will need: Paper, construction paper (red or pink), scissors, crayon or markers, paper glue.

What to do:

1. Before class print out the Card Pattern and make copies. Print out the Rabbit Pattern and cut the rabbits out. Cut around the rabbit's paw up to the rabbit's chin.

2. In class have the children color the cards and the rabbits.

3. Cut a slit in the heart and slide the rabbit into the heart so that the paws are hanging over the edge of the slit.

4. Glue the card onto a piece of construction paper, but don't glue too close to the rabbit so that he can be removed from the heart.

* To make this craft easier you can use Card Pattern 2. This pattern has the rabbit drawn on the heart.

Copyright 2000, Digital by Design, Inc. - See Copyright Information
Valentine Windsock Craft
What you will need: Card Stock, red and pink crepe paper streamers, yarn, hole punch, stapler, tape.

What to do:

1. Before class print out the Pattern and make copies onto card stock.

2. In class have the children color the windsock.

3. When they are finished have them tape or staple red and pink crepe paper streamers onto the bottom back of the pattern.

4. Roll the pattern up and staple the ends together.

5. Punch a hole at the top of the roll on opposite sides and tie yarn to make a loop to hang the wind socks.

Copyright 2000, Digital by Design, Inc. - See Copyright Information
You Can Find Even More Valentine Crafts on
Valentine's Day Crafts Page 1