Creativity and the Visual Arts
Including: Books about Art and Creativity for Children,
Printables, and Art Activities
Using Arts and Crafts to Teach Children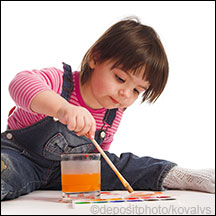 Why Use Crafts and Learning Activities to Teach?
This article discusses the benefits of arts and crafts in education, and gives suggestions on how you can foster successful children.
You don't have to have an art degree to teach your child art. In this article you will find find some great tips on how to teach your children art and help them to be more artistic.
Doodle 4 Google
Google inspires young artists with their Doodle 4 Google Contest. Through a series of videos and downloads children are introduced to the creative process including: Brainstorming, Using their imagination, Creating, and Sharing and Collaborating their ideas.
Books About Creativity and Art
"A Book About Design, Complicated Doesn't Make it Good"
A Book About Design: Complicated Doesn't Make It Good by Mark Gonyea
This is a great book for young artists. Using simple and humorous text the author explains how the elements of design can be used to make an interesting and effective work of art.
Activity - Have your children identify the different concepts discussed in this book in other works of art. Encourage them to use as many elements of design in their own work of art as they can.
"Name that Style, all About Isms in Art"
Name That Style: All About Isms in Art (Bob Raczka's Art Adventures)
Author, Bob Raczka, describes fourteen different artistic styles from 1930 to 1970 including: Naturalism, Mannerism, Neoclassicism, Romanticism, Realism, Impressionism, Pointillism, Fauvism, Cubism, Futurism, Surrealism, Expressionism, Op Art, and Photorealism.
Activity - After reading this book look at other works of art by the same artists and see if your children can identify the styles.
"A Penguin's Story" by Antoinette Portis
"A Penguin Story
" by Antoinette Portis
Edna the penguin knows only three colors, the white ice, the black night, and the blue sea, but she is convinced there is something more out there so she sets out on an adventure to find more color. When she finally finds what she is looking for she it everything she had hoped for and more. But is she satisfied?
This is a great book to discuss many of the elements of design. The author uses bold lines, simple shapes, and color to illustrate the story.


Elements of Design to Find and Discuss:
1. Find diagonal lines in the story. How do the diagonal lines depict movement.
2. Find zagged lines. How do they make you feel?
3. How to the new colors introduced at the end of the story make you feel?
4. What types of texture and patterns are used in the book?
5. Look for curved lines. What do they convey in the story?
"The Little White Owl" by Jane Chapman
The Little White Owl
- Little White Owl lives all alone in the snow, but he doesn't mind so much because his head was full of happy stories. One day he decides that it is time to go see the world and discovers a place that is occupied by beautiful colorful owls, owls just like him, or so he thought. When he tries to be friendly with them they are standoffish and tell him he doesn't belong with them because he doesn't have any colors. Little Owl disagrees and says, "But I do have colors . . . here in my heart! . . . I'll share them with you if you want?" Though the colorful owls were reluctant at first, they find that they enjoy Little White Owl's stories and ask for more. When it is time to go home the pretty owls ask to come with him, and the Little White Owl leads them to his home. They become good friends and promise to visit each other often.
"I Ain't Gonna Paint No More!" by Karen Beaumount
A humorous story about a kid who can't resist painting. Written to the tune of "It Aint Gonna Rain No More" it is irresistible even though the child is misbehaving. His mother takes his paints away and he tells her that he, "Ain't gonna paint no more, but even though he says it, he is thinking, "but there ain't no way that I ain't gonna paint no more." and proceeds to paint every inch of his body until he has no paint left.
"The Pencil" by Allan Ahlberg and Bruce Ingman
The Pencil
- You never know what will happen when a lonely little pencil decides to make its move. It shivered slightly, quivered somewhat . . . and began to draw. But one thing leads to another. A boy has to have a dog, and a dog needs a cat to chase, and of course, the dog has to have somewhere to chase the cat. All is well until they began to complain that everything was just black and white. So the pencil drew a paintbrush. The pencil and the paintbrush worked together to create an exciting world. But then there were more complaints. The people weren't satisfied so the pencil drew an eraser. The eraser rubbed things out and the pencil and paintbrush drew them in again. And everybody was happy. But then the eraser got too excited and started erasing everything. The pencil drew all kinds of thing in an attempt to stop the eraser, a wall, mountains, a cage, but the eraser kept on erasing. When all seemed lost the pencil came up with a plan. It drew another eraser. And the erasers rubbed each other out. The pencil and paintbrush went back to work to create their perfect little worlds.
"Olivia" by Ian Falconer
Olivia
Olivia is a precocious little pig that is very good at wearing people out, even herself. She likes to go to the museum and is especially fond of Degas' picture of the dancing girls, but doesn't understand the Jackson Pollock Picture. When she gets home she tries to copy his technique and gets in trouble for making a big mess.
Read Eloise at Christmastime
and compare the two characters and the illustrations. Ask your children how they are similar and how they are different.
Visit Olivia's web site to download games and printable activity sheets that go along with Olivia's books. Find out about the author, join the fan club, learn about more Olivia books, and play interactive games.
In the book Olivia goes to the museum and looks at two different paintings, and has very different feelings and ideas about them. Children are asked to look at the paintings that Olivia observes in the museum and then draw what the paintings make them think about. A printable sheet is available at this web site.
Children's Books About
Art, Imagination, and Creativity
"Not a Stick" by Antoinette Portis
Not a Stick
- Using only simple lines and shapes the author effectively convey the power of imagination. A little pig
1. What can you do with a stick? Find some stick of different sizes and shapes. Decide what you can do or make with them. Let your imagination run wild!
2. Watch this Story Being Read on YouTube.
"Going Places"
Going Places
by Peter Reynolds - While the little boy in the story follows directions and constructs his go-cart exactly to the designs, another little girl uses her creativity to make a completely new design. When the two children combine their work they come up with an amazing, workable go-cart that "soars above the rest".
This story teaches children to use their imaginations and to work together to create things beyond their wildest dreams. It encourages imagination, thinking outside the box, the inventive spirit, and using engineering skills.
"The Legend of the Indian Paintbrush"
The Legend of the Indian Paintbrush
by Tomie dePaola. A young Indian boy doesn't fit in because he can't keep up with his friends; instead he developes his gift of art.
The Most Magnificent Thing
The Most Magnificent Thing" by Ashley Spires - A little girl learns what perserance can accomplish.
What Do You Do With an Idea?
What Do You Do With an Idea?
by Kobi Yamada and Mae Besom
Great book to encourage your children to think outside the box, and help them develope a creative spirit.
"The Game of Finger Worms" by Hervé Tullet
The Game of Finger Worms
Children use their own fingers to make "fingerworms" and stick them through the holes in the book to complete the illustrations.
More Art Books for Kids
Books and Articles About Nurturing Creativity in Children
Nurturing Creative and Naturally Curious Children
Child of Wonder: Nurturing Creative and Naturally Curious Children (Wonder Collection)
Topics Include:
1. Understanding and Encouraging Creativity
2. Allowing Children to Arrive at Their Own Pace
3. Setting up and Organizing the Creative Environment
4. Asking the Right Questions at the Right Time
5. Encouraging Imagination, Curiosity, and Confidence Through Play, Experimentation, and Discovery
6. Developing Creativity and Thinking Skills Through the Arts, Sciences, Stories, and Media
7. Celebrating the Creative Spirit
10 Things Creative People and Data-Driven People Have in Common
It takes more than being artistic or intelligent to be successful. This article gives ten characteristics that successful people from all walks of life share. The impulsive artist and analytical, number-cruncher may have special talents but if they aren't resourceful, intuitive, outside-the-box thinkers, and not afraid to take risks, they won't be very successful. Check out this article to learn how to help your child be more successful.
Christian Home School Art Lessons
Artistic Design and the Great Designer
Art Lessons on The Elements and Principles of Design from
a Biblical Perspective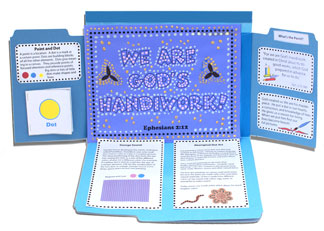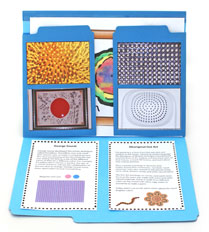 Fun art projects for all ages. The lessons are adaptable to all ages and abilities.

Biblical concepts that go along with each element of design.
Children learn artistic techniques, experiment with different artistic media, read books relating to each element, and learn about famous artists and art movements.
Each lesson comes with printable patterns that are displayed in a file folder that folds out to become an easel on which your children's art can be displayed.
Point and Dot - "What's the Point?"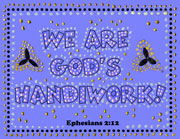 Bible Verse: "For we are God's workmanship, created in Christ Jesus to do good works, which God prepared in advance for us to do." Eph. 2:10
Teaching Concept: A point is a location, and a dot is a mark at a certain point. Dots are the building blocks of all the other elements. Dots give meaning to a canvas. They provide points of focused attention and reference points. When God created us he put a "dot" in our hearts, a conscious, and knowledge of him. He gives us a reason for living.
Artists and Artistic Techniques: Pointillism, George Seurat, and Aboriginal Dot Painting
Line – "Which Path do You Choose?"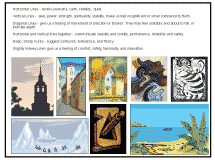 Bible Verse: "Give careful thought to the paths for your feet and be steadfast in all your ways." Pr. 4:26
Teaching Concept: A line is a path between two points. Lines can have many different characteristics. They can be straight, curved, fat, or skinny. The Bible talks a lot about the paths we take, referring to the decisions we make and the consequences of those decisions. According to the Bible there are two paths we can pick; the right one and the wrong one. The right path leads to life, the wrong one lead to death.
Artists and Artistic Techniques: Wassily Kandinsky's crayon drawing, Paul Klee, symbolism in art, Aboriginal Artist Ronnie Tjampitjinpa's line and symbol paintings, illustrator and author Ed Emberley and thumbprint art, and illustrator author Patrick McDonnell
Shape - "It's Your Choice"
Bible Verse:"Choose you this day whom ye will serve . . . but as for me and my house, we will serve the Lord.: Joshua 24:15, KJV
Teaching Concept: You are a lot like an artist. Every choice an artist makes about the shapes on his canvas affects the outcome of his work. God has given you the freedom to choose how you will live your life. Every choice you make has consequences and determines how your life is shaped.
Artists and Artistic Techniques:
Jean Arp's Collage Arranged According to the Laws of Chance, organic and abstract shapes, Printmaking techniques - positive and negative shapes.
Color - "How Do You Feel?"
Bible Verse: "For we walk by faith, not by sight:" 2 Corinthians 5:7, KJV
Teaching Concept: People are very much affected by the colors and combinations of colors they see in a work of art. A good artist uses color and other elements and principles of design to create a piece that conveys his feelings and elicits strong emotions from the viewer.
As a Christian we are to walk by faith, not by what we see because what we see is not always what we can depend on. We live in the physical world, but must also consider the spiritual, the unseen world. Things may look bleak and out of control, but we can know that God is always in control when we put our faith in him.
Artists and Artistic Techniques:
Georgia O'Keefe, Claude Monet, Impressionism, and color theory.
Value – "Light or Dark?"
Bible Verses: "I am the light of the world: he that followeth me shall not walk in darkness, but shall have the light of life." (John 8:12)
Teaching Concept: The artist's use of value in an image can determine its success or failure. Value, the lightness or darkness of a color, is used to create a mood, focal points, and movement. Values can also be used in art to symbolize spiritual concepts. The Bible uses light and darkness to symbolize life and death. Like artists, we must decide what values are important. We must decide if we want to walk in darkness or follow Jesus and have the light of life. Our decisions will determine our success or failure.
Artists and Artistic Techniques: Rembrandt, chiaroscuro drawing, Identifying values using a grayscale ruler, high contrast and low contrast images, using dots for shading, and silhouettes.
©2012, Digital by Design, Inc. - See Copyright Information
Elements of Design Crafts and Learning Activities
Elements of Design - Point and Dot