Easter Bible Crafts for Sunday School
Page 2

How to Make Easter Crafts for Sunday School and Bible School
He is Risen Paper Plate Bible Craft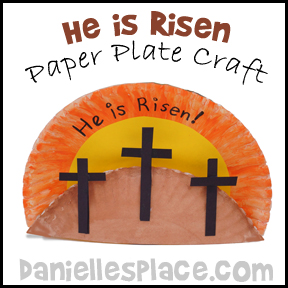 What you will need:
Paper Plates
Water Color Paint and Paint Brushes or Crayons
Black Card Stock or Construction Paper (You can also use 4 1/2" Craft Sticks
and 2 1/2" Mini Craft Sticks
.)
Yellow Paper (Optional)
Scissors
Low Temperature Glue Gun with Glue Sticks
Glue
Magic Marker or Sharpie Marker
How to Make the Easter Paper Plate Craft:
1. Cut the bottom three inches off of a paper plate. Measure three inches up from the very bottom of the plate and draw a line straight across the plate from side to side.
2. Glue the two sections of paper plate together top to top so that the cut edges are at the bottom.
3. Cut a six-inch circle from yellow paper and glue it to the center of the plate. Fold back the bottom part of the circle so that it comes out the back of the plate. This will help the piece stand up. Instead of using yellow paper, you can just paint the inside circle.
4. Paint the paper plates and write "He is Risen!" at the top with a magic Marker.
5. Cut cross shapes from black cardstock or construction paper and glue them to the front paper plate.
©2013, Digital by Design - See Copyright Information
Easter Books, Crafts, and Activities