New Year Crafts and
Learning Activities for Children
New Years Crafts for Home School and Children's Ministry
Turning Over a New Leaf New Year's Resolution Printable Activity Sheet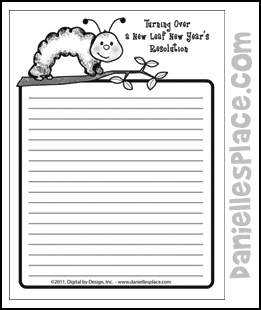 Inchworm Turning Over a New Leaf New Year's Resolution Printable Activity Sheet
Turn over a new leaf with this adorable little inchworm!
This pattern is available to members only.
© 2011, Digital by Design, Inc. - See Copyright Information
"I'm Turning Over a New Leaf" Printable New Years Booklet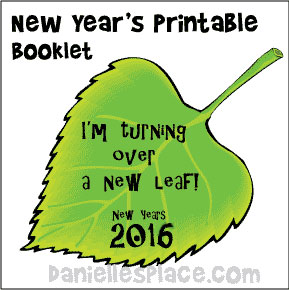 What you will need:
Green printer paper
Scissors
Stapler
How to make:
1. Cut out three large leaf shapes from green computer paper. Write I'm Turning Over a New Leaf!" on one leaf with the date. Draw lines on the other two leaves and label one "Old Leaf" and the other "New Leaf". (Printable patterns for this activity is available to members.)
2. Staple the pages together to make a book.
3. Explain to your children that at idiom is a phrase or expression that means something different than what the words actually seem to say. Ask them if they have ever heard of the expression "I'm turning over a new leaf", and if they think they know what it means. If you use the literal meaning, you would picture someone picking a new leaf from a tree and turning it over, but that isn't the meaning of the expression.

The pages in books used to be called leaves. Some books were even written on actual leaves such as palm leaves. When you say you are "turning over a new leaf", you are saying that you are "turning a new page" or starting anew. You're no longer going to do what you did before. You are going to do something different or better, or write a new page in your life story.
4. Have your children think about what they would like to change in their life story, maybe something that they keep doing over and over that they know isn't good for them, maybe a bad habit, or something that bothers others, or something that keeps them from achieving their goals. Then have them write on the "Old Leaf" page of their book what they do that could cause a problem for them or others. And then on the"New Leaf" have them page write what they will do instead to change their life story or "turn over a new leaf".
© 2010, Digital by Design, Inc. - See Copyright Information
Free Happy New Year's Pop Out Card Craft for Kids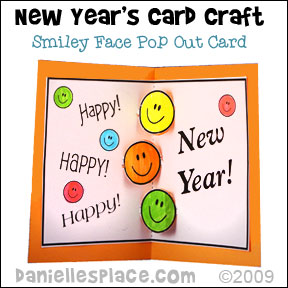 What you will need:
Card stock
Hi-Liter markers
Paper glue
Sissors
How to Make a New Year's Pop Out Card:
1. Print out the pattern onto card stock. Cut around the edges of the card and fold it in half and unfold. (Printing Problems?)
2. Color the smiley faces and then cut them out using an Exacto knife (Adults only). Cut around the outside of the smiley faces in the middle of the card leaving them connected between the tiny separating lines.
3. Fold the card in half again while pushing in on the smiley faces from the outside folded edge of the card. This will make the smiley faces pop out inside the card. Flatten out the folded card.
4. Glue the card to another piece of colorful card stock but do not glue where the smiley faces are.
5. To finish decorate the outside of the card with smiley face stickers or anything else you would like to use.
© 2009, Digital by Design, Inc. - See Copyright Information
All Things New - New Year's Crafts
The following crafts are available on The Resource Room and go with the lesson "All Things New".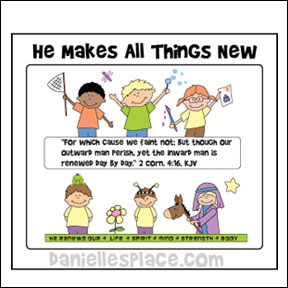 New Year's 2016 Calendar of Wise Quotes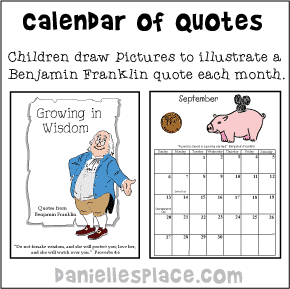 Use this calendar as an art project, history lesson, Bible lesson, and English lesson.
The printable pages for this calendar are available to memers.
English and Art - Each month of this calendar has a new quote. Have your children read the qoute from Benjamin Franklin and ask them to share what they think the qoute means. Discuss the meaning of the quote and then have your children draw pictures that relate to the quote.
History - Learn about Benjamin Franklin - See our Benjamin Franklin Crafts and Learning Page for more ideas.
Biblical - Study the Benjamin Franklin quotes and then see if you can find Bible verse that go along with the quotes or talk about the same subject.
Math Review - Each month review how many days in a week, days in each month, weeks in a month, months in a year, etc. A printable sheet is available.
New Year's 2016 Calendar of Scriptures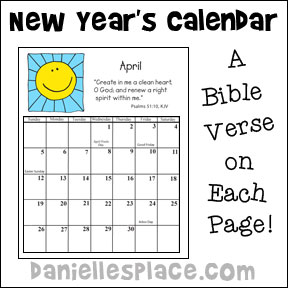 Just print out the pages, color them, and staple them together.
This craft is available to members on The Resource Room or as an instant download.
Members

Instand Download $2.00 - In KJV only.
Comments About this Craft from Subscribers:
I used the calendar for a class project. Since I have preschoolers the picture was a little hard for them to color but it still worked out well. The kids placed birthday stickers on the birthdays of each class member and after the calendar was completed they took it home. I really like mine too! Helps me keep up with their birthdays. Pat Vines
My 4-6th graders loved the Scripture Calendar. In fact, we have one hanging in the classroom, as well as the ones the kids took home. This was a great craft idea for starting off the new year. Sandy Wilson
The kids had a great time coloring them and putting them together. They each decided to include there own birthdays on the calendars (to make it a bit more personal). They also got to decorate them anyway they wanted to. Some fancy and some just plain. It was there calendar that they could do whatever they wanted with it. Afterwards we made a cover for our calendars. I really enjoy homemade calendars and I was so glad to see I wasn't the only one. Even my youngest daughter begged me to make her very own just for her room. At first I thought of letting them do a page a month but decided to have them do them all at once and make it into a book. We had great fun making them. I put two holes on top of the page and they tied a string on them to keep them together. They turned out great. Each one created just for them. Love Always, Jeanie
I work with children from ages 2 to 5th Grade. I have used several of the crafts in all of my classes. One project that we have used several times now was the Lion and Lamb 2003 Poster and the 2003 Calendar of Scripture and Wise Sayings. I took a 12 x 18 sheet of construction paper and stapled the calendars on the right side of the paper and then I made the numbers smaller and the Lion and the Lamb and glued them on the left side beside the calendar. In my second grade class we had the children write down everyone's birthday on their own calendar. The children have really loved the crafts that I have gotten from your web site and they are so so so much better then what they write in books. Thank you to you and your daughter for all the hard work you have done. This has been the best money I have sent. Thank You Peggy
Thank you for the 2005 Scripture Calendar. I used it for my Sunday School class the first Sunday of 2005. The kids loved having their own calendar. I gave each of them the foam cutouts of different religious shapes, seasonal shapes, etc. to decorate each month's page. We went through the entire year and filled in each classmates birthday as well as other important events at our church. That was a craft that they can enjoy all year long. I love your page! It is great! Melissa, New Liberty
© 2006, Digital by Design, Inc. - See Copyright Information
New Year's 2016 Folded Frog Desk Calendar Craft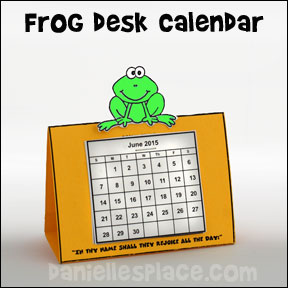 This craft can be used any time of the year and would make great Christmas gifts.
What you will need:
Card stock (Heavy Paper), scissors, and colored pencils or highlighter markers.
How to make:
1. Print out calendar pages and cut them apart. (A pattern for the calendar pages is available to members.) This craft is also available with a Bible verse written on the front, and goes with the Sunday school lesson "Making Changes" avialable on The Resouce Room.
2. Cut card stock 4 1/4" wide by 10" and fold it into a triangle shape as shown in the picture. (A pattern is available to members.) Glue the triangle shape together.
3. Draw pictures to glue to the top of the calendar or use stickers, or use pictures from other sources.
4. Glue the calendar pages to the triangle shape.
© 2007, Digital by Design, Inc. - See Copyright Information
New Year Baby Card Craft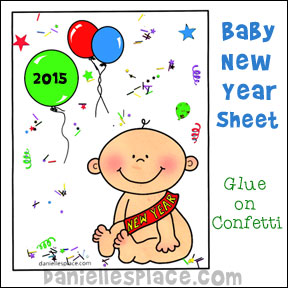 Celebrate the New Year with Fun Crafts - Make this cute New Years baby. All you need is paper and pretty confetti.
What you will need:
Card stock (heavy paper), crayons, colored pencils, or markers, clear drying glue, and confetti. You can buy confetti at party shops for less than $2.00.
How to make:
1. Print out the Picture on to card stock and write the new year date on the balloon. (Printing Problems?)
2. Color the picture.
3. Spread a clear drying glue in the areas you want confetti. Sprinkle confetti over the glue. Place the bigger pieces of confetti to make it looked spread out evenly over the picture. Put more on the bottom of the picture so that it looks like it has fallen to the floor.
How to Print or Copy these instructions.
© 2005, Digital by Design, Inc. - See Copyright Information
New Years Noise Maker Craft for Kids
Children of all ages will love making these paper bag noise makers. They are super easy and cost only pennies to make. Warning - they are very loud.
What you will need:
Paper Lunch Bags
or Colored Paper Lunch Bags


Masking Tape


Colorful Duct Tape


Colorful Washi Masking Tape
Circle Reinforcement Labels or Star Stickers
(You can white labels and color them with highlighter markers instead.)
Ribbon

Unpopped popcorn, dried beans, small pebbles, rice, or anything you have to place in the bags
Colored Pencils, Crayons, Markers, or Paint
How to Make the Paper Bag Noise Makers:
1. Decorate the bottom third of a paper lunch bag with markers, crayons, paint, or colored pencils, and add decorative tape or stickers.
2. Unfold the decorated paper bag and place another paper bag inside the decorated paper bag to give the noise makers strength.
3. Place a tablespoon of rice, popcorn, or anything else you would like to use in the inside bag. (Try different things in each bag and compare the sounds the bags make.)
4. To finish, gather up the sides of the paper bags smoothing them out as you crinkle them up. Spread out the tops of the bags and blow into them to puff out the bottom of the bags. When you have a good shape twist the bottom of the bags to make the handle of the noise makers. Use colorful tape such as duct tape or washi tape to decorate the handle and to keep it from unwinding.
© 2014, Digital by Design, Inc. - See Copyright Information
Lion and Lamb New Year's Poster
The lion and the lamb lying down next to each in this poster represent the wish for peace in the coming year.
What you will need:
Poster board, card stock, crayons, or markers and scissors.
How to make:
1. Draw the numbers for the current year onto card stock making each number as big as one piece of card stock. Outline them with a black marker and color the inside. Cut them out and glue them on a piece of poster board.
2. Draw a picture of a lamb and a lion lying next to each, color them, and cut them out. Glue them onto the tops of the numbers.
A pattern for this craft available to members of Danielle's Place. Click here to print out the numbers, lamb, and lion patterns.
© 2004, Digital by Design, Inc. - See Copyright Information
New Year Party Hats
These hats can be used as a craft at your New Years Party or you can print the pattern out smaller and use them on your table as place setting. Just print the name of each person who attends your party on the back of the hat.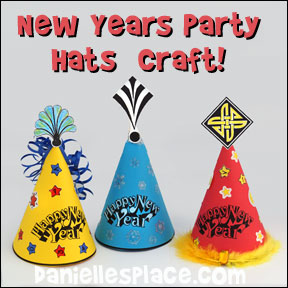 What you will need:
Bright colors of card stock
New Years Confetti
Glue or Tape
Glitter Paints
Feathers
Colored Pencils
Scissors
Stickers
How to Make New Year's Party Hats:
1. Print out the Hat Patterns and the Hat Toppers and cut them out.
2. Roll the hats into cone shapes, and glue the hat toppers to the hats.
3. Glue the hats together and then glue on sequins or use glitter paint to decorate them.
© 2003, Digital by Design, Inc. - See Copyright Information
Free New Year Piñata Craft For a New Year's Party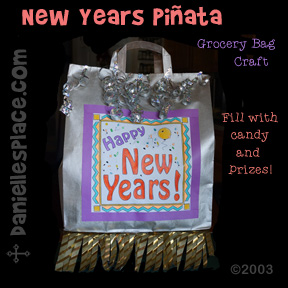 What you will need:
Large Brown Grocery Bag
Silver or Gold Spray Paint
Gold and Silver Ribbon
String
Tape, Glue and Stapler
Things to put in the Piñata
How to make a New Year's Piñata:
1. Paint or spray paint a large grocery bag with gold or silver paint. Let it dry.
2. Print out he Happy New Year! Pattern, cut it out, and color it.
3. Glue the pattern onto the front of the bag.
4. Tape gold and silver ribbon to the bottom of the bag so that it hangs down.
5. Fill the bag with goodies.
6. Tie the top of the bag closed. Punch a hole in the top and tie a string to the bag through the hole so that the piñata can be hung up.
© 2003, Digital by Design, Inc. - See Copyright Information