Sheep Crafts for Kids Page 3
How to Make Crafts and Activities Relating to Sheep
Sheep Paper Bag Puppet Craft for Kids
This craft goes along with the series of lessons on the Twenty-Third Psalm on The Resource Room
What you will need:
Fiberfill or Cotton balls
Ribbon for bows
Glue
Card Stock (Heavy paper)
How to Make the Puppet:
1. Print out the sheep head pattern and the feet patterns or draw your own. (Patterns for this craft is available to members only.) There are six feet per sheet so you won't need to print out as many feet patterns.
2. If you have young children cut out the patterns before class. To make cutting faster staple several sheets together so that they match up and cut them out all together. When cutting out the feet don't worry about cutting around each bump and indent, just cut them straight.
3. Fold in the two corners of the bottom of the bag that will be the bottom of the sheep's head and glue them down.
4. In class have the children glue the head on the bottom of the bag and the feet on the inside fold of the bag. Also have them glue on some fiberfill or cotton ball and a bow on the head.
"The Lord is My Shepherd" Display
What you will need:
Card stock (Heavy paper), high lighter markers (I like these because they are very easy to color with and no matter where they color you can still see the picture)
Glue
One-inch white pompom balls
Green felt
Brown or white pipe cleaners
How to make:
1. Make a box out of heavy card stock or use the pattern (Available to members only). You could also use a small box used to hole jewelry and glue a piece of card stock to the side of the box. Draw a picture with trees, flowers, butterflies, and the sun on the backdrop.
2. Cut a green piece of felt to fit in the bottom of the box for grass and glue it down.
3. To make the sheep cut pipe cleaners into one inch pieces and fold them in half. Glue them onto the pompom with the pointy ends of the pipe cleaners sticking into the body. Draw a sheep head on a piece of paper, cut it out, and glue it to the pompom. (A pattern for the sheep head is available to members.)
This craft comes from the 23rd Psalm lesson on The Resource Room.
©2000, Digital by Design, Inc - See Copyright Information
Macaroni Sheep Craft for Kids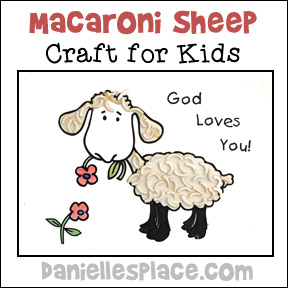 Free Bible Lesson from The Resource Room - Your children will love this lesson. They get to help a shepherd (a person dressed as a shepherd) find his lost sheep. The shepherd interrupts the lessons as he comes into the rooms calling for his lost sheep, Woolie. He asks the children to help him find him. When they find the sheep. The shepherd sits down and tells the story of the lost sheep from the Bible.
Included in this lesson is a noodle
sheep picture craft. Children will have fun playing a concentration card game to find the lost sheep. They can also play a game in which they try to gather their "balloon" sheep together like a real shepherd.
This lesson also comes with a bulletin board display.
Sheep with Shaking Head Craft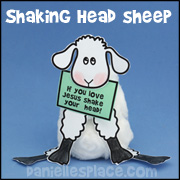 Children use a paper cup and a fan-folded strip of card stock to make the Shaking Head Sheep Craft.
In this lesson children learn that God is like a good shepherd: He knows us, leads us, protects us, and keeps us from harm. Children play a simple board game in which they are sheep and experience many of the things sheep may experience. They learn how helpless they are without a shepherd.
Desert Bighorn Sheep

Children may need help cutting this pattern out, but they will love coloring it to look like a real bighorn sheep.
What you will need: Cardstock (Heavy paper), colored pencils, tape, and scissors.
How to make:
1. Print out the patterns and color them. The head pattern comes with an extra set of heads so if you want to use the extra set, you will have to print out two body patterns for each head pattern. This pattern is available to members only.
2. Cut the patterns out. Fold the body pattern in half and tape a head on both side of the body matching up the heads.
©2004, Digital by Design, Inc. - See Copyright Information
Sheep Crafts on Other Pages
More Sheep Crafts
You can find even more sheep craft ideas on our Sheep and Shepherd Crafts Pinterest Page.