Animal Tracks and Paw Print Crafts for Children
Crafts and Learning Activities Related Animal Tracks and Paw Prints Including: Animal Tracks Match Up Coloring Sheet, Animal Tracks Plaster Casts, Paw Print Crafts, Paw Print Poem, and Paw Print Frames
Free Animal Tracks Match Up Color Sheet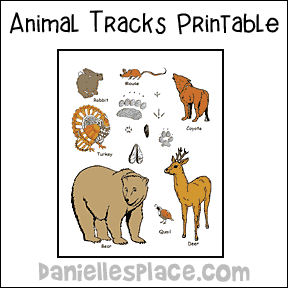 Here's a great craft activity and work sheet for animal and nature lovers of all ages.
Print out the pattern.
Member's

Free Instant Download

Color the animals and draw a line from the animal to the kind of track it would leave. If you need help with this sheet you can use the links below to find the answers.
©2000, Digital by Design, Inc. - See Copyright Information
Animal Tracks Plaster Casts
What you will need: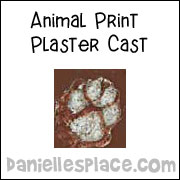 Plaster of Paris (Found at Crafts Stores)
Bottle of Water
Plastic Spoons
Paper Towels
Plastic Container or Paper Cups
Small Trowel or Something to Dig With
Paint
Backpack to Carry Everything In
How to Make Animal Tracks Plaster Casts:
1. Find a good animal track in soft mud that has dried enough to keep it's shape when you press on it lightly.
2. Lay out all your supplies. Depending on how big your track is, pour about 3/4 cup of plaster into the plastic container, quickly stir in water until the plaster is thin enough to pour yet not too runny. Tap on the edge of the container to get out most of the air bubbles. Do this quickly because the plaster begins to set with in a few seconds.
3. Carefully pour the plaster mixture into the track. Let the plaster set for at least 1/2 an hour.
4. When the plaster in firm, carefully dig under the cast and lift it up. Take it home and let it dry overnight.
5. When the plaster cast is completely dry clean it off with a brush. You may want to paint the cast to make the tracks stand out better.
©2000, Digital by Design, Inc. - See Copyright Information
Paw Print Crafts for Kids
Animal Tracks Stamps
1. Creative Writing and Art Activity
Children can use these stamps to make your own winter scenes that tell a story about a certain animal. They can also write a short story about the scene they created.
2. Science and Writing Activity
Children can make their own nature cards using the animal track rubber stamps.
3. Art Activity and Science Activity
Have each child pick a rubber stamp, determine what animal would make the track, draw a picture of that animal and then add the rubber stamp print to the image, or make a picture frame using the stamps for their picture.
Great Books About Animal Tracks and Tracking
Selsam teaches children how to be "nature detectives" in their own backyards. This book includes educational activities that will help children develop curiosity.
After reading the book take your children outside to look for animal tracks and other clues of animal activity.
Have your children write about what they have discovered.