Bat Crafts for Kids
Bat Crafts and Learning Activities for Homeschool, Preschools, and Daycares
Bats with Moveable Heads Paper Craft for Kids
These little bats have brass brads for their noses so their heads can be moved from side to side. Pipe cleaners are used to make their legs. They are great to use to teach children about different types of bats.
Little brown bat patterns, fruit bat patterns, and bat patterns on which children can draw their own faces are available.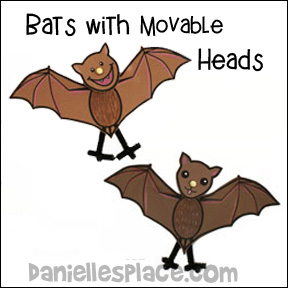 What you will need:
Card Stock or Brown Construction Paper
Colored Pencils
Scissors
Black Pipe Cleaners
Brass Brads
How to Make the Bats:
1. Print out the patterns or construction paper, color, and cut them out. Printable patterns for this craft are available to members.
Member's

2. Punch holes in the nose and at the top of the body pattern.
3. Attach the head to the body with a brass brad.
4. Cut two inches off of the pipe cleaner and folder the remaining longer length in half. Cut the two-inch piece in half. Fold the short piece in half and wind them around the ends of the longer piece to make the bat's feet.
Copyright 2012, Digital by Design, Inc. - See Copyright Information
Stellaluna Bat Craft for Kids
Fruit Bat with Moving Head Craft
Children will enjoy making their own bats out of construction paper. Explain that Stella means "star" in Latin and luna is another name for moon. Encourage your children to name their own bats meaningful names. Patterns for this craft are available to members only above.
Bat Diagram Color Sheet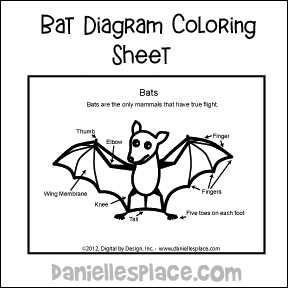 This bat diagram goes along great with the story.
Have your children compare the bat's limbs to the bats. Ask them, "How many fingers and toes do bats have? How many do they have?"
Member's

It is no wonder that "Stellaluna" was voted one of the top 100 picture books of all times in 2012. The charming pictures of the little lost bat and the engaging story make this a great book for children.
Not only is it a great story, it also teaches children about the characteristics of bats and gives interesting facts about bats at the end of the book.
Bat Hands-on Learning Items