Elijah Bible Activity Sheets
"Where was the Lord?" 1 King 19:11-13
1 Kings 19:11-13, "Where was the Lord?" Bible Coloring Sheet

Was the Lord in the wind? Was he in the fire? Or was he in the earthquake? No, the Lord talked to Elijah in a gentle whisper.
Member's

Instant Digital Download

- Both Activity and Coloring Sheet on this page
"Where was the Lord?" Lift-the-flap Bible Activity Sheet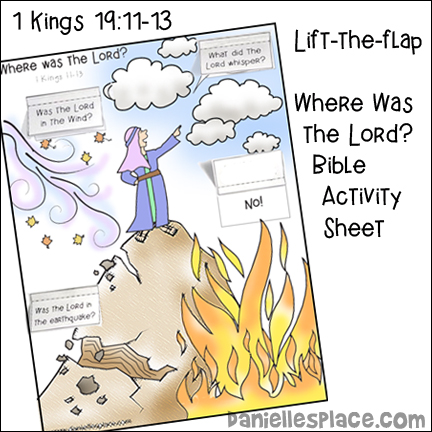 Children lift the flaps to see where the Lord was. Was he in the wind, the fire, or the earthquake? What did the Lord whisper to Elijah? Children lift the flap to find out.
Member's

Instant Digital Download

- Both Activity and Coloring Sheet on this page