Bug Buddies Study 1- Back Yard Bug Club
Study 1 - Introduction - Seek and Find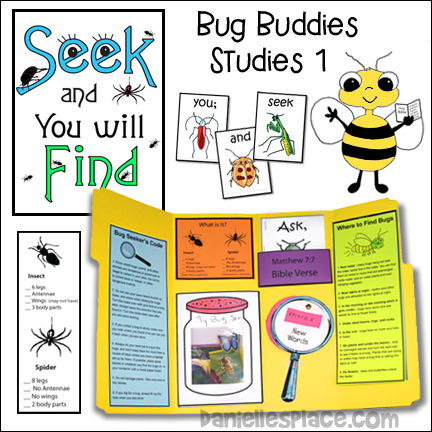 The following crafts and activites come from the first Bug Buddies Study "Seek and You Will Find" which relates a bug to a biblical concept.
This series is great for a summer backyard bug club.Children learn about bugs and biblical conepts at the same time. Each study includes a short biblical lesson that uses a bug to introduce a biblical concept. Children can create a file folder display to store all the information they have learned or you can just use the handouts and activity sheets separately.
Biblical: God is a lot like the bugs around us. We don't often see bugs but we know they are there because we see signs of them all around us. We can't see God, but we can know he is there because we can see his wonderful creation.
Scientific: Children learn the difference between insects and spiders, and where to look for all types of bugs.
Bug Buddies Study - Member's

Back Yard Bug Clug - Member's

Seekers Manual
The Seekers Manual is a 14-page printable book that contains information on how to find bugs to study, how to seek God, a bug-seeker's code, a God seeker's code, information about each bug and how children can relate the bug to a biblical concept with relevant Bible verses.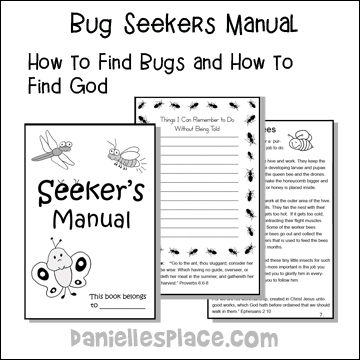 1. How to Find Bugs
1. Look near water . . .
2. Look for them at night, near lights . . .
3. Look for them In the morning or late evening when it gets colder . . .
4. Look near garbage and rest rooms . . .
5. Look under dead leaves, logs, and rocks . . .
6. Look In the soil . . .
7. Look on plants, under the leaves . . .
8. Look on flowers . . .
How to Find God
1. Study his creation . . .
2. Read the Bible . . .
3. Pray and meditate . . .
4. Talk to Christians . . .
Bug Seeker's Code
1. Know which bugs, plants, and other animals are dangerous or poisonous or illegal to collect in your area. Do not try to collect bees or wasps, or other dangerous insects.
2. Do not use your bare hands to pick up rocks and sticks when looking for bugs. Turn the rocks over with your foot or a long stick. Always leave the area the way you found it. Turn the rocks back over after you are done looking.
3. If you collect a bug to study, make sure you note where you found it so you can put it back when you are done.
4. Always do your best not to injure the bugs, and don't keep them for more than a couple of days unless you have a habitat set up for them. If possible, place some leaves or whatever you find the bugs on, in your container with a moist paper towel.
5. Do not damage plants. Take only one or two leaves.
6. If you dig for a bug, always fill up the hole when you are done.
God Seeker's Code
1. Know that not everything you hear about God is true . . .
2. If you have a question about God, always ask . . .
3. Ask God for understanding and wisdom . . .
Copyright 2000, Digital by Design, Inc. - See Copyright Information
Bug Buddies Awards Activity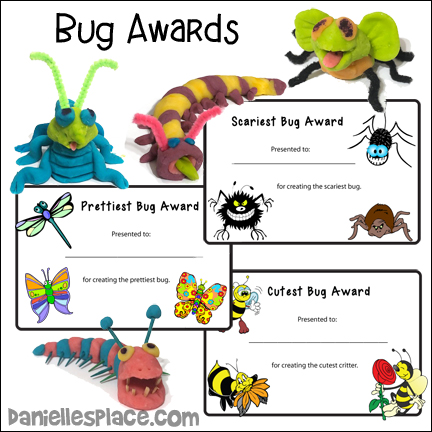 What you will need:
Playdough, toothpicks, and other decorative items such as buttons, beads, chenille stems, and googly eyes, and markers.
How to Make the Bug Game:
1. Give each child a small golf-ball sized piece of play dough, eight toothpicks, and a index card with their name on it.
2. On the word "go" the children should try to make a bug using the play dough and toothpicks, and any other items you would like them to use.
3. After about ten minutes tell your children to stop.
4. Give awards for the: "Scariest Bug", "Prettiest Bug", "Cutest Bug", "Most Creative", "Ugliest Bug", and the "Goofiest Bug". Printable awards are available to members and as a instant download.
Member's 

Instant Printable Download $2.00 

 - Six Different Printable Awards
2. Make a Bug Collecting Jar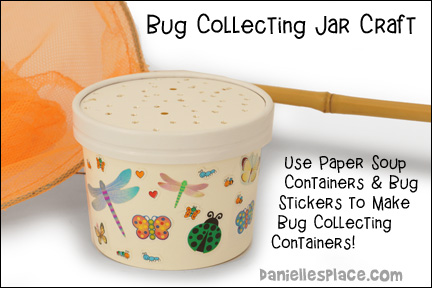 1. Give each child a paper soup container with a lid or a recycled plastic container such as a peanut butter or mayonnaise jar. You can buy the paper containers in bulk at webrestaurantstore.com.
2. Punch tiny holes in the lids with a sharp object.
3. Have them decorate the jars with bug stickers and permanent markers. Make sure they put their names on the jar. Tell them not to cover the whole jar because they will want to see the bugs that are inside the jar.