"The Twelve Gifts of Christmas" Bible Lesson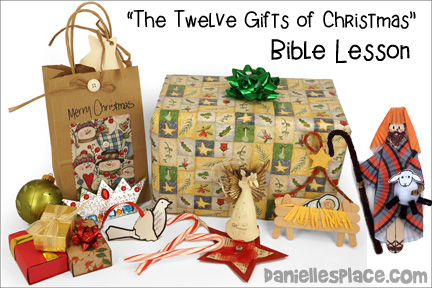 The following Christmas Bible lesson was sent in by Dawn Ronson and has been adapted to make it a little easier to prepare. We would love to hear how you have modified this lesson to fit your needs. Please send in your ideas below.
Free Instant Download -

What you will need
Listed items below or other items you decide to use - Angels, Baby Doll, Candy Canes, Crown, Map, Stars, Dove and Stuffed Donkey
Twelve Small Boxes
Wrapping Paper, Ribbon and Bows
Small Decorated Christmas Tree
Preparation
1. Before class place the items in small boxes and wrap them.  Place them under a small Christmas tree.
The Lesson
You can use this outline for any age group making it easier for younger children or adding more information for older children.
1. Pick a child to unwrap each gift.  Ask that child what the item might represent from the Christmas story.
2. After the child tells what he or she thinks the item might represent, tell the class what the item represents.
3.  Older Children - If you have children that can read, pick a child to read the passage from the Bible.  After the child has opened the gift ask that child what he thinks that item represents from what he just read.
1.  Angel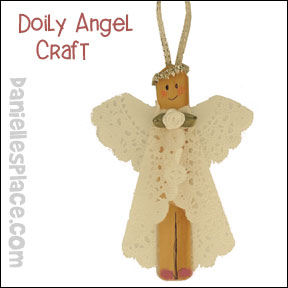 An angel told Mary that she was going to have a baby.
"In the sixth month of Elizabeth's pregnancy, God sent the angel Gabriel to Nazareth, a town in Galilee, to a virgin pledged to be married to a man named Joseph, a descendant of David. The virgin's name was Mary. The angel went to her and said, "Greetings, you who are highly favored! The Lord is with you. Mary was greatly troubled at his words and wondered what kind of greeting this might be. But the angel said to her, "Do not be afraid, Mary; you have found favor with God." Luke 1:26-30
Doily Craft Stick Angel - Directions
Angel Ornament - Use a Christmas ornament or angel figurine.
If you are using the craft stick ornament, let the child who unwrapped the angel keep it.  There will be more angels later in the lesson.
2. Candy Cane - "J" shape for the name of Jesus.
The angel told Mary that she would give birth to a son and he would be called Jesus. If we turn the candy cane so that the curve is on the bottom it is in the shape of a "J".  The "J" can stand for Jesus.
"You will conceive and give birth to a son, and you are to call him Jesus." Luke 1:31
Let the child who unwrapped the candy cane keep it.  There will be more candy canes later in the lesson.
3. Crown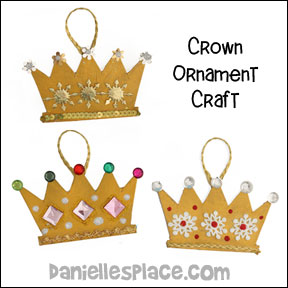 The angel told Mary that her son Jesus would be the king of kings.  He would reign over everything and his kingdom would be forever.
"He will be great and will be called the Son of the Most High. The Lord God will give him the throne of his father David, and he will reign over Jacob's descendants forever; his kingdom will never end." Luke 1:32-33
Crown Craft - Download a Free pattern.
Crown- shaped Cookies - You can buy star-shaped and crown-shaped cookie cutters from Amazon.
4. Angel - Another Angel
When Joseph found out that Mary was going to have a baby he was considering divorcing her. But an angel of the Lord appeared to him and told him not to be afraid and to take Mary as his wife. He did what the Lord told him.
"This is how the birth of Jesus the Messiah came about: His mother Mary was pledged to be married to Joseph, but before they came together, she was found to be pregnant through the Holy Spirit. Because Joseph her husband was faithful to the law, and yet did not want to expose her to public disgrace, he had in mind to divorce her quietly. But after he had considered this, an angel of the Lord appeared to him in a dream and said, "Joseph son of David, do not be afraid to take Mary home as your wife, because what is conceived in her is from the Holy Spirit." Matthew 1:20
Let the child who unwrapped the angel keep it.  There will be more angels later in the lesson.
5. Map of Nazareth and Bethlehem and or a Donkey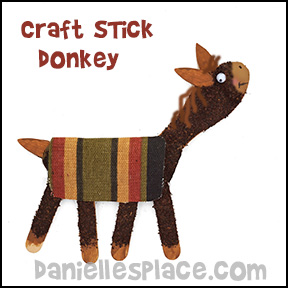 Joseph and Mary travelled to Bethlehem because Caesar issued a decree that a census was to be taken and everyone had to return to their birthplace.
"So Joseph also went up from the town of Nazareth in Galilee to Judea, to Bethlehem the town of David, because he belonged to the house and line of David. He went there to register with Mary, who was pledged to be married to him and was expecting a child." Luke 2:4-5
Map - Print out a Bible map from the Internet.
Stick Donkey Ornaments - Mary could have ridden a donkey from Nazareth to Bethlehem. There were probably animals, even donkeys when Jesus was born at the stable.
Glue a string to the donkey so that children can hang them on their Christmas tree. Free Pattern
6. Baby in Manger

While they were in Bethlehem Mary gave birth to a son and wrapped him in cloth.
"While they were there, the time came for the baby to be born, and she gave birth to her firstborn, a son. She wrapped him in cloths and placed him in a manger, because there was no guest room available for them." Luke 2:6-7
(Make hay from shredded paper. You can also use the tiny babies used for Baby showers if you have children older than five. Wrap the babies in facial tissues.)
Baby Jesus in a Manger Ornament
Member's

Instant Download Pattern

7 and 8.  Shepherds with Sheep - More Candy Canes and an Angel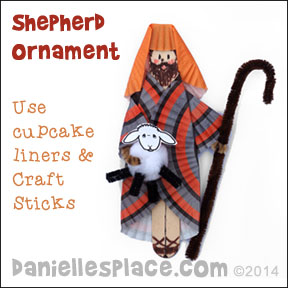 The candy cane reminds us of the staff the shepherds who were in the fields tending their sheep when the angels appears to them and told them were they would find Baby Jesus.
"And there were shepherds living out in the fields nearby, keeping watch over their flocks at night. An angel of the Lord appeared to them, and the glory of the Lord shone around them, and they were terrified. But the angel said to them, "Do not be afraid. I bring you good news that will cause great joy for all the people. Today in the town of David a Savior has been born to you; he is the Messiah, the Lord. This will be a sign to you: You will find a baby wrapped in cloths and lying in a manger." Luke 2:8-12
Have two different  children who unwrap the candy canes and angels and hand them out to the other children in the class.
Candy Canes or Shepherd Ornament - If you don't want to use candy, you can make the cupcake liner shepherd ornaments.
An Angel of the Lord - Another gift with one angel in it.
9 and 10 - Angels and Dove of Peace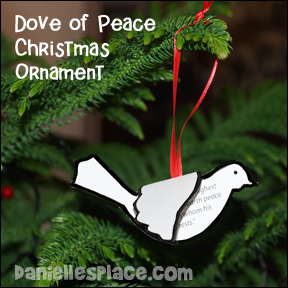 Suddenly a great number of angels appeared with the angel and starting praising God singing, "Glory to God in the highest heaven, and on earth peace to those on whom his favor rests."
"Suddenly a great company of the heavenly host appeared with the angel, praising God and saying, 'Glory to God in the highest heaven, and on earth peace to those on whom his favor rests.' When the angels had left them and gone into heaven, the shepherds said to one another, "Let's go to Bethlehem and see this thing that has happened, which the Lord has told us about." Luke 2:13-15
Lots of Angels - Fill a box with enough angels to give to all the children in your class.
Dove - Dove of Peace Ornament - Click on the "Free Download link above."
11.  Gifts
We give gifts to each other at Christmas time because this is Jesus birthday and it reminds us of the gifts the wise men brought to Jesus - gold, myrrh and frankincense.
"After Jesus was born in Bethlehem in Judea, during the time of King Herod, Magi from the east came to Jerusalem and asked, "Where is the one who has been born king of the Jews? We saw his star when it rose and have come to worship him." Matthew 2:1-2
Gifts - Wrap up tiny boxes with paper and bows and add a string to hang the gift as an ornament.
12.  Star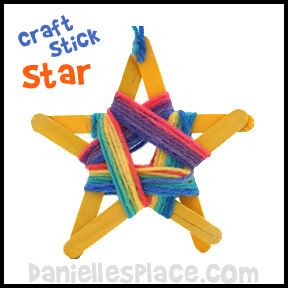 God put the star in the sky when Jesus was born. Wise men followed the star to find Jesus.
"After they had heard the king, they went on their way, and the star they had seen when it rose went ahead of them until it stopped over the place where the child was. When they saw the star, they were overjoyed." Matthew 2:9-10
Star Ornament Craft
Member's

Instant Download Pattern

Star-shaped Cookies - You can buy star-shaped and crown-shaped cookie cutters from Amazon.
I teach toddlers (2-5 year olds), and wanted an interactive lesson to keep the kids' attention. Things need to be short and sweet.  This could go too long if you are wordy.  The lesson could be done in two parts.  I used a two-sided star ornament craft to go with this lesson, and when the night was done, I gave them a candy cane to take home. Dawn Ronson
We would love to hear how you used this lesson. Please email us and share with us anything you have added or changed to make this lesson fit your class.