Psalm 139 Coloring and Bible Verse Review Sheets
Printable Coloring Sheets for Sunday School
Psalm 139:1-6 Coloring and Bible Verse Review Sheet
Children can easily learn Psalm 139:1-12 using these coloring sheets and picture cards. Each picture is associated with a different part of the passage to help children memorize these amazing Bible verses. As they color the sheets talk about each picture and how it relates to the particular part of the passage. When they are done coloring use the picture cards to review the verses. (The following coloring sheets and cards go with the free sample Bible Lesson "God Knows Me".)
The following coloring sheets and Cards are available to members on The Resource Room and as an instant download.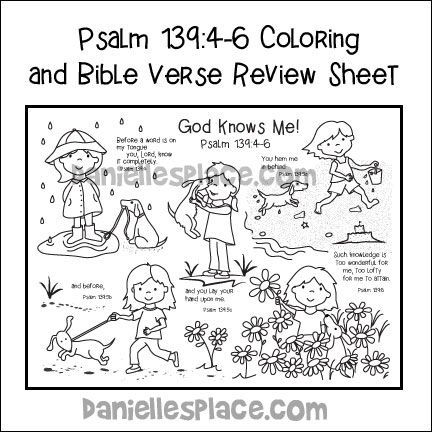 Member's

KJV Coloring Sheets Instant Download -

NIV Coloring Sheets Instant Download -

Free God Knows Me Bible Lesson -

Psalm 139 Bible Verse Review Cards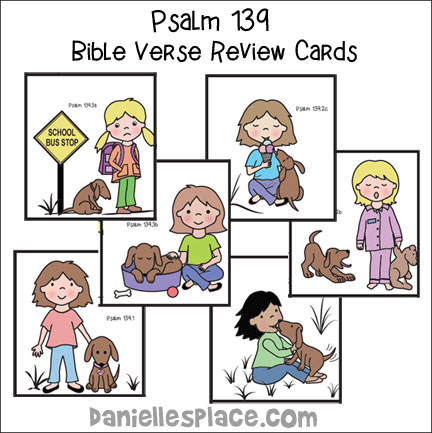 Printable cards are available in both KJV and NIV. Colored cards are available with only Bible verse reference.
Member's

Play the following games to help your students memorize the Bible verse:
1. Match Game - Print out two copies and play a match game. When all the matches have been found have your students say the part of the verse that is depicted on each card.
2. Ordering - Place all the cards face up and see how fast your students can place them in order. Have the winner say the complete verse while looking at the cards.
3. Make a Book - Place the cards in order and staple them together to make a book. Write the words to the Bible verse if there are none.
Psalm 139:7-12 Coloring and Bible Verse Review Sheet
Use these ten, full-page coloring sheets to go along with the Bible Lesson on You Are There - Psalm 139. Each coloring sheet contains a Bible verse to help children memorize the passsage. These sheets are also available without words so older children can write the corresponding Bible verses on the sheets.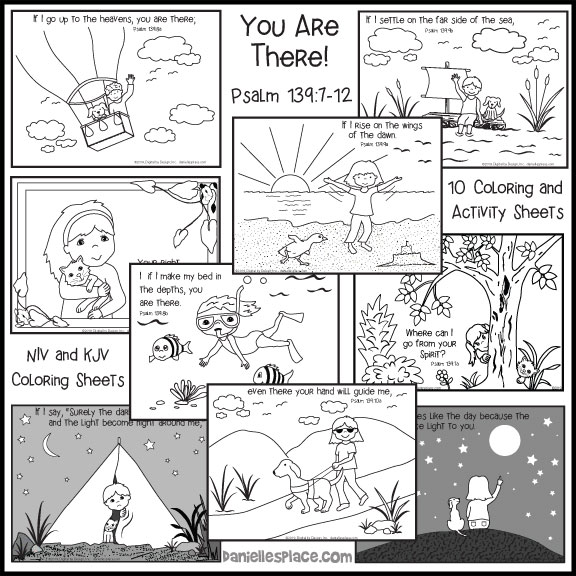 Member's

Instant Digital Downloads:
NIV Patterns

KJV Patterns

No Words Patterns

Psalm 139:7-12 - Coloring Pages
Page 1 - Where can I go from your Spirit?
Page 2 -   Where can I flee from your presence?
Page 3 -  If I go up to the heavens, you are there;
Page 4 - if I make my bed in the depths, you are there.
Page 5 - If I rise on the wings of the dawn,
Page 6 - if I settle on the far side of the sea,
Page 7 - even there your hand will guide me,
Page 8 -  your right hand will hold me fast.
Page 9 - If I say, "Surely the darkness will hide me and the light become night around me,"
Page 10 -  even the darkness will not be dark to you; the night will shine like the day, for darkness is as light to you.