Lazarus Bible Craft
Jesus Raises Lazarus Bible Story and Craft
Jesus Raises Lazarus Bible Story Craft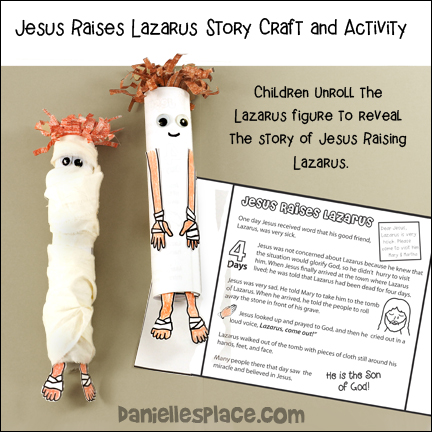 This Bible story manipulative will encourage parents and their children to read the story of Jesus raising Lazarus from the dead. The short story is contained inside the Lazarus figure. Children color, cut, and assemble Lazarus. To read the story, they unwrap the burial cloth and unwind the paper that makes Lazarus' body revealing the story on the inside.
What you will need:
Paper
Crayons and Colored Pencils
Google Eyes (Optional)
Clear Glue
Dot stickers or Tape
Scissors
Strips of White Material
How to make:
1. Before class print out the patterns and make copies.
Member's

Instand Digital Download

2. Cut out the edge of the story pattern.
3. In class have your children color the arms, legs, and hair of the Lazarus pattern. Note: You don't have to use the arms and feet patterns. To make the craft easier, just cut off the feet and discard the arms.
4. Cut out the pattern along the dark lines.
5. Roll up the story page so that the words are on the inside so that the tube is about one inch wide. Place a dot sticker on the center to keep the roll from unwinding.
6. Have your students cut slits where indicated for the hair on the Lazarus pattern, and color the feet.
7. Roll up the Lazarus pattern and insert it inside the rolled story pattern. Fold up the feet and bend down the hair and crinkle it up.
8. Wrap two-inch pieces of cloth around the Lazarus and tuck in the end.
9. To read the story, pull the Lazarus pattern out of the center and unroll the story page.
Watch a video on Youtube on how to make this craft.
Lazarus Crafts on Other Pages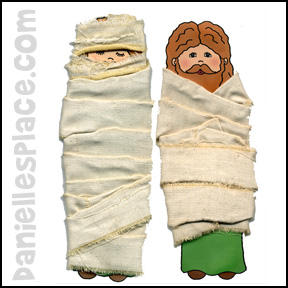 Lazarus Craft - Lazarus Paper Doll Craft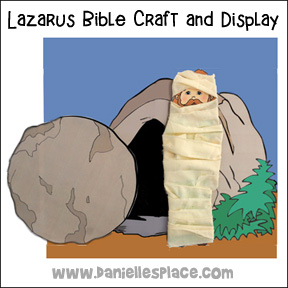 Lazarus Bible Craft and Display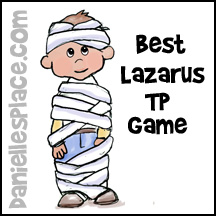 Lazarus TP Game For Children's Church