Angel Bible Crafts Page 2
How to Make Angel Crafts
Angels Singing Luminary - Christ is Born in Bethlehem!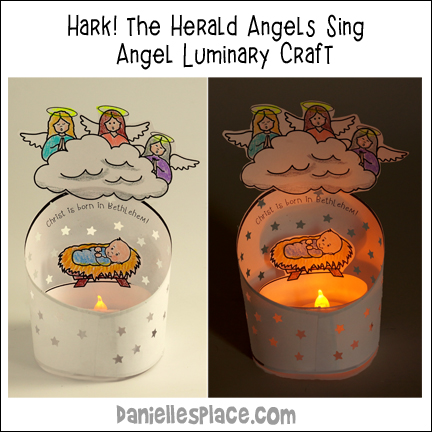 Hark the Herald Sing with Baby Jesus in a manger paper luminary Christmas craft for children.
What you will need:
White Paper
Tape or Glue
What to do:
1. Print out the luminary, Baby Jesus, and angel patterns onto white paper and cut them out.
2. Glue or tape the luminary together to form a tube so that the words are on the inside of the tube.
3. Glue the Baby Jesus pattern into a circle so that the Baby Jesus is facing the inside of the circle.
Member's

Instant Digital Download

4. Use a star punch to punch star shapes all over the luminary.
5. To finish place a tealight in the Baby Jesus circle. Place the Baby Jesus and tealight in the center of the luminary.