Beatitudes Crafts and Activities - Blessed Are the Merciful
Bible Crafts and Activities for Beatitudes Merciful Theme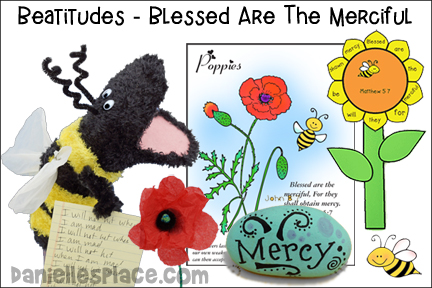 The following crafts and activities are from the Bible lesson "Blessed are The Merciful". This Bible lesson is available to members on The Resource Room and as an instant digital download.
Member's

Instant Digital Download

- Coming Soon!
Teaching Concept:
In this lesson Children learn that through Jesus' example children learn what it means to be merciful, and how they can show mercy.
The Bible story for this lesson comes from John 8:1-11 - Jesus Shows Mercy to the Sinful Woman.
Beatitudes Bible Verse Coloring Sheet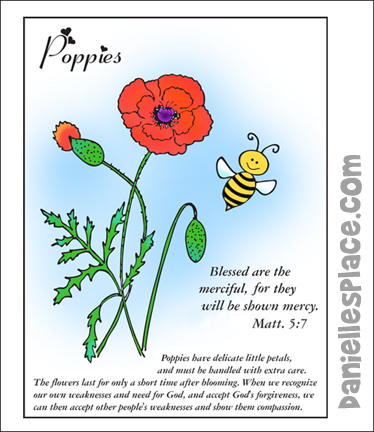 Columbine Flower - "Blessed are the poor in spirit . . ." Matt. 5:3
The Columbine can remind us to be humble because it looks like it is bowing its head to pray. When we bow our heads and pray to God we humble ourselves before him. We are poor in spirit when we acknowledge that we are sinners who need God, and that everything we have comes from him. Available in both KJV and NIV.
Member's

Writing on the Ground Activity Sheet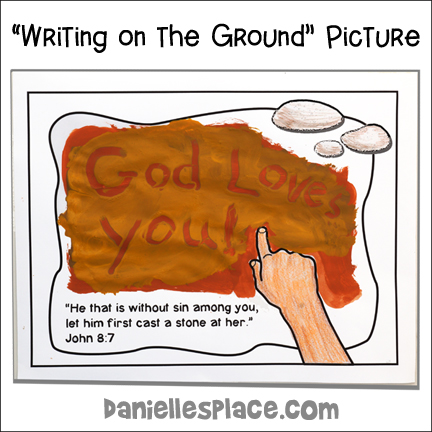 After the lesson remind your children that Jesus bent down to write on the ground while the Pharisees tried to trick him into saying something that they could use against him. The Bible doesn't tell us what Jesus was writing, and it isn't really important, but it can be fun to think about what he might have been writing.
Tell your children to imagine being one of the people in the crowd that day that witnessed the events. Ask them to think about what Jesus might have been writing, and to write that on their paper with their fingers.
Member's

Blessed are the Merciful Paper Plate Rock Craft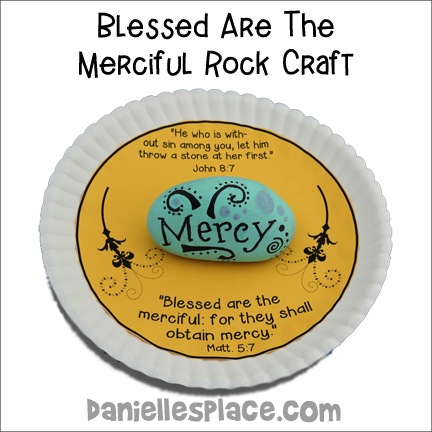 Children paint river rocks and decorate them with markers, and write "Mercy" on their rocks. Placed the finished rocks on a paper plate with the Bible verse. Tell your students that the rocks will remind them to show mercy.
Member's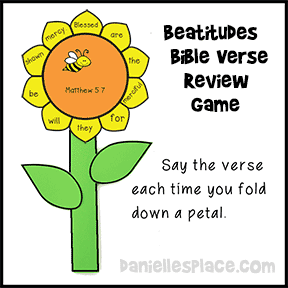 Children take turns folding back one petal of the flower so that the word on the petal can't be seen. Each time a child folds down a petal have that child say the verse.
Keep playing until all the petals are folded down or the children know the verse.
This Lesson Includes:
1. Puppet skit and lesson that uses a bee puppet.
2. A coloring sheet available in KJV and NIV. It is also available already colored to be used as an illustration for the Bible lesson.
3. A "mercy" rock paper plate craft with printable pattern.
5. Writing on the ground activity sheet.4. Printable Bible verse cards in both KJV and NIV.
6. Bible verse review glower game.
Member's

Make Tissue Paper Poppies

What you will need:
Red Tissue Paper
Black Construction Paper
Green Chenille Stems
Black Chenille Stems
Elmer's No-Wrinkle Rubber Cement
Scissors
How to Make The Tissue Paper Poppy Flowers
1. For each flower cut two flower shapes with five petals from red tissue paper.
Member's

Make one flower shape 80% smaller than the first.

2. Wrinkle up the flower shapes and then smooth them out a little.
3. Fold the end of a green Chenille stem down about 1/2″, and then fold it down two more times.
4. Cut 1 1/2″ circles from construction paper, punch a hole in the center of the circle, and a slit from the outside of the circle to the center circle. Glue the circle into a slight cone shape.
5. Punch a hole in the center of the smallest tissue paper flower shape with the unfolded end of the Chenille stem. Push the flower shape up the stem to the folded end.
6. Punch a hole in the center of the largest tissue paper flower shape with the unfolded end of the Chenille stem. Push the flower shape up the stem to the folded end.
7. Place the cone shape on the unfolded end of the Chenille stem through the inside of the cone. Push the cone shape up to almost the top of the folded end of the Chenille. Place a little glue inside the cone and press it up against the tissue paper flowers.
Beatitudes Bible Lesson Skit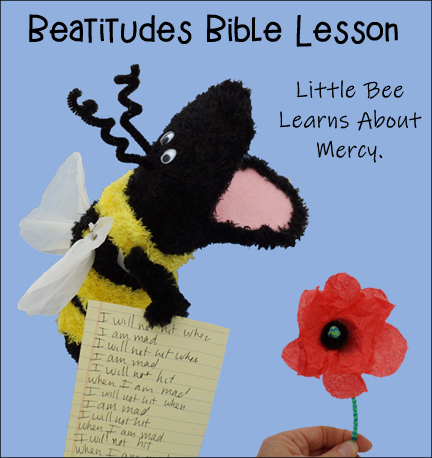 This series of lessons use a bee puppet to introduce each learning concept. (You can use the paper bag puppet, make a Sock Bee Puppet, or purchase a bee puppet.) You will also need a sheet of paper with the words "I will not hit when I am mad" written over and over on the paper, and a pencil. Tape the sheet and pencil into the bee's hands.
The Skit
Little Bee enters with a piece of paper and pencil in her hand. The words "I will not hit when I am mad" is written on the paper over and over.
Teacher: How are you today Little Bee?
Little Bee: (Shaking her arm.) Well, my arm is getting very tired.
Teacher: Little Bee, why is your arm getting tired?
Little Bee: (Shows the teacher the paper she has been writing.) My mommy told me I have to write, "I WILL NOT HIT WHEN I AM MAD," one hundred times on this here piece of paper before I can play with my friend again.
Teacher: Wow, that is a lot of writing. Why did you hit your friend? Hitting is not something you should do to a friend.
Little Bee: Because he made me mad.
Teacher: What did he do to make you mad?
Little Bee: He lied to me. I asked him to come over and play, but he said he couldn't because he had to do his chores, and I found out later that he was playing with Buzzy two hives down.
Teacher: Oh, that hurts when someone lies to you and chooses to play with someone other than you.
Little Bee: Yes, I was very hurt and I went over there and asked him about it and he lied again, so I hit him.
Teacher: Well, maybe your friend didn't want to hurt your feelings and tell you that he wanted to play with his other friend that morning. Maybe he thought you would get angry at him and hit him if he told you the truth.
Little Bee: Well, I would have been mad because I wanted him to play with me.
Teacher: But hitting is never the way to solve a problem. Have you ever lied to your friend?
Little Bee: Well, yea, sometimes.
Teacher: Would you like it if he came over and hit you when he found out you were lying?
Little Bee: No, he is bigger than me and it would hurt a lot.
Teacher: In our lesson today Jesus gives us an example of how we should treat people who do bad things. Maybe this will help you with your friend, Little Bee. (Open your Bible to John 8:1-11 and tell the story in your own words.) . . .
Member's

Rock Bible Verse Review Game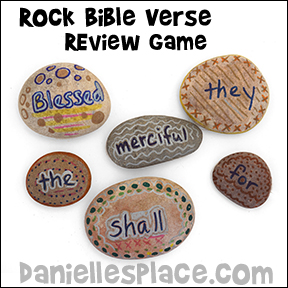 1. Find ten medium-sized stones for every four to five children in your class. On each rock write one word of the memory verse.
2. The object of the game is to pick up all the rocks in the correct order. Each child takes a turn picking up as many rocks as he can and turning them over. If he picks up a rock out of order, he turns all the rocks over and the next child takes a turn. The first child to pick up all the rocks in order wins.
3. If you have young children just play a regular memory game where the children try to find the first word of the verse, then the next word of the verse, etc. They get to keep the rock if they found it in the correct order. The child with the most rocks wins.
Member's

Thanks a million! Your ideas are wonderful. I have been going to Ukraine to teach Bible camp at an orphanage to the same kids for the past four years and have used so many of your ideas and they are always well received! God Bless, Lorie Kelly 9/6/2011
©2014, Digital by Design, Inc. -*See Copyright Information