Beatitudes Crafts and Activities - Poor in Spirit
Bible Crafts and Activities for Beatitudes Poor in Spirit Theme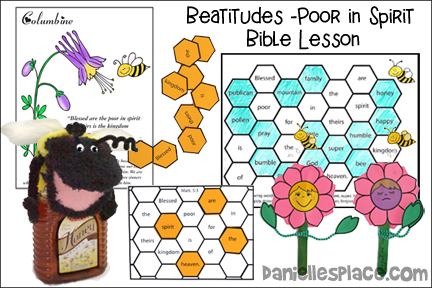 The following crafts and activities come from the Bible lesson "Blessed Are the Poor in Spirit". In this lesson children learn from Jesus' example what it means to be poor in spirit. Children are introduced to the story of the Pharisee and the publican, Luke 18:10-13, and the story of Jesus and the children, Mark 10:13.
This lesson is available to members on The Resource Room and as an instant digital download.
Member's

- Available in both KJV and NIV
Instant Digital Download

Poor in Spirit Flower Columbine Coloring Sheet and Poster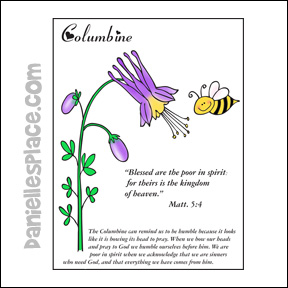 Each lesson in this series uses a different flower to help children remember each Beatitude. The Columbine can remind us to be humble because it looks like it is bowing its head to pray. When we bow our heads and pray to God we humble ourselves before him. We are poor in spirit when we acknowledge that we are sinners who need God, and that everything we have comes from him.
Member's

Instant Digital Download

Jesus and the Children Coloring Sheet with Matthew 4:3 Bible Verse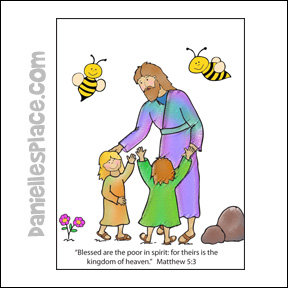 From the lesson: One day people were bringing their children to Jesus for him to place his hands on them, but the disciples got mad at them and told them to stop. When Jesus saw what they were doing he was very upset. He said, "Don't do that, let the little children come to me, for the kingdom of God belongs to such as these." Then he took the children in his arms, placed his hands on them and blessed them.
Jesus was a very important person, but he was never too busy for children. He said that we should be like little children. Little children trust their parents, they depend on them for everything, and come to them when they are in need. When we trust God, depend on him for everything, turn to him when we are in need, and ask for forgiveness when we do wrong, we humble ourselves. That is what it means to be poor in spirit.
Member's

- Available in both KJV and NIV
Bee Sock Puppet Bible Lesson Skit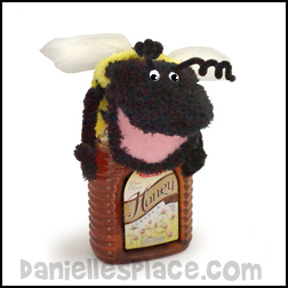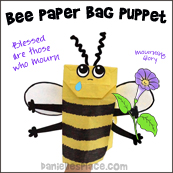 This series of lessons uses a bee puppet to introduce each learning concept.
You can use a paper bag puppet, make a sock bee puppet, or purchase a bee puppet.
For direction on how to make this sock puppet go to the Sock Puppet Page and watch the video on how to make sock puppets.
For this lesson you will also need a jar of honey.
Puppet Skit - Little Bee Learns About Being Humble:
Teacher: Good morning class! I have a special friend I would like you to meet this morning.
(Little Bee pops up.)
Well, hi there Little Bee! We're so glad you can be with us this morning.
(Little Bee disappears for a few seconds and then reappears. The teacher has a confused expression on her face.)
Class, this is "Little Bee" she will be helping us with the Sunday school lessons for the next eight weeks. (Little Bee disappears again and then reappears.)
Teacher: Let's all welcome Little Bee. (Little Bee disappears again.)(Little Bee makes groaning sounds.)
Teacher: Oh, I see. Would you like me to help you with that? (The teacher pulls out a jar of honey and places it on the table. Little Bee rests her head on the jar, and pants heavily.)
Teacher:  That's a big jar of honey for such a little bee. (Little Bee shakes her head yes, and then whispers something in the teacher's ear.)
Teacher: (Looking at the class) Wow! Little Bee says she made this honey! (Looking at Little Bee) That is a lot of honey for one little bee to make. Did you make all this honey by yourself?
Little Bee: (Shakes her head yes.)
Teacher: Well, I have read that it takes pollen from two million flowers to make one pound of honey. You must be a super bee, zooming around at Mach speed collecting enough pollen to make all this honey! (Little Bee shakes her head vigorously.)
Teacher: Or maybe you had some help making this honey?
Little Bee: Well, maybe, just a little.
Meek Flowers Craft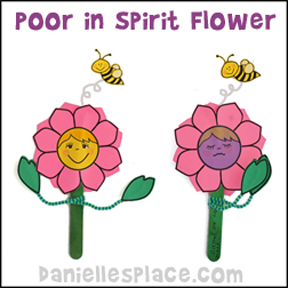 What you will need:
Jumbo Craft Sticks
White and Yellow Card Stock (Heavy Paper)
Crayons or Colored Pencils
Green and White Chenille Stems
Tape
Glue
How to Make the Flower:
1. Before class print out the flower puppet pattern onto white card stock and the bee patterns onto yellow card stock and then cut them out.
Member's

2. In class have your children color the patterns.
3. Glue a flower shape to the top of a craft stick. Tape a Chenille stem to a bee and then tape the end of the Chenille stem with the bee attached to the back of the flower pattern. Glue the other flower pattern to the back of the first flower pattern covering the Chenille stem.
4. Glue the happy face and the praying face circles to the center of the flowers.
5. Wind a green Chenille stem around the craft stick just below the flowers to make the stems. Glue two leaves together, back to back, with the Chenille stem in between them, and then glue two leaves to the other end of the Chenille stem.
6. Show your children how they can make the flower look like it is praying by bringing the two "leaf hands" together. Tell them that this flower can remind us to be humble. We should humble ourselves and pray, and ask God for forgiveness when we do something wrong.
7. Write the Bible verse on the craft stick with a magic marker.
Bible Verse Beehive Activity Sheet (Older Children)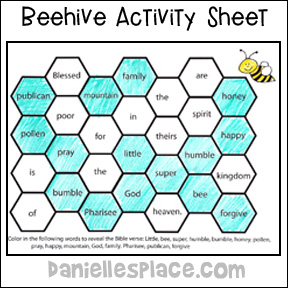 Children color the cells of the beehive that have words listed below the beehive. The words that haven't been colored will spell out the Bible verse.
Collecting Nectar and Pollen and Play Pollen Collecting Game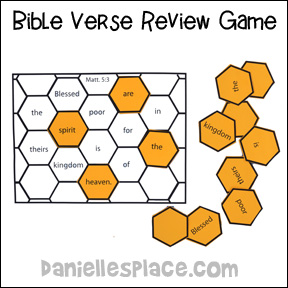 1. Before class print out the flower pollen patterns and the beehive pattern onto card stock and cut them out.
2. In class show your children one of the following videos from Youtube.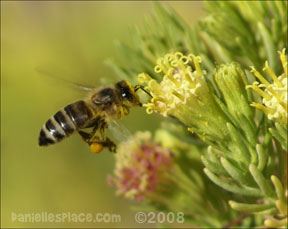 Flowers and Honey Bees - This video shows a bee collecting nectar and pollen from a flower. The pollen sacs are very visible.
Picture of a Bee - Print out the "Bee wiht Pollen Sacs Printable on the Bee Crafts Page.
3. Explain that honey bees collect nectar and pollen from flowers. They mix some of the nectar with the pollen and store it in pollen sacs on their legs. When the pollen sacs are full, they take them back to the beehive where they make honey to feed the baby bees and the queen bee. They put the pollen from their pollen sacs into the hexagon-shaped beehive compartments where it turns to honey.
4. Tell your children that they are going to pretend to be bees and collect pollen. They should fly around looking for pollen that has fallen to the ground. When they find a piece of pollen that has a word on it, they should fly to the front of the room and deposit their pollen into the beehive into the appropriate compartment.
This Lesson Includes:
1. Puppet skit and lesson that uses a bee puppet.
2. Two coloring sheets "Jesus and the Children" and "Columbine Flower Sheet" available in KJV and NIV. These coloring sheets are also available already colored to be used as illustrations for the Bible lesson.
3. Praying flower puppet craft with a happy face on one side and a praying face on the other.
4. Printable Bible verse cards in both KJV and NIV.
5. Bible verse activity sheet for older children. Children color the cells of the beehive to reveal the Bible verse.
6. "Collecting Pollen" Bible verse review game. Children race to pick up pollen and match it to the cells of a beehive.
Member's