Christmas Crafts for Kids Page 5
Bible-themed Christmas Crafts for Children
Nativity Scene Bible Review Game and Craft
Christmas Stickers are a great way to review the Christmas story.
How to Play:
1. Give each child a sticker sheet, a piece of paper and colored pencils.
2. Tell your children to draw a stable scene.
3. Take turns asking the children questions about the Christmas story. If a child gets a question correct, he or she gets to pick one of his stickers from the sticker sheet and place it on the stable scene. (If you don't have stickers, you can just have your children draw one character each time a question is answered correctly.)
4. Keep asking questions until every child has used all his or her stickers and completed the nativity scene.
You could also use "Make-A-Nativity" Stickers.
Sock Doll - Baby Jesus in the Manger Craft for Kids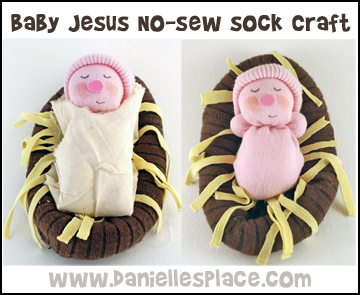 What you will need:
Pink Child's Sock
Large Brown Sock
Yellow Material or Sock
Poly-fil
Tiny Rubber Bands
Pink Craft Foam
Permanent Marker
Scissors
Pink Fabric Paint
How to Make the Sock Doll Craft:
1. See the No-Sew Sock Doll Directions and the Sock Baby Directions on the Sock Crafts for Kids Page to make Baby Jesus. You don't have to make the feet because he will be wrapped in a blanket.
2. Wrap the sock doll in a piece of muslin. Cut a small circle from craft foam for the nose and draw on the eyes and mouth. Add a little bit of pink fabric paint or watercolor paint for the cheeks.
4. To make the manger roll up a large brown sock. Turn the sock inside out and roll it up so that the right side is showing. Roll it all the way to the toe until you have a donut shape.
5. Use strips of yellow material or natural raffia for the hay.
©2009, Digital by Design, Inc. -*See Copyright Information