Easter Bible Crafts Page 4
Bible Crafts for Sunday School and Children's Ministry With Easter Theme
Glowing Easter Cross Craft for Sunday School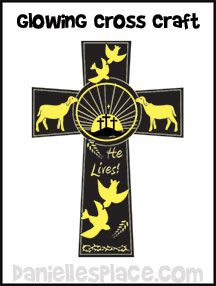 What you will need:
Bright Yellow Computer Paper
Oil (Such as Canola Oil or Olive Oil)
Paint Brush
Paper Towels
How to Make the Cross Craft:
1. Print out the cross pattern onto bright yellow computer paper and cut it out.
* If you have a printer that has water soluble ink, print out the pattern onto white computer paper and then use a copy machine to copy the pattern onto yellow paper. (*Inkjet printers are water soluble.)
2. Place a small amount of oil (1 teaspoon) into a cup. Use a paint brush to brush the oil over the back of the cross. When you have covered the entire cross with oil use paper towels to soak up any left over oil by pressing the cross pattern between to sheets of paper towels. The oil on the paper will make the paper translucent.
3. Tape the cross on a window. The images in the cross will seem to glow.
Member's

Instant Download - $2.00 for Printable Pattern Only -

©2009, Digital by Design, Inc. - *See Copyright Information
Jesus Ascending to Heaven Craft for Kids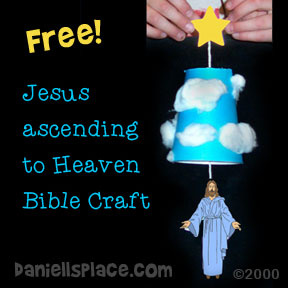 What you will need:
16 oz. Blue Plastic Cup
Card Stock (Heavy Paper)
Cotton Balls
String
Tape
Colored Pencils
How to make the Jesus Ascending to Heaven Cup Craft:
1. Before class, print out pictures of Jesus onto card stock and cut them apart. Cut star shapes from card stock. Punch holes in the middle bottom of the foam cups. Cut blue paper to fit around the cups and tape or glue it on.
Member's

Free Black and White Pattern

2. In class have your children glue cotton balls on the cups to look like clouds and color the picture of Jesus.
3. When they are done coloring, tape a star to one end of a string and push it through the hole at the bottom of the cup. Tape the picture of Jesus to the other end of the string as shown in the picture. When your children pull on the string Jesus will ascend to heaven!
Designed by Tracey Lentfer
©2007, Digital by Design, Inc. - *See Copyright Information
Colors of Easter Sunday School Lesson
In this lesson children fill a clear plastic cross with layers of different colors of candy to remind them of different things in the Easter story. They could also use beads to make a bracelet.
Each child is given a plastic cross frame. Cross Sand Art Craft Kits
Member's

Free Instand Download

©2007, Digital by Design, Inc. - *See Copyright Information