Bible Crafts and Games About Anger
"In Your Anger Do Not Sin" Bible Crafts and Games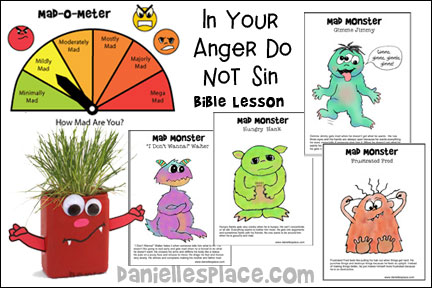 Bible Reference:
"Be ye angry, and sin not:" let not the sun go down upon your wrath:" Eph. 4:26, KJV
Teaching Concept:
In this lesson children learn that anger is an emotion that everyone experiences. It is not a sin to be angry, but it is a sin to use your anger to hurt others, yourself, or to destroy things. They learn from Jesus' example how to handle anger in a constructive way. The teacher presents seven mad monsters and gives examples of things children can do to take control before the mad monsters do.
Mad Monsters Bible Verse Coloring Sheet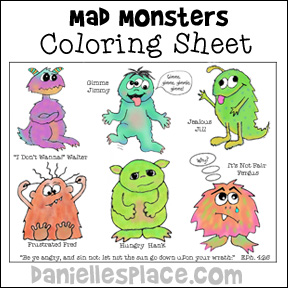 1. Before class print out the coloring sheets and make copies.
(The patterns for this craft are available to members on The Resource Room in both KJV and NIV.)
Member's

2. In class give your children the coloring sheets and crayons or colored pencils. As they work ask them why they think the the mad monsters are mad. Ask your students if they ever get mad and why they might get mad.
If you don't have a lot of students, you can use the black and white Mad Monster Posters below. Have your children color them and them use them during the lesson.
Mad-O-Meter
Preparation:
1. Before class print out the pattern onto card stock (Heavy Paper). (The patterns for this craft are available to members on The Resource Room in both KJV and NIV.)
Member's

2. Cut pointers from another piece of card stock and punch holes at the ends.
3. In class have your children color the Mad-O-Meters.
4. Punch a hole in the center of the Mad-O-Meters and attach the pointers with brass brads.
5. Instruct your children to take the Mad-O-Meters home and use them when they get angry to help them remember not to sin when they are angry. Tell them to try to find solutions to their problems before the meter reaches Mega Mad.
I wanted to let you know that I did the Anger lesson with the Hills Brothers' containers and the kids loved the it. Some made 2 & 3 monsters. I planted grass in them 2 weeks ahead a time so they had a full head of hair. I meant to take pictures but it got so hectic at the end of class I forgot to do it. Again thank you for the great lesson and craft. Vicki
Growing Mad Monster Craft
Children use this Growing Mad Monster to help them control their anger before it controls them.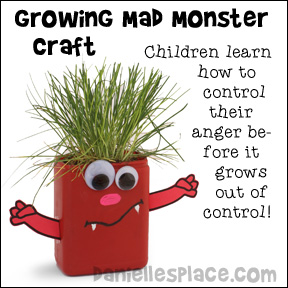 What you will need:
Plaster Container or Can - The container pictured is a red Hills Brother's Cappuccino container.
Red Paint (Optional) and Red Paper
Large Wiggle Eyes
Liquid Chalk Markers or Permanent Markers
Glue and/or Tape
Scissors
Fast Growing Seeds Such as Beans, Sprouting Seeds, Clover, Grass, etc.
Soil
How to Make:
1. Before class print out the arm patterns (Available to members) onto red paper or card stock and cut them out. If you are using a can or other container, you can tape red paper onto the can or spray paint them red before class. Or just leave them their original color. Use paper that matches the container color for the arms.
2. Print out the back labels and cut them apart. (Available to members) The labels read, "If you feel like your mad monster is beginning to control you, take charge before it does. Use this Growing Mad Monster to redirect your anger by styling its hair. Once you have calmed down talk about why you were angry and try to resolve the conflict in a calm manner. ©2015 - www.daniellesplace.com (Please include the copyright if you use these craft labels.)
3. In class have your children draw a mad face on the container using the chalk markers or permanent markers, glue on wiggle eyes, and tape the arms to the sides of the container.
4. When they are done have them fill the container with dirt and add seeds or a plant.
What Does an Angry Person Look Like?
Have your children pose as an angry person. A child may pretend to be: shouting, pointing his finger,clinching his teeth, making his hands into fists, stomping his feet, tensing up, yelling, crying, kicking something, hitting something, rolling on the floor, frowning or punching.)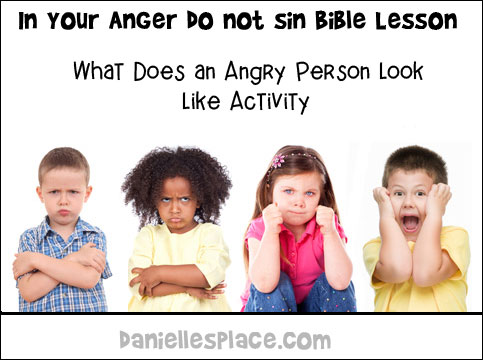 Mad Monster Game
Use his printable board game to help your children talk about their anger and learn how to deal with it in a positive way.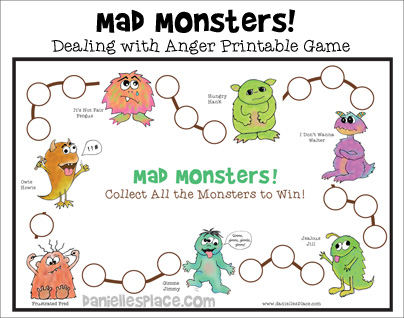 Children learn to control their 'mad monsters' with this simple game. When a child lands on a monster he gives an example of why he got angry when that type of 'mad monster' was controlling him. For example, if a child lands on the "Gimme Jimmy" Monster, he might say, "I got mad when my mom wouldn't buy me the toy I wanted. I yelled and whined until my mom threatened not to take me to the store any more." The child should then say how he could have handled his anger better.
There are seven monsters: "It's Not Fair" Fergus, Hungry Hank, "I Don't Wanna" Walter, Owie Howie, Frustrated Fred, Gimme Jimmy, and Jealous Jill.
The game board measures 14" x 10" and uses two sheets of card stock. It comes with directions, printable monster cards, and suggestions about how children can deal with their anger in positive ways.
This game is available to members on The Resource Room or as an Instant Download.
Member's

Instant Download Pattern $2.95 -


Eph. 4:26 Bible Verse Review Activity Sheet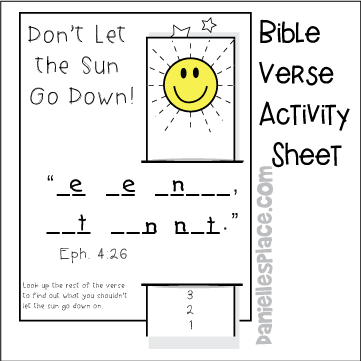 Children try to guess the letters that spell out the Bible verse before the sun goes down. Each time they guess a letter and it is wrong the sun strip is moved down one space. If the sun goes down before they guess the words to the verse, they lose.
Member's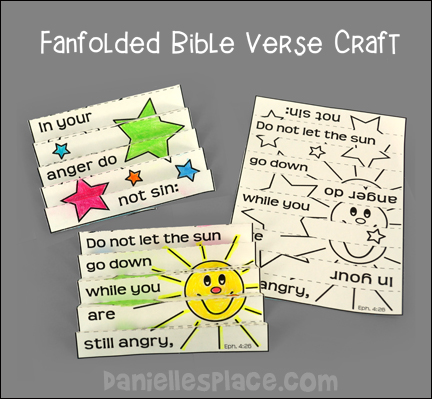 Fanfolded Bible Verse Activity Sheet - Children fold up the sheets to reveal the Bible verse from opposite directions.
Member's

I taught this lesson "In Your Anger, Do Not Sin". A few weeks ago. It was right after the ruling on gay marriage and the SC shooting and doing away with the rebel flag. I had it planned way before all this happened and it was just a blessing from God to teach that day. The kids loved and it helped them to understand some things. I teach both 4 & 5 year old children for Sunday School and 1st-2nd grade for Children's church. It went over so good. One of the other teachers borrowed it to teach his class of 3rd-6th grade. It gave them some understanding about how to deal with what was going on around them. They loved playing the game as well and we did the funny monster planter too! I used Herb seeds so that it would be something useful in the home. Most kids don't get to keep there crafts if they aren't useful. Thank you for all the wonderful lessons! I love them!