John 3:16 Bible Crafts and Learning Activities Page 2
Bible Crafts for Children's Ministry About John 3:16
John 3:16 Fanfold Paper Bible Craft for Children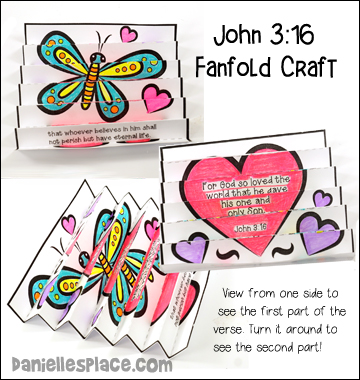 What you will need:
Printer Paper
Colored Paper
Scissors
Straight-edge Ruler
Scoring Tool
What to do:
1. Before class, print out the pattern sheet and make copies.
Member's

Instant Digital Download

2. Cut out around the edge of the patterns.
3. Use a scoring tool and a straight-edge ruler to score each of the dashed lines to make it easier for children to fold the patterns.
4. Make a sample craft.
5. Have your children color the pictures and then fan-fold the pattern. Start folding by folding forward the first dashed line on either side of the pattern. If you start by folding backward, the pictures will appear upside-down.