Sunday School Crafts Love Page 2
Crafts and Games About Love For Sunday School
Love Is . . . Folding Craft Stick Craft
What a fun way to learn 1 Corinthians 13:4-8! Children color the pattern, glue it to the craft sticks. The sticks are cut so that they fold up into a pile of sticks. Printable patterns are available to members and as an instant download.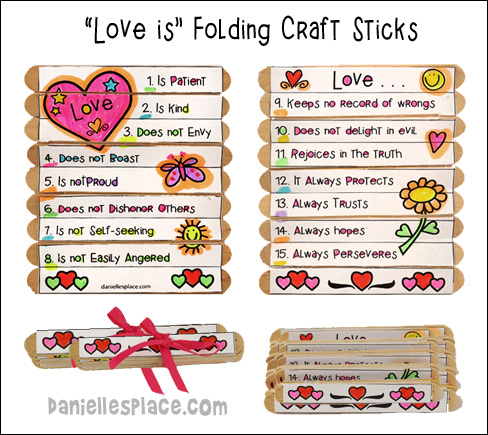 What you will need:
Mini Jumbo Craft Sticks, Ribbon or Yarn, Scissors, Cardstock Paper - 65 lb., Aleene's Tacky Glue, X-Acto Knife or Box Cutters, Highlighter Markers (These markers are designed for fabric, but they work great on paper. The flourescent colors are brighter than highlighter markers and the tips are much softer.)
How to Make the "Love Is", No-tape, Folding Craft Stick Cards:
1. Before class prepare the folding craft stick cards.
Print out the patterns, cut them out.
Member's

Instant Download

2. Line up seven mini jumbo crafts sticks, one on top of the other.
3. Spread glue on the back of a pattern and stick it to the middle of the craft sticks pressing down and out from the middle of the paper.
4. Turn the craft sticks over and glue the other pattern to the back.
5. Let the glue dry completely. This could take up to an hour. When the glue is completely dry use an Exacto knife or box cutter to cut the paper. On one side carefully cut the paper in the space between the first and second craft stick.
Do not cut all the way through to the paper on the other side. Skip the next space and cut the space between the third and fourth craft sticks. Skip the next space and the top paper between the fifth and sixth craft sticks.
6. Turn the card over and cut the paper in the space between the second and third craft sticks, the fourth and fifth, and the sixth and seventh.
7. Carefully fold up the craft sticks.
8. In class have your children decorate their folding cards.
Watch a Video on How to Make the No-tape, Folding Craft Stick Cards
©2012 - 2017, Digital by Design, Inc. - See Copyright Information - Bloggers, if you use this craft idea or an adaptation, you must link back to this page for complete directions. If you use this technique, let us know and we will put a link to your blog.
Thank you so much for your wonderful site. It is an excellent resource and inspiration for my Sunday school program. I find myself coming back week after week to see what you offer. What a blessing! Sincerely, Amanda Fieldhouse (grateful Sunday school teacher)
Thank you so much for your work! I just want to let you know how blessed I am to have found your website, and how blessed you are with such great talent and for the generosity in sharing it with all of the rest of us. We have been struggling with different curriculums and none touched me until I stumbled onto "Danielle's Place". It is worth every penny and then some. I have been teaching Sunday School, almost non-stop, since I was 16 years old. That means about 23 years! I have used many different methods, curriculums, made my own, etc. but I think this website is my favorite! I have been telling everyone I know about it. Thank you again, and may God bless you all and your families in your endeavors. You are truly wonderful! In Christian Love, Mrs. Hart
Thank you for this website. This is a real positive website that really does offer fun ideas. I believe learning should be fun because sometimes Bible truths can be interesting!!!!! to teach to small children. Your format allows teachers a great resource; there are times when we need fresh ideas. Sometimes all we need is inspiration and encouragement . Thank you also for the input of other teachers. This site is truly a positive way to hear and share with others. God Bless you as you continue to spread the God's word through crafts, stories and fun games. Joanne