Bible Crafts - Naaman
How to Make Crafts and Games about Naaman Bible Story
Naaman Washing in the Water Seven Times Popup Craft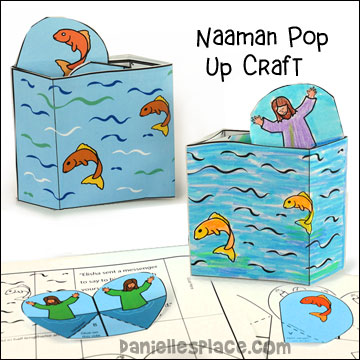 What you will need:
Paper, Colored Pencils, Paper Glue and Scissors
How to Make:
1. Before class print out the patterns and cut around the edge.
Member's

Instant Digital Download -

- Color and Black and White Patterns
Watch a "View it and Do it! Craft video on Youtube on how make this craft:
2. Score all the lines.
3. In class have your children color the picture and tabs with colored pencils.
4. When they are done coloring, fold the paper in half and glue it closed.
5. Fold the Naaman tab in half and glue it together. Fold the bottom of the tabs as indicated, and then glue them onto the back of the pattern as indicated on the pattern.
6. Glue the sides of the large craft pattern together to make a box shape.
7. Show your children how to press on the sides to make the tabs pop up.
Children's Books About Naaman