Palm Sunday Bible Crafts
Palm Sunday Crafts and Learning Activities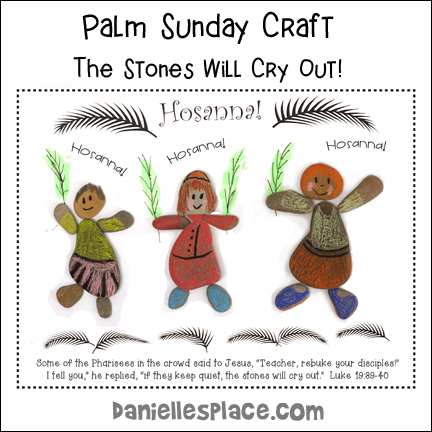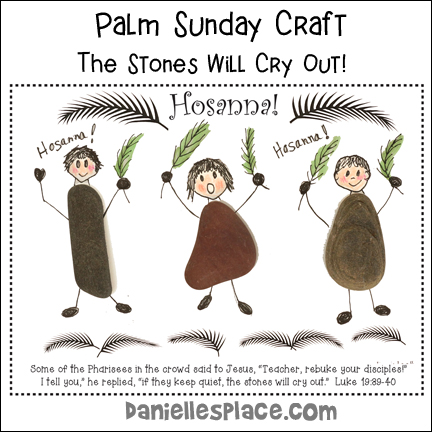 Rock People Singing Hosanna Craft
Jesus replied, "If they keep quiet, the stones will cry out!" - Children color rocks with colored pencils and then glue them to the background sheet with the Bible verse 19:39-40. This craft is available in both KJV and NIV.
What you will need: Small Flat Rocks of different sizes, Card Stock and Glue
Children color the stones and glue them to the background activity sheet and then draw in arms, legs and palm branches.
Member's

Instant Digital Download

- Coming Soon!
Palm Sunday Hosanna Wreath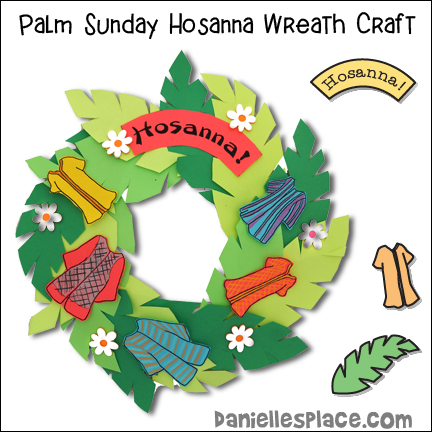 How to Make the Hosanna Wreath:
1. Use a large eight-inch plate to cut a circle from construction paper for the wreath base. Cut a smaller circle out of the inside.
2. Print out the Palm Branch Patterns onto two different shades of green construction paper, cut them out, and glue them all around the circle base.
Member's

Instant Digital Download

- $2.00
3. Print out the Coat Patterns and Hosanna sign onto different colors of paper or white paper, color them, and cut them out. Glue the coats on top of the palm branches.
4. Glue the "Hosanna!" sign to the top of the wreath.
5. Two finish glue fun foam flower shapes to the wreath.
Copyright 2000, Digital by Design, Inc. - See Copyright Information
Palm Sunday Crafts on Other Pages