"Sing to the Lord" Bible Crafts for Sunday School
Sing Unto the Lord Bird Activity Sheet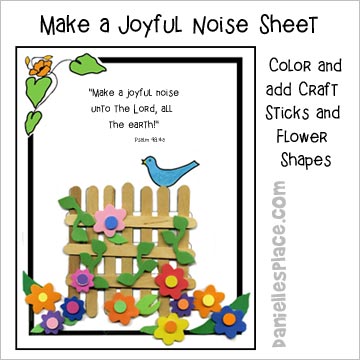 Children color the picture, glue crafts on the template to make a fence and then glue on craft foam flower shapes.
"Make a joyful noise unto the LORD, all the earth: make a loud noise, and rejoice, and sing praise." Psalms 98:4
Member's

"Jesus, You Make My Heart Sing" Craft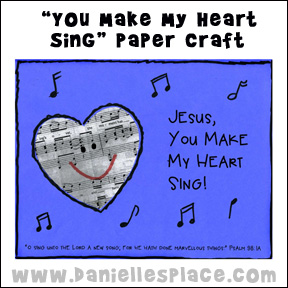 How to Make the "You Make My Heart Sing" Paper Craft:
1. Before class make copies of songs from the pages of a hymnal.
2. In class show your children how to fold the song sheets in half and cut half heart shapes on the fold to make hearts.
3. Have your students glue the heart shapes onto a piece of colorful paper, write "Jesus, You Make My Heart Sing!" next to the heart and Psalm 98:1 at the bottom of the page, and then decorate the paper with musical notes or whatever they would like.
Member's

©2014, Digital by Design, Inc. -* See Copyright Information
Crafts on Other Pages