"Dress It and Keep It" Sunday School Lesson for Children
Genesis Bible Lesson for Earth Day
The following crafts and activities come from the Bible lesson, "Dress It and Keep It" on The Resource Room.
In this lesson children will learn that God created the world for their enjoyment, and it is their responsibility to take care of it. They learn many ways in which they can help take care of God's wonderful creation.
"Our Earth, Dress It and Keep It" Badges or Stickers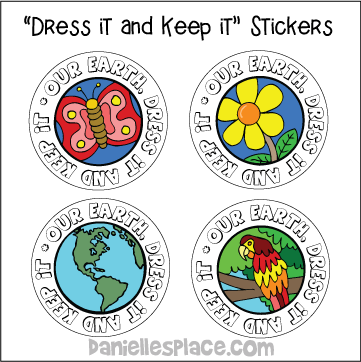 What you will need:
White Card Stock or Matte Sticker Paper
Safety Pins
Tape
Colored Pencils or Markers
Scissors
What to do:
Print the images on sticker paper to make stickers or use card stock and tape a safety pin on the back to make badges. Patterns are available to members on The Resource Room.
Member's

You can have your children color the images with colored pencils, pens, or markers or use the colored images.
"Dress It and Keep It" Collage Poster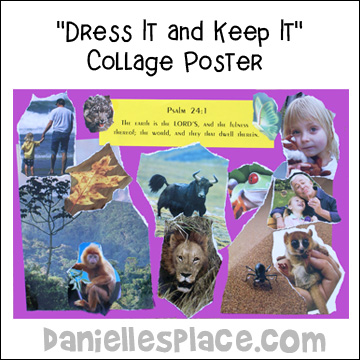 Children make posters to remind them that God created the earth and we should "Dress it and Keep it".
Color a Color-by-Number Picture (Older Children)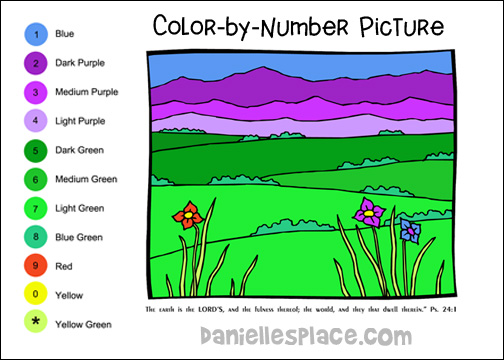 Children use crayons or makers to color the picture by numbers. The Bible verse is at the bottom of the picture. Printable patterns are available to members on The Resource Room.
Member's

"Dress It and Keep It" Search and Find Bible Verse Activity Sheet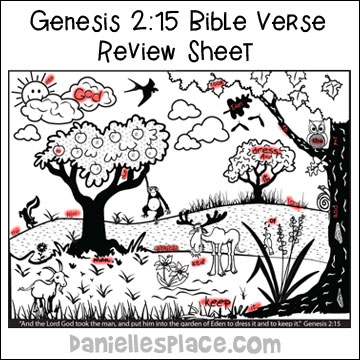 Children review the Bible verse by searching for the words in the garden picture. Available in both KJV and NIV.
Member's

Recycle Group Activity
1. Break your children up into four groups. Assign each group a different subject - Reuse, Recycle, Reduce, and Replace.
2. Have each group come up with ideas on how they can help the environment by reusing, recycling, reducing or replacing.
3. Have each group share with the class what they came up with. They may also want to make posters that show what they have discussed.