Serving Others Bible Lessons, Crafts and Activity Ideas for Sunday School
"Sprout" Bible Lessons Series (Serving People, Reaching Out!) Including: Dorcas, Billy Graham, and George Washington Carver
Dorcas Serves Others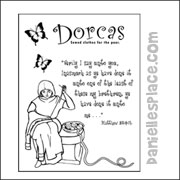 In this lesson children learn how Dorcas served God by serving the poor and the widows in her town.
Her acts of kindness spread throughout her city, and still influence Christians today.
See the Dorcas Sunday School Lesson, Crafts, and Activity Ideas Page
©2012, Digital by Design, Inc. -See Copyright Information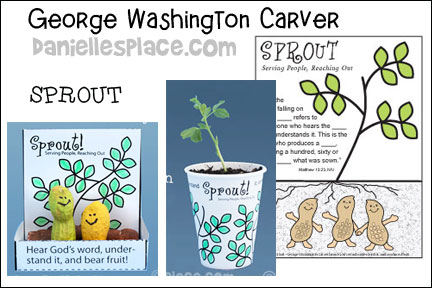 "George Washington Carver - Man of God" Sunday School Lesson
In this lesson children can learn from George Washington Carver how God can use us for his glory if we put our trust in him and make him the center of our lives. See also George Washington Carver Crafts and Learning Activities. This lesson can be found on The Resource Room.
©2012, Digital by Design, Inc. - See Copyright Information
I teach a variety of ages at our church and have appreciated my subscription to Danielle's place. I often use the different lessons and craft ideas. I especially like the different patterns that are ready just to print out. This has saved me time and the kids have enjoyed putting them together while learning about the Bible. Carla Burtoft
Teaching Ideas for George Washington Carver
One particular week I used a combination of your information on George Washington Carver along with a book from Child Evangelism Fellowship. Their materials include many large story books for children about missionaries, evangelists, and Christians throughout the ages. The book on George Washington Carver has large color pictures to display as you tell his life story. It has suggestions on how to plan a Peanut Party. Because my KinderChurch kids have shorter attention spans, we set up five different areas in our classroom for the phases of George Washington Carver's life that we wanted to teach about. For example, when we talked about his boyhood, we included a 'nature walk' that allowed me to take the children around to baskets filled with leaves, rocks, and other natural materials. As I picked up each item, I talked about how George would have looked at these things to learn more about the world God had created. After each mini-lesson, we would break for a physical activity like tossing peanuts into a bucket or having Nutter Butter Peanut Cookie snacks. We also set up a large display of several items derived from peanuts. We made mini-books for the children to take home to their parents that showed how George trusted God in every area of his life -- and how God rewarded that trust. These ideas were sent in by Brenda D.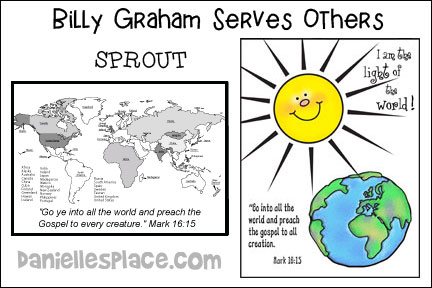 "Billy Graham - Serving People, Reaching Out" Sunday School Lesson
In this lesson children learn that God gives each of us special talents that we can use to serve him and others. For a complete lesson and printable crafts go to the Billy Graham Lesson on The Resource Room.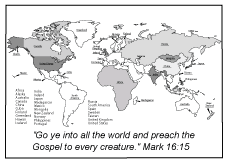 Peter - "Feed My Sheep"
Teaching Concept: Peter receives the power of the Holy Spirit on Pentecost and begins feeding Jesus' sheep. Jesus gives us the power and courage we need to serve others and to follow him.
See Peter Heals the Lame Man Crafts and Activities Page
Books, Videos, Etc.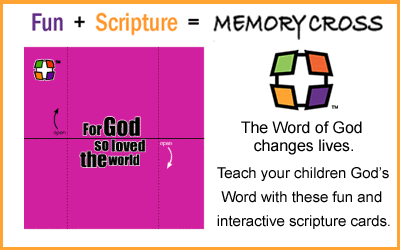 Comments
Before I discovered your site, I used different material involving leaflets that included a lot of reading. This caused problems for some of the children in our inner city church and often they left unexcited and inevitably without their leaflets.