God Made Me Bible Lesson 5
My Helping Hands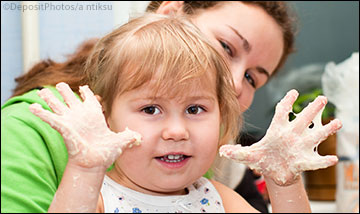 This lesson is about the good Samaritan and how he used his hands to do good things. Children learn that they can use their amazing hands to glorify God by doing good things and praising him. (A complete lesson is available to members only on The Resource Room.)
Helping Hands Activity Sheet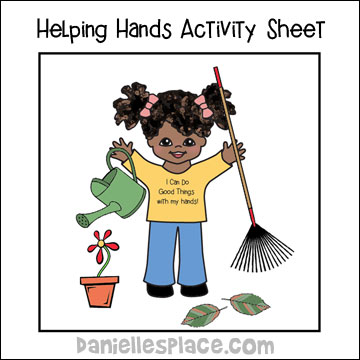 Children color the picture of either a boy or girl and then cut out pictures of different things they can do to help others and glue them onto the activity sheet. (A pattern is available on The Resource Room.)
Member's

Make a Remember Memory Verse Hand Picture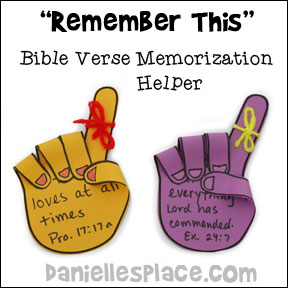 Explain to your children that sometimes when we want to remember something important, we can tie a string on our fingers to help us remember. Have your children write some things on the fingers of the paper hands they want to remember to do during the week. Have them write the Bible verse on the palm, and tie a string on one of the fingers to remind them to do what they wrote and practice the Bible verse.
Member's

Home School Materials are also Included in this Lesson, Including Math Review Games:
Helping Hand Number, Words, and Letter Review Game
Before class print out the hand patterns (Available to members) and cut them out. Write letters or numbers on the fingertips that your children are learning. Fold the fingers down towards the palm of the hand. Place a large bowl of water on the table. Place one of the hands on the water so it is floating with the folded fingers facing up. It will only take a few seconds for the fingers to start unfolding. When a finger pops up and reveals a number or letter, ask you children if they recognize that letter or number. Let your children write letters and numbers on their own hands to take home and show their parents how the helping hand works. You can also review sight words by writing one letter of the word on each finger.
Follow the link above for even more educational activities including: Art, fun with numbers, fun with letters and words, physical fitness, cooking, and just for fun ideas.
©2007, Digital by Design, Inc. - See Copyright Information
I am the director for children's ministry at The Orange Park Vineyard Church in Florida, which my husband pastors. Thank you so very much for the interesting resources that you have available for us. I have brought in your curriculum for my 4 & 5 year old children and the teacher that is working with them for this 1st quarter has been so excited about working with these lessons. Thank you once again for making it so interesting and easily accessible for us. We appreciate all your devotion in making this a wonderful and helpful program. Janet (Orange Park Vineyard Church)