God Made Me Bible Lesson 6
My Guarded Mouth
Children learn that our mouths are created for good things not bad. God can help us control our tongues and to say only what is good and true. (A complete lesson is available to members only on The Resource Room.)
Make Talking Mr. Mouth Puppets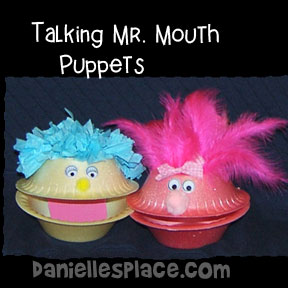 What you will need:
Paper or Styrofoam Bowls
Sticky Eyes
Feathers or Crepe Paper
Pink Craft Foam
Pompoms
Stapler
Glue
Decorative Items
Your children will enjoy making these cute puppets. The mouths open and close when you move the paper towel tube up and down.
Member's

"Guard My Mouth" Bible Verse Picture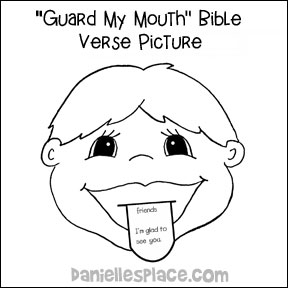 The tongue is pulled down to reveal good things we should say. If you don't have much time in class, you can just have your children color the face and then write "good" words in the mouth.
If you have preschool children, just let them come up with something good they can say, and then write it in the mouth for them. You can also cut out the mouth area and glue the whole picture onto another piece of paper forming an envelope. Glue just around the sides of the paper.
Help your children come up with "good" things they can say, write them on a sheet of paper and then stick them in the mouth.
Member's

Smiling Biscuits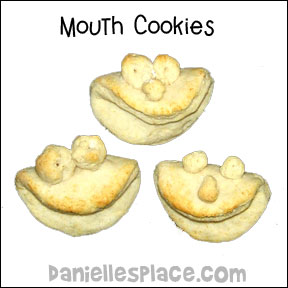 What you will need:
2 Cups All-purpose Flour
1 Tablespoon Baking Powder
3/4 Teaspoon Salt
1/2 Tteaspoon Baking Soda
5 Tablespoon Chilled Solid Vegetable Shortening
1 Cup Buttermilk
How To Make:
1. Preheat oven to 425°. Sift together the flour, baking powder, salt and baking soda.
2. Cut the shortening into the flour mixture using a pastry blender or 2 knives until coarse crumbs form.
3. Add the buttermilk, tossing with a fork until a dough forms.
4. Turn the dough out onto a lightly floured surface. Gather into a disk. Knead lightly a few times just until smooth.
5. Roll out the dough to about 1/2 inch thick. Using a round biscuit cutter, cut out the dough. Fold the circles in half and place 2 inches apart on an ungreased baking sheet. Gather the left over dough trimmings and form into small balls to form eyes and a nose. Using your finger put an indent into each biscuit where the eyes and nose will be. Dip the balls into an egg white that has been slightly beaten and place in the indents. Use toothpicks to secure the eyes to the head. 6. Bake the biscuits until golden 12 to 15 minutes. Remove the toothpicks carefully. Serve hot with butter..
Make Apple Marshmallow Mouths
This recipe makes a great snack for any time of the day. Print out the Recipe and follow the directions.
Member's

Follow the link above for even more educational activities including: Art, fun with numbers, fun with letters and words, physical fitness, cooking, and just for fun ideas.
©2007, Digital by Design, Inc. - See Copyright Information
I have used several of your craft ideas for children's church and my preschool class. I have just finished preparing for my next children's church. I am so excited. I can barely wait to work with the children on this project.("Help One Another" Gal.5:13) I also plan to use this with my preschool class. I teach three year olds at a Christian School. I decided to use stick glue for the wiggly eyes and also punch holes for the antenna. My membership to The Resource Room has been money well spent. Thank you all for GREAT ideas. Dawn