Moses and theTen Commandments Bible Crafts and Activities
How to Make Crafts and Activities Relating to Moses and the Ten Commandments - Ten Commandments Bible Lessons for Children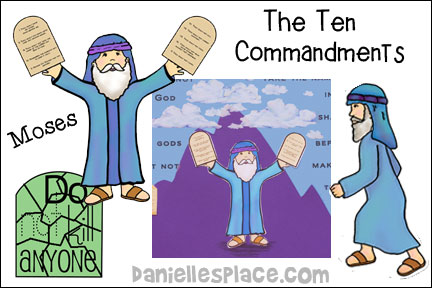 The following crafts and activities come from the Ten Commandments Bible lesson on The Resource Room and as an instant download.
Member's

Instant Digital Download - $3.95 -

Pretend to be Moses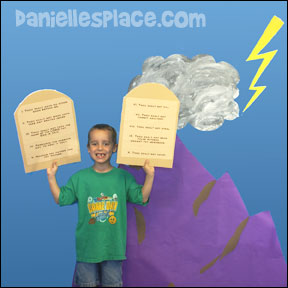 Before class cut a mountain shape from bulletin board paper and tape it to your wall. You can also add clouds and lightening.
Cut Ten Commandment tablet shapes from foam core board, 17 1/2" x 12".
Print out the Ten Commandments and glue them to the tablet shapes. (I used paper that matched the color of my foam core board. Printable Ten Commandments are available on The Resource Room.)
Member's

Instant Digital Download - $3.95 -

In class have your children dress up in Bible clothes to look like Moses. (Note: Do not let your children share headdresses because they could spread lice. Have one for each child; and wash them after each class.) Talk about how Moses brought the Ten Commandments down from the mountain.
Have each child take a turn posing for a picture. Have the picture ready next week and use them to make a scrapbook page to remind your children of the lesson.
©2006, Digital by Design - See Copyright Information
Color a Picture of Moses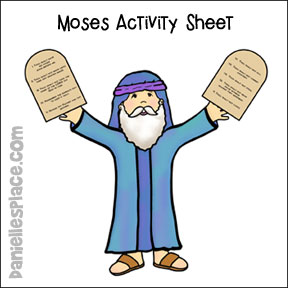 Children color the picture of Moses, cut out the Ten Commandment tablets, and glue them to Moses' hands.
Member's

Instant Digital Download - $3.95 -

Work on a Puzzle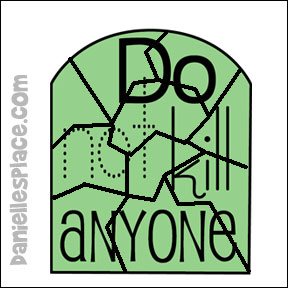 1. Before class print out the Puzzle Pattern on different colors of card stock.
2. Cut them out and then cut them into about ten different puzzles pieces. You can cut four puzzles at a time.
3. In class see how fast your children can put the puzzles together to figure out the commandment. Tape them together as they find a matching piece.
Member's

Instant Digital Download - $3.95 -

Break the Code Ten Commandment Puzzle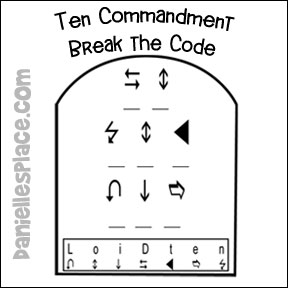 1. Before class print out the Break the Code Commandment Puzzle and make copies.
2. In class have your children match the symbols to the letters to figure out which Commandment is written on the tablet.
Member's

Instant Digital Download - $3.95 -

Create a Classroom Memory Book for Your Children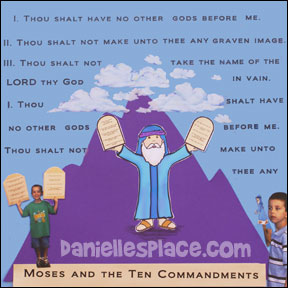 Scrapbook pages of your Sunday school lessons and activities are a great way to help your children review and remember what they have learned. It is also a great way to get shy children to open up. Children will love seeing pictures of themselves.
You can also display the pages in your room to let parents know what your children have been doing and learning in class. This will also encourage your children to share what they have been learning with their parents.
Older children will also enjoy making memory pages of their lessons. This will also help them to remember what they have learned.
Ten Commandment Song
Sung to the tune of "Father Abraham"

I am going to, going to obey
Even though I don't want to.
Jesus tells me to so this I'll do,
So let's just all obey,
Right arm.
Go through the first part with each command in the song -
Left arm, right leg, left leg, nod your head, jump up and down, turn around
Hope others can use it too! Sent in by Narita Roady
You can find even more ideas for this theme under Moses and the Ten Commandments
©2000, Digital by Design, Inc. - See Copyright Information
More Ten Commandment Crafts
Ten Commandments Folding Craft Stick Crafts
The sticks are taped together so that when the craft sticks are pushed together from the top and bottom of the stack they fan fold up into a compact stack of sticks for storage. This craft is great to use as a memorization tool. Children can test themselves by unfolding one section at a time to reveal the next Commandment.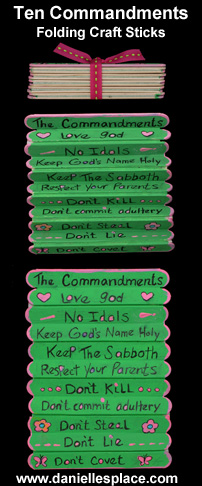 What you will need:
Woodsies Mini Jumbo Craft Sticks -4.5" 50/Pkg - Use good quality craft sticks that lay flat. The 5/8" work perfect with the one-inch tape. *You can use the Woodsies Jumbo Craft Sticks with the 1.5 Inch - 3M Scotch Masking Tape for a bigger Canvas.
3M Scotch Masking Tape, 1-Inch - Other brands will work, but this tape works great! It is the exact color of the craft sticks. (Staple's Tape works better with the washable markers, but it is lighter than the stick and more transparent and doesn't cover the stick as well.)
Permanent Markers, Crayons, or Colored Pencils (The washable markers don't work well because they smear.)
How to Make the Folding Craft Stick Canvas:
1. Cut the one-inch masking into 4-inch pieces.
2. Place two sticks together, side by side, and tape them together covering both the sticks with the tape.
3. Turn the two sticks over so that they are diagonal to you.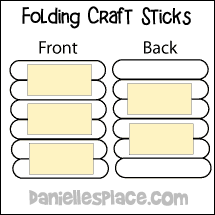 4. Place another craft stick next to and below the two sticks that you taped together. Use another piece of tape to tape the bottom two sticks together.
5. Turn all three sticks over diagonally and place another stick at the bottom of the row and tape the last two sticks together. Keep going until you have a whole row of sticks.
6. You can also cover the first and last stick in the row by placing tape over the stick and then folding it back over the stick. It is easier to write on the tape than the craft stick. The ink soaks into the sticks and blurs.
Children can use permanent markers, pens, or colored pencils to write the Bible verse on the sticks and then decorate them. They can also draw a picture on the back of the sticks that represent the Ten Commandments.
If a child messes up while working on his canvas, you can pull off the tape where he messed up and replace it with new tape.
These folding craft stick canvases can also be used for many other purposes. You can also be used to make greeting cards for Mother's Day, Father's Day or Birthdays.
Watch a video on how to make the folding craft stick canvas.
©2012, Digital by Design, Inc. - See Copyright Information - Bloggers, if you use this craft idea or an adaptation, you must link back to this page for complete directions. If you use this technique, let us know and we will put a link to your blog.
Ten Commandment Crafts On Other Pages
©2007, Digital by Design, Inc. - See Copyright Information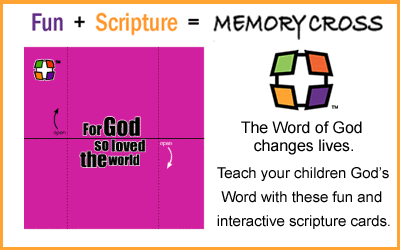 Memory Cross Folding Paper Game - Learn the Ten Commandments Game
Memory Cross cards are a great way for children to memorize Bible verses. They will love folding the panels in a never ending loop. The Ten Commandment Cards in the video below come in a set of ten cards plus two of Jesus' Commandments. Children can memorize the commandments by reading the first panel, guessing what comes on the next panel, and then folding it over to see if they are correct. They can continue in this manner until the commandment is memorized.
Once all the Commandments are memorized you can use them as a game. Break up your students into teams and give each team a set of cards. Mix up the cards and have the teams read them and place them in order. The team that gets them all in order first wins. Order the Ten Commandment cards from Memory Cross Inc.Memory Cross Inc.