ABC, I Believe
The Letter B - God's Masterpiecel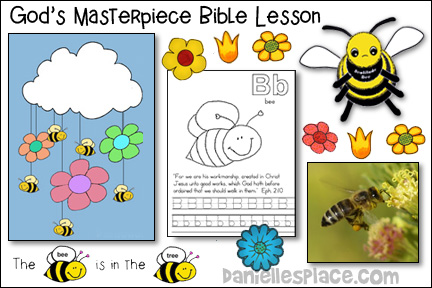 God loves you and knows you. He created you for a purpose. You are special and have a special job to do for God.
Member's

Free Instant Digital Download

The following crafts and activities are available on the free instant download and the member's lesson.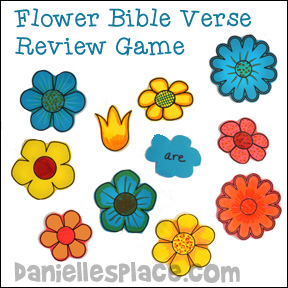 "Follow the Bee to the Flower"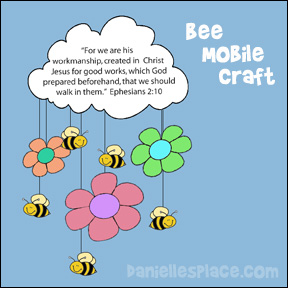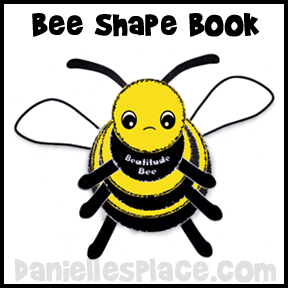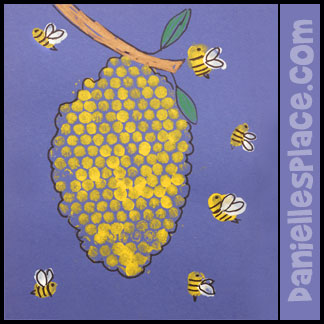 Penmanship
1. Practice Printing and Writing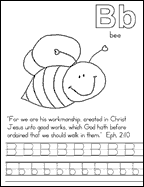 Your child should practice the same worksheet for several days. This will not only help with his writing, but will help him remember the Bible verse. On the third or fourth day your child should draw his own picture relating to the Bible verse and then write the letter, word, or Bible verse on the bottom of the page. On the fifth day your child should try to write or say the letter, word, or verse from memory.
KJV and NIV with Printing and Writing in Zaner-Bloser and D'Nealian Fonts
1. Tracing dotted letters, 2. Printing using arrows, 3. Cursive writing letter B, 4. Cursive writing Bible Verse, 5. Printing the whole Bible Verse, 6. Print the word "bee", and 7. Letter B Poster - Use this sheet to hang up in your room to make a whole collection of the letters with the Bible verse and related animal.
(Available to members on The Resource Room.)
---
Copyright
Copyright 2004, Digital by Design, Inc.
Contributing writers: Nancy Foss and Marie
Danielle's Place of Crafts and Activities

All rights reserved. No part of this publication may be reproduced or transmitted in any form or by any means, electronic or mechanical, including photocopying and recording, or by any information or storage retrieval system, except for local church or school use only. This copyright notice must be included on all copies. Requests for permission to copy this material for any other uses should be addressed to Carolyn Warvel, 588 Duran Street, Henderson, NV 89015 or e-mail me at care@daniellesplace.com