God's Gifts Christmas Countdown
God's Gifts Christmas Countdown Craft and Learning Activity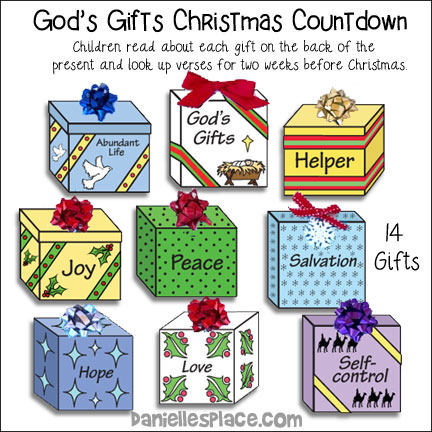 Contains fourteen printable gift patterns, each with an explanation of one of God's Gifts with suggested Bible verses to read for that day.
These gift patterns come in both black and white and color. On the back of each gift is a description of the present and suggested Bible verses. Place the gifts on a string to make a garland, place them underneath a Christmas tree, or attach them to a bulletin board under a Christmas tree display.
Children can color the gifts and attach a bow or other decorative item to the top.
Patterns for this craft and learning activity are available to members on The Resource Room and as an instant digital download.
Member's

Instant Digital Downloads

God's Gifts Examples:
Jesus - God created the heavens and the earth. Then he created Adam and Eve and gave them free will to make their own decisions. They knew no sin. But Satan talked them into eating the forbidden fruit, and when they did, their eyes were open and they knew good and evil.
This act of definance separated them from God. But God did not leave them. He had a plan to save them from their sins by sending his only son to pay for their sins.
God's wonderful gift, if we accept it, brings us true happiness and a life with purpose.
Read Genesis 1-2 and John 3:16-17
Abundant Life - Jesus said, "The thief comes only to steal and kill and destroy; I have come that they may have life, and have it to the full."
With the power of the Holy Spirit working through you, your life will have meaning no matter the circumstance. The Holy Spirit teaches us what is truly important in life.
Paul explains this, "God is able to do much more than we ask or think through His power working in us." (NLV)
Read John 10:10 and Eph. 3:20
Faith - Hebrews 11:1 says, "Now faith is confidence in what we hope for and assurance about what we do not see.
When we see the amazing world around us, we understand that it could only have been created by God. Your faith grows stronger the more you know God, the more you experience, and the more you learn to trust him.
Read Hebrews 11 to discover who had faith and what they were able to accomplish with their faith.
Joy - Paul says, "Rejoice in the Lord always. I will say it again: Rejoice!" When bad things happen, you can rejoice because you know that God is in control. You can be happy because the Lord is always with you, even when you are sick, homeless, or sad. You know that He will never leave you or forsake you.
Joy comes from focusing on God, what he has done for you, his creation, and his love for you. When sad times come, you can still have joy because you know that this is not your home, you are only passing through.
Read Psalm 30:5 and 1 Corinthians 2:9.
Member's

Instant Digital Download