Cooking and Craft Recipes for Kids
How to Make Crafts and Activities Relating to Cooking
Play Dough Recipe
Here is something you can do with your child that is lots of fun and creative! This is the best recipe I have found for play dough. It feels just like the stuff you buy in the store! Children of any age will love to help measure stir and knead the dough.
What you will need:
1 1/2 cups of water
2 Tbs. of cooking oil
2 cups of flour
1/2 cup of salt
4 Tbs. cream of tartar (I've used only 2 Tbs. and it has worked fine and lasts just as long.)
Directions:
1. Combine the water and oil in a small bowl and set aside.
2. Combine the flour salt and cream of tartar in a large saucepan.
3. Over medium heat pour the water and oil mixture into the flour mixture stirring constantly. Cook and stir for about 5 minutes until a ball of dough forms. (The dough doesn't stick as much if you use a double boiler or a pan set inside a pan of water)
4. Cool the dough for five minutes and then knead it with your hands until it is smooth.
5. Divide the dough into smaller portions and add different colors of food color to each. (If you don't want to get food coloring on your hands. Make only half the recipe and add the food coloring to the water before mixing in the flour.)
6. Store in the refrigerator in small baggies when not in use.
Fun things you can do with play dough:
1. Use toothpicks of craft sticks to make cages for all here tiny animals.
2. Have someone hide a small object inside a large ball of play dough and try to guess what it is or try to find it by cutting it open.
3. Use old felt tip markers to decorate play dough cookies, flowers, or birthday cakes.
4. Add fine glitter to your dough for a festive affect. (Adding glitter will affect the dough and it won't last as long.)
Ideas sent in by Readers:
You can improve this recipe a whole bunch if you substitute some inexpensive baby oil for the vegetable oil. It smells better and you do not have to refrigerate it because it will not mold. It will last months, smell wonderful, and not mold.
If you add 3/4 of a cup of lavender chamomile baby lotion instead of oil you get incredibly smooth, wonderful smelling play dough. We call it "soothing play dough" because it calms kids and adults down to play with it.

You can also add things to the play dough. Add sawdust to the play dough when you are teaching about Noah building the ark. Make white play dough when teaching about the cloud by day. Rita
©2002, Digital by Design, Inc. -*See Copyright Information
Elmo Biscuits

Have a monster morning with these easy to make biscuits! This recipe can also be used to make cookies. Just use your favorite sugar cookie recipe or rolled cookie recipe. Use food color to dye most to the dough red for the face and nose. Leave some without dye for the eyes.
What you will need:
2 cups all-purpose flour
1 tablespoon baking powder
3/4 teaspoon salt
1/2 teaspoon baking soda
5 tablespoon chilled solid vegetable shortening
1 cup buttermilk
To Make Elmo Biscuits:

Preheat oven to 425°. Sift together the flour, baking powder, salt and baking soda.
Cut the shortening into the flour mixture using a pastry blender or 2 knives until coarse crumbs form.
Add the buttermilk, tossing with a fork until a dough forms.
Turn the dough out onto a lightly floured surface. Gather into a disk. Knead lightly a few times just until smooth.
Roll out the dough to about 1/2 inch thick. Using a round biscuit cutter, cut out the dough. Fold the circles in half and place 2 inches apart on an ungreased baking sheet. Gather the left over dough trimmings and form into small balls to form eyes and a nose. Using your finger put an indents into each biscuit where the eyes and nose will be. Dip the balls into an egg white that has been slightly beaten and place in the indents. Use toothpicks to secure the eyes to the head.
Bake the biscuits until golden 12 to 15 minutes. Remove the toothpicks carefully. Serve hot with butter.
©2004, Digital by Design, Inc. -*See Copyright Information
Buggy Salad
Lady Bugs
What you need: Cherry Tomatoes for Wings, Raisins for Feet and Spots, Dates for Head and Body, Carrot Slices for Antennas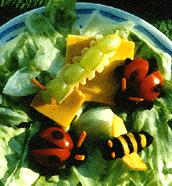 To Make Tomato Lady Bugs:
1. Wash cherry tomatoes and carrots.
2. Cut tomatoes in half lengthwise. Use one half of the tomato for the wings. Slice the half tomato almost in half again lengthwise, but leave it connected at the top. Clean out the seeds with a spoon.
3. Stuff one date inside the tomato wings. Spread the wings a little so the date shows through.
4. Place 6 raisins under the body to form the feet.
5. Cut one raisin in half and place half a raisin on top of each wing to form spots.
6. Cut off the end of a date to form the head of the bug and place on the body.
7. Cut very thin slivers of carrot for the antennas. Poke two holes in the date head where the antennas should be and shove a carrot sliver into the holes.
8. Place head on the body.
Bumble Bee

What you will need:
Cheddar Cheese for Body and Wings
Dates for Head and Body
Carrot for Antennas
To Make Edible Bumble Bee:
1. Cut two 3/4" circles and one slightly smaller circle from a slice of cheddar cheese.
2. Slice a date into 4 pieces (crosswise). The slice for the head should be twice as wide as the other three slices.
3. Start with the date head piece. Place one 3/4" circle of cheese on the head. Then place a slice of date on the cheese. Place another 3/4" slice of cheese on the previous date slice and then another slice of date. Place the smaller circle of cheese on next, then the small slice of date for the end of the bees body.
4. Cut slivers of carrots for the antennas. Stick in the date head of the bee.
5. Cut two wings out of a slice of cheese and place on the sides of the bees body.
Inch Worm

What you will need:
Green Grapes for Body
Swiss Cheese for Feet
Carrot for Antennas

To Make Edible Inch Worm:
1. Cut a thin slice of Swiss cheese about 1 1/2" wide by 3" long for the feet. Cut notches into both long sides of the cheese to form feet.
2. Cut a thin slice off the long side of 3 grapes and one larger grape so that they have a flat side to rest on the cheese feet.
3. Place the three smaller grapes in a row on the cheese feet.
4. Poke two holes in the larger grape where the antennas should go. Cut two slivers of carrots and stick in holes to form antennas.
5. Place the larger grape head in front of the row of grapes.
*Note: You may want to use toothpicks to keep the grapes together if you are making these for older children.
To make Salad:
1. Wash lettuce and tear into bit size pieces.
2. Place in a large bowl.
3. Place bugs on the lettuce.
©2004, Digital by Design, Inc. -*See Copyright Information
Bite-Size Bees
What you will need:
1/2 cup creamy peanut butter
2 tablespoons butter or margarine, softened
1/2 cup confectioner's sugar
3/4 cup graham cracker crumbs (about 12 squares)
1 square (1 ounce) semisweet chocolate (or just use store bought icing)
1/3 cup sliced almonds, toasted
paper plates
How to Make Bite-Size Bees:
1. Cream the peanut butter, butter, and sugar until smooth.
2. Add the graham cracker crumbs and mix well. (You might want to have the dough all ready before class. It will probably work better if it is chilled well)
3. Give each child a teaspoonful of dough. Show them how to shape the dough into 1 - 1 1/4 inch ovals. When they are finished have them place the ovals on their own paper plate with their names on them.
4. Place the chocolate in a small microwave-safe bowl; microwave on high for one minute or until melted. Transfer the melted chocolate to a resealable plastic bag; cut a small hole in one corner of the bag. Show the children how to squeeze the bag and pipe stripes onto their bees. (To make things easier and less messy you can buy chocolate icing in the tubes)
5. Show the children how to insert two almonds into each bee to make wings.
6. Show them how to use toothpicks to poke holes for eyes.
7. Have the children save their bees for snack time.
©2004, Digital by Design, Inc. -*See Copyright Information
White Bread Play Dough
This recipe, made with white bread and glue, has a fine, elastic texture that won't crack even during intricate modeling projects like earrings, buttons, beads or tiny figurines. This recipe dries out quickly, so it's best to make only as much as your child will use in one sitting.
What you need: 1 to 2 Slices White Bread Crusts Removed and 1 Tablespoon White Glue

How to Make White Bread Play Dough: Rip one slice of bread into tiny pieces and drop into a large bowl. Add the glue and mix with a fork until all the bread crumbs are moistened. The mix should be pliable and somewhat sticky. If it's too wet to roll into a ball, mix in more bread pieces. Gather the dough into a ball, kneading it for a minute or two or rolling it between your palms, until it becomes elastic and satiny. If the dough begins to dry out as your child models it, he can dip his fingertips in water (have a small bowl handy.) and knead the dough until pliable. When the sculptures air-dry, about 1 to 3 days, paint with acrylics. To add a hard, semi gloss finish, mix equal parts of water and white glue and brush on several coats.
©2002, Digital by Design, Inc. -*See Copyright Information
Finger Paint 1
What you need: 1 cup Liquid Starch / 1/2 Cup Soap Chips / 6 Cups Warm Water / Dry Tempera or Food Coloring

How to Make Finger Paint: Dissolve soap chips with enough water and stir
until all lumps have disappeared. Add to starch and remaining water. Keep covered in plastic jar. Color may be added as children paint, or in the mix. A few drops of oil of clove prevents bad odors. Be sure to keep mixtures in covered jars in a cool location.
©2002, Digital by Design, Inc. -*See Copyright Information
Kool-Aid Finger Paint 2
What you need: 2 cups Flour 2 Packs Unsweetened Kool-aid 1/2 Cup Salt 3 Cups Boiling Water 3 T. Oil
How to Make Kool-Aid Finger Paint: Mix wet ingredients into the dry ingredients. The kids love the color change. Then finger paint away.
©2002, Digital by Design, Inc. -*See Copyright Information
Sidewalk Chalk and Sidewalk Paint
Make sidewalk paint by mixing 1/2 cup cornstarch into 1/2 cup cold water and add 4 to 5 drops of food coloring. Provide 1" to 3" wide paint brushes and the kids will love painting on the sidewalks. Use sidewalk chalk dipped in water to add details and outlines to your pictures.
Cooking Fun for Kids Books