Diversity, Multi-Cultural Crafts and Activities for Children
Crafts and Activities Relating to Diveristy, Multi-Cultural Learning and Celebrating Differences
The Color of Skin Coloring Activity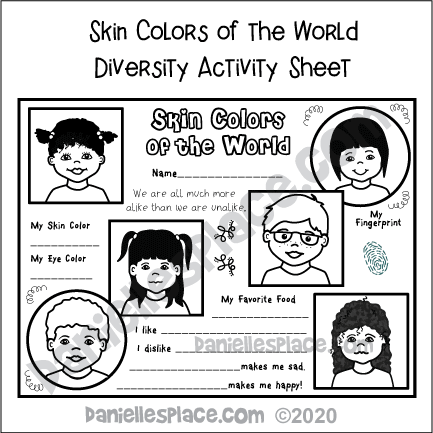 Use this activity sheet to open up conversations about diversity and prejudice. Children use flesh-colored crayons to color the child pictures, decide which crayon color closest resembles their skin color, compare their skin color and their answers to questions about themselves with others to discover how all people are different, yet are much more alike than they are unalike.
This activity sheet is available to members on The Resource Room.
1. Have your children use Crayola "Colors of the World" Crayons or Multicultural Crayons to color the pictures of the children.
When they are finished coloring ask them to hold the crayon colors next to their own skin and decide which one is the closest color to their own skin. Tell the to write the name of the color on their paper.
Have them fill in the blanks describing what they like, dislike, what makes them happy and sad, and then compare their answers to their classmates. You can also have them place their fingerprint out the page and compare them with other students.
Children's Books About Diversity
"The smallest things can pull us apart-until we learn that friendship is far more powerful than difference. In a glorious three-page gatefold at the end of the book, Salma, Lily, and all their classmates come together in the true spirit of tolerance and acceptance."
Also see "The Crayon Box That Talked" Crafts and Activities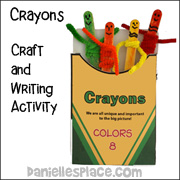 The Crayon Box that Talked - Craft and Writing Activity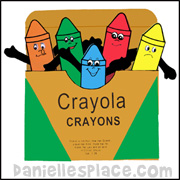 Crayon Box Display with Crayon Puppets used to Act out the Story